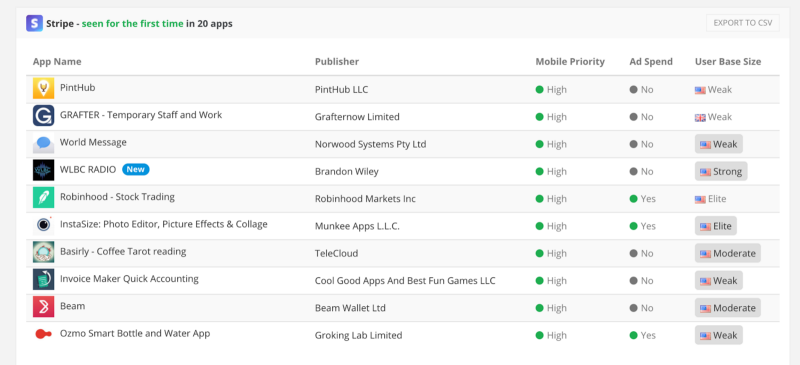 4 Ways Real-Time SDK Data Can Improve Mobile SaaS Sales
In today's age of agile development, mobile apps change quickly.
One report indicated that 80% of software companies had embraced the agile approach to development; 65% of them are already practicing continuous iteration and delivery.
For your mobile SaaS sales team's efforts to be successful, it is therefore critical that you have access to real-time SDK data. Otherwise, you're unlikely to succeed because a majority of significant apps are always changing, and you won't be able to use up-to-date data to sell to them effectively.
On the other hand, with access to real-time SDK data, your mobile SaaS sales team will have a crystal-clear view of the competitive landscape of the entire addressable market you're targeting. You'll have a much better idea of which apps could benefit from your tech as well as which kinds of apps your competitors have had success selling to.
How exactly can your mobile SaaS team leverage real-time SDK data effectively? Let's take a look.
Real-time SDK data lets you know what kinds of apps your competitors are closing
Real-time SDK data enables you to quickly gauge which mobile apps have decided to use your competitors' solutions.
With that data on hand, you can then approach similar apps and let them know that their competitors have recently deployed specific tools that are designed to increase their effectiveness.
When you know which SDKs mobile apps have been using and which ones they've recently installed, you can essentially infer what they're planning to do next — or at least make a pretty good guess.
For example, let's say you've built a payment processing app that competes against Stripe. You then run a real-time SDK scan which reveals the following data: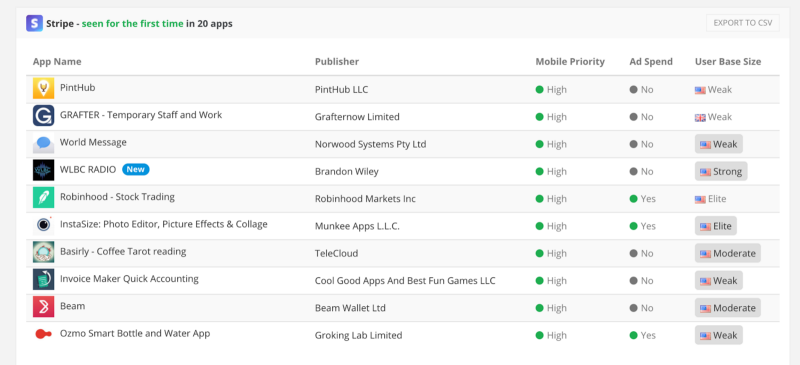 These apps are probably trying to monetize for the first time or improve the mobile payment experience.
As a competitor of Stripe's, it's time to figure out which apps PintHub, Robinhood, InstaSize and all the others are competing against.
Once you know that, you can reach out to the relevant folks at each company and tell them which tools their competitors are using, what that means, and why they should consider leveraging your solutions instead.
Real-time SDK data also lets you know when your competitors have been uninstalled from an app
On the flipside, access to real-time SDK data also lets you know when your competitors' solutions have been uninstalled from specific apps.
You can leverage that information as an attention-grabber when you reach out to what has now turned into prospective customers. Think of it as a hook for your outbound prospecting efforts.
A recent MightySignal live scan of Google Analytics revealed the following: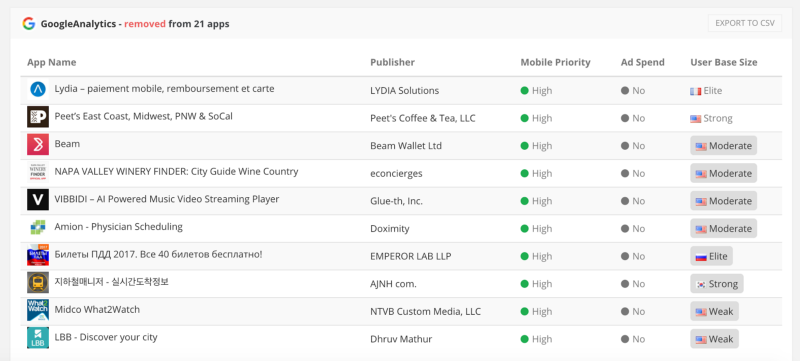 We can tell that apps like Beam, Lydia, and VIBBIDI have decided to abandon Google and move in a different direction for mobile analytics.
How can this inform your mobile SaaS sales strategy if you're competing against Google Analytics?
Right away, you can tell that these apps already understand the general idea of what your solution does.
In the event they had a specific problem with the SDK they uninstalled, you can pitch them your substitute against those SDKs accurately. If they don't need that type of SDK anymore, you'll know that information sooner than later — which is still a win in sales because you won't waste your time trying to sell to someone who doesn't want what you have to offer.
Real-time SDK data enables you to check the makeup of an app before every call and meeting
The last thing you want is to hop on sales call only to find out that an app has made some significant changes over the last several weeks that you were completely oblivious to.
By having access to real-time SDK data and making sure you check that information before each phone call and meeting, you eliminate the possibility you're unaware of recent changes to the app in question.
MightySignal's Live Scan feature lets you stay on top of this critical information. As a result, you won't be caught off guard if the app is trialing a competitor or if they've recently overhauled their app entirely. You'll also know whether what was once a relatively rudimentary app, has increased its mobile sophistication.
With more information at your disposal, you can then adjust your pitches accordingly to make a more significant impact.
Real-time SDK data allows you to monitor big-time apps to stay on top of every change they make
All mobile SaaS sales teams have their sights set on landing prized accounts.
In many instances, these are brand-name companies that may seem next to impossible to sell to.
While it can be challenging to sell to companies that are large and sophisticated, you won't close any deals of this nature if you don't at least try.
By leveraging real-time SDK data, however, a seemingly impossible task becomes that much easier. To illustrate, a recent scan of Netflix's app uncovered the following: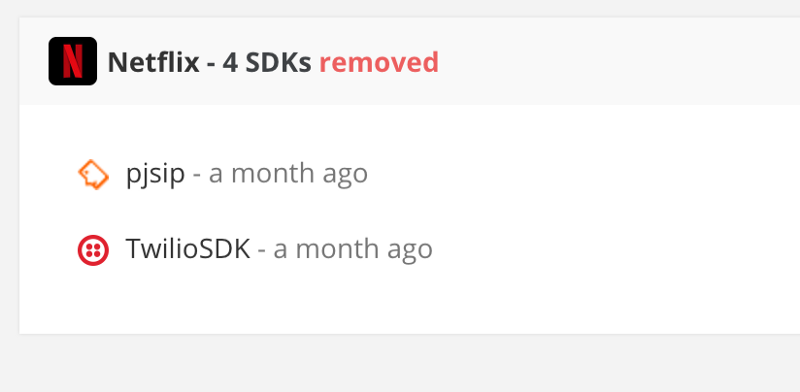 If you're part of a mobile SaaS team that's competing against PJSIP or Twilio, for example, this might be just the opening you need to convince the folks over at Netflix to give your SDK a whirl.
Don't Guess — Let Data Drive Your Decisions
The App Store and Google Play are black boxes that are continually changing. Without the right tools at your disposal, it's impossible to keep up.
If you want your mobile SaaS sales team to be successful, you can't afford to be unaware of what's going on every day in apps you're targeting.
Don't make your job any more complicated than it needs to be. By leveraging real-time SDK data, you gain an edge that you can use to move faster than your competitors.
The result? More customers, more revenue, and more runway.
MightySignal provides the largest library of SDK intelligence. With our savvy, developers can match hundreds of mobile market insights to their software solutions. The MightySignal solution can provide. Contact us to start your free trial of the MightySignal platform today.