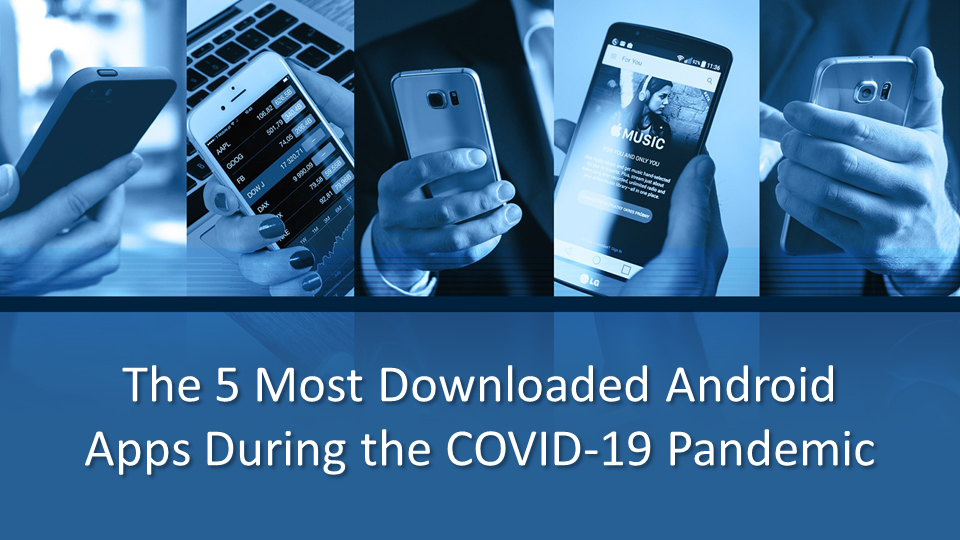 The 5 Most Downloaded Android Apps During the COVID-19 Pandemic
The COVID-19 pandemic has affected us all on many levels. On January 30, 2020, the World Health Organization declared it to be a Public Health Emergency of International Concern and issued a set of Temporary Recommendations. These recommendations caused many countries to implement necessary measures to keep people safe. One of these measures was encouraging people to stay at home. Businesses, schools, and other establishments had to temporarily close down; still, their operations continued to the extent possible in various creative ways.
The pandemic also significantly affected people's habits when it came to smartphone use- including their app downloading habits. Using MightySignal's Android App Downloads Tool, we've put together a list of the 5 most downloaded Android apps during the initial pandemic.
The Most Downloaded Android Apps from February to May 2020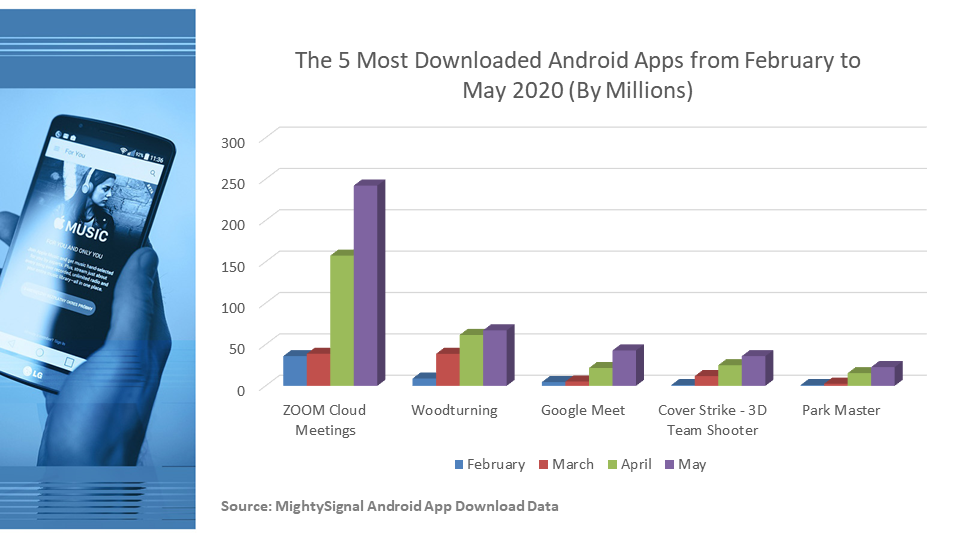 The most downloaded Android app after the announcement of the pandemic was ZOOM Cloud meetings. From 35.9 million downloads from February, the total downloads of this app have gone up to 242.1 million.
The main reason for this rapid spike in ZOOM app downloads was the fact that many companies continued their operations remotely, despite the effects of the pandemic. They were able to do this by allowing their employees to continue working from home.
Through ZOOM, companies can keep constant communication with their workforce through virtual meetings and conferences. Many schools that resorted to remote eLearning also relied on this app.
You might be surprised to know that a woodturning simulator app came in second as the most downloaded app during the COVID-19 pandemic. This app by VOODOO had a total of 67.1 million downloads as of May 2020.
The app is a virtual version of woodturning; likely, the appeal is that it's easier and cheaper than physical woodworking, but still allows hobbyists to play with creative ideas. It's free to download with in-app purchase options, which probably made people want to try this app.
According to BBC News, many people who experienced lockdown in their areas found maintaining their mental health to be a challenge during social isolation, in addition to avoiding the virus itself. The people surveyed said "boredom" was one of their top challenges. Based on the users' feedback on this app, Woodturning is a great way to pass time. Physical carpentry is an activity that many creative people aspire to, but due to the required investment of time, tools, and materials, the real-world barriers to entry for this hobby can be significant. However, offering a virtual woodcraft environment makes this activity easily accessible, and many users found this app to be a mentally stimulating escape during these troubling times.
Besides ZOOM, there are other video-communication apps that companies use to reach out to their employees remotely. One of these is Google LLC's very own Google Meet.
From only 4.6 million downloads in February 2020, Google Meet's total downloads in April grew to 21.6 million. That number doubled to 42.8 million by May 2020.
One of the reasons for the sudden increase of downloads is Google's decision to make Google Meet free for users even outside G-Suite in April, as reported by joyofandroid.com. It's safe to say that we can expect the number of downloads for the Google Meet app may continue to increase in the next few months.
Another surprising app that came 4th in the most downloaded Android apps during the pandemic is Cover Strike - 3D Team Shooter. This FPS shooter game may not have the same level of brand recognition as PUBG Mobile or Call of Duty Mobile; still, Cover Strike has surpassed these big-name FPS shooting games as one of the most downloaded apps from February to May 2020.
Let's compare Call of Duty Mobile and Cover Strike: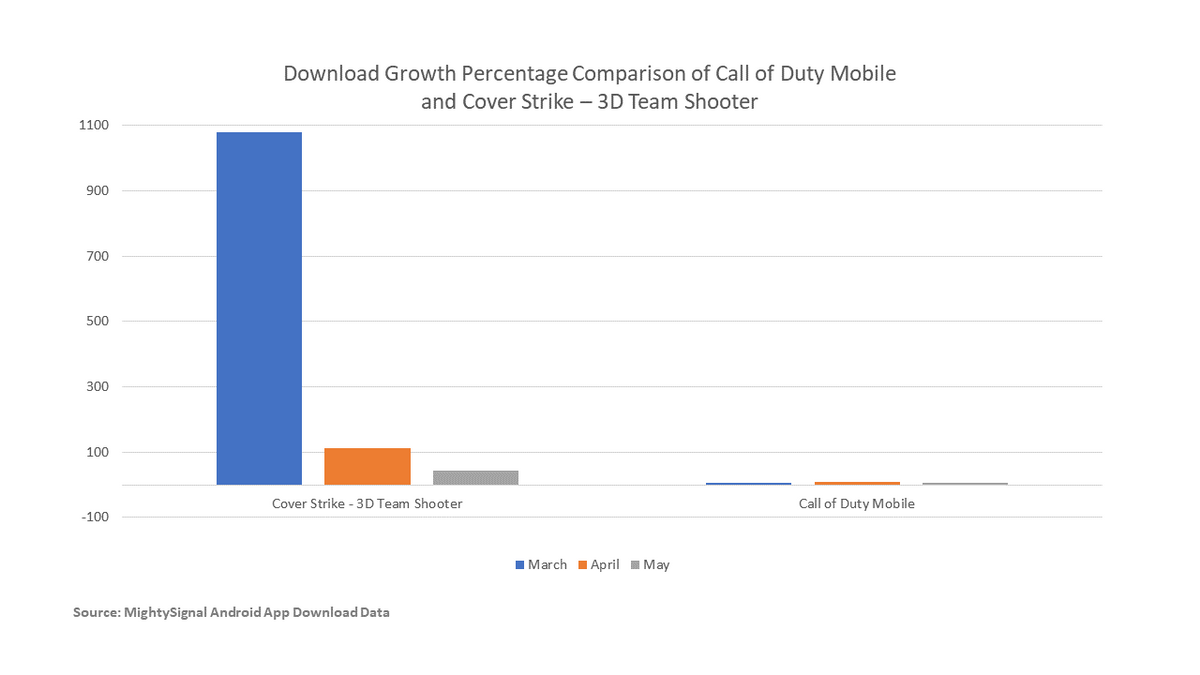 Cover Strike has a whopping increase of 1,081% in downloads from 1.004 million in February to 11.859 million in March. Call of Duty Mobile initially had 90.788 million downloads in February, but only had a small amount of download increase through April and May.
The fact that Cover Strike is playable offline might be one of the reasons why many users have turned to this app. As people extend their periods of home isolation, they're constantly looking for more games and fresh content, causing them to seek alternative offerings in their favorite game genres, even if an app's brand recognition is relatively low. This indicates room for growth in the mobile market, even for smaller indie game developers, who can find themselves suddenly climbing the trending app charts once users have played through the top popular titles and are looking for similar experiences.
In fifth place, we have Park Master. From 959,461 total downloads in February, this puzzle car game app had a boost of downloads of 22.7 million downloads in May.
There are positive reviews of Park Master on the Google Play Store. However, many people have also been complaining about the number of ads that disturbs their gaming experience. Just looking at the download data and comparing the feedback of the users, it's obvious that many people are looking for many new games to kill time while confined in their houses.
Surprising, Isn't It?
Did you expect different items to be on the top 5 of the most downloaded Android apps during the pandemic? We thought so, too!
Here are the apps that were in the sixth to tenth places. See if your bet is on this list.
6. KeepClean - Cleaner & Faster by APPS INNOVA
8. Flying Car Transport Simulator by Game Pickle
9. Ramp Car Stunts Racing by NextGen Games Studio
10. One Booster by Starry Sky Mobi
The data you've seen here only proves that world crises, like the COVID-19 pandemic, affect people's smartphone use-- which includes app downloading. Learning these facts and looking at actual data can help mobile app developers stay on top of market trends, improve their app development goals, and create better apps for users.
All data was provided by MightySignal.com and data graphs were made with MS PowerPoint using presentation templates from FPPT.com.
Dan Martin shares his newfound knowledge with other Android enthusiasts on joyofandroid.com. Dan also enjoys photography and cooking steak.