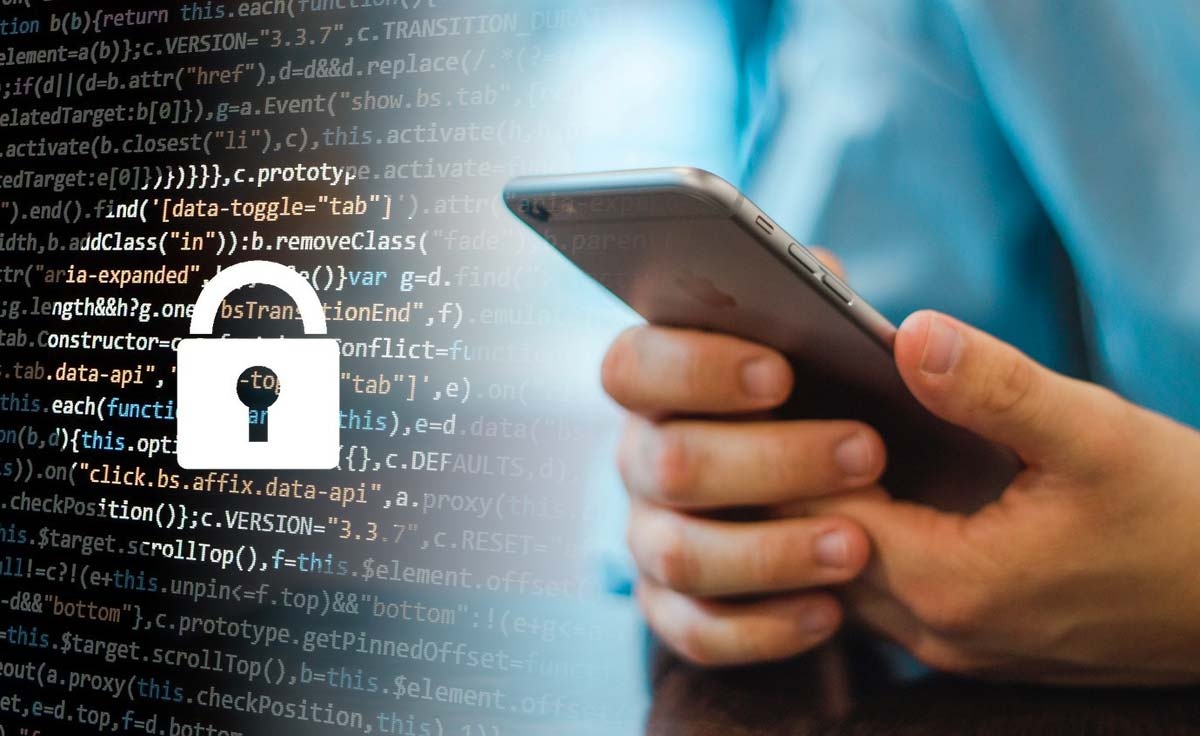 Best Practices for Mobile Ad Attribution in iOS14
By now, most mobile advertisers know that Apple's iOS14 rollout will make IDFA opt-in for all apps, essentially killing this functionality without technically removing it. But on September 3rd, Apple announced an extension period for implementing its new privacy guidelines. To give developers time to make necessary changes, apps won't be required to obtain permission to track users until early next year. The result is that advertisers who relied heavily on IDFA for attribution and tracking have a little more breathing room to get ready.
Read on to learn how iOS 14 affects IDFA, and what best practices you can implement to get your app or ad attribution SDK ready to meet the requirements next year, according to top developers in MightySignal's Top iOS Ad Attribution SDK category.
What is IDFA?
On mobile devices, user behavior has been traditionally tracked and analyzed via the Device ID: a unique, anonymous identifier that corresponds with a single, specific mobile device. On Android devices, this is known as GAID (Google Advertising ID). On Apple mobile devices, it is called IDFA (Identity for Advertisers). You can think of an IDFA as somewhat analogous to an advertising cookie on the web - it enables an advertiser to get notified when a phone's user has taken an action, like clicking on their ad or installing/uninstalling their app. Advertisers use your IDFA history to present you with relevant ads and user experiences.
How do iOS14 privacy features affect mobile advertising?
New privacy features for iOS 14 were outlined at Apple's WWDC20 event. These were originally set to launch in September 2020: Apple's new AppTrackingTransparency framework offers iPhone users more obvious and granular control over whether they want to be tracked across apps, both at the broad global level, and at the individual app level. Going forward, instead of using IDFA, Apple's new SKAdNetwork API is intended to validate advertiser-driven app installations, and help advertisers measure the success of ad campaigns while maintaining user privacy. This diagram describes the path of an install validation. App A is the source app that displays an ad. App B is the advertised app that the user installs: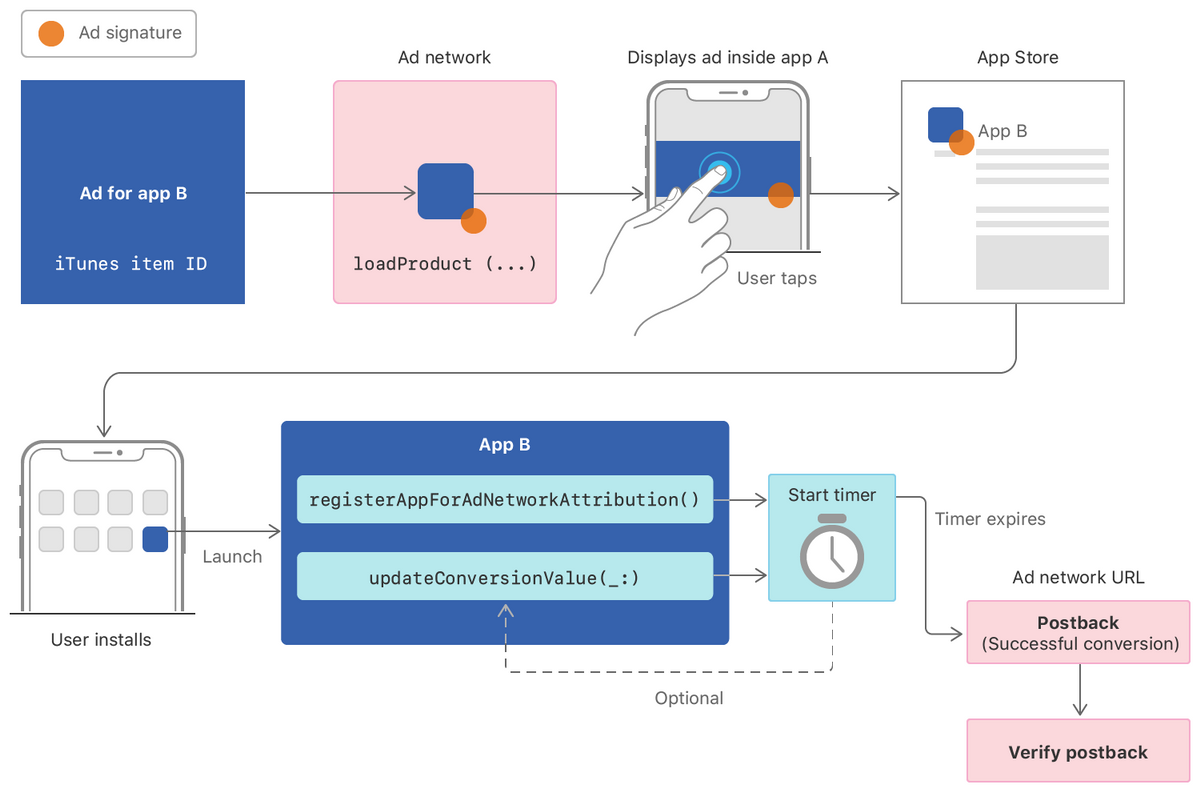 With these changes, ad networks must register with Apple, and developers must configure their apps to work with ad networks. This presents some new functional challenges for mobile advertisers. Fortunately, many attribution SDK developers have already been working to understand and meet these challenges head on.
What are the top ad attribution companies doing to prepare for iOS14?
MightySignal tracks top SDKs for iOS and Android across multiple mobile market categories, including ad attribution. Our September chart shows the top 5 ad attribution SDK developers are: AppsFlyer, Adjust, Kochava, Google Conversion Tracker, and Tune. Here is a quick breakdown of how these top attribution companies are getting ready for ATT and SKAdnetwork in iOS14. Keep reading for ideas and best practices to brush up your mobile advertising game in 2021:
Experiment with SKAdnetwork simulation
In a recent post, AppsFlyer defined the primary paradox facing mobile advertisers right now: it's difficult to be prepared without SKAdNetwork data, but the data won't be available ahead of time to allow for preparation. So, they've come up with an innovative solution: a SKAdnetwork Simulation dashboard. By experimenting with the SKAdNetwork configurations for this dashboard and witnessing the real impact on the insights, advertisers can optimize and strategize, ahead of the public iOS 14 release. This means that the day iOS 14 becomes available, advertisers will already be equipped with the tools for making the most of their SKAdNetwork data.
Testing, testing – Optimize your UX design
Adjust is recommending that app developers use this extension time to work on their internal opt-in flow in a testing environment, integrating the ATT framework only once the opt-in flow is production ready. To get ready, Adjust recommends conducting extensive internal tests and paying specific attention to the UX of your app to implement the thoughtful consent flows that fits your user stories. They also suggest experimenting with SKAdnetwork to understand the limitations and plan for them by getting familiar with events, values, and logic flow. They mention in their recent blog post that Apple has released a new SKAdNetwork profile that reduces the timers to 5 minutes. This profile is designed to be implemented on your local testing devices and used only for testing.
Know your product: review your events and metrics
Kochava suggests that, to best take advantage of SKAd conversion models, app developers ensure they are tracking all the in-app events and any revenue metrics that must be factored in when configuring your conversion model. They recommend updating or adding any needed events and metrics now, so you can maximize quality performance insights on your SKAdNetwork campaigns. Kochava also now offers a beta SDK for iOS 14, which is a good opportunity for advertisers to work with their developers in preparation for the upcoming changes to their iOS apps.
Get coding
Google Conversion Tracker has prepared a programmatic guide to better assist developers with the changes needed to prepare their apps for iOS 14, including examples of how to enable SKAdnetwork to track conversions, and how to request App Tracking Transparency authorization.
Communication is key
Tune reminds readers that "the best defense is a strong offense". They recommend taking time to make sure your tracking methods and solutions are solid and well tested. Another big focus is partner communication: Tune suggests staying in close contact with your mobile measurement partners during this transition time, including partner management platforms and other marketing partners, to discuss steps you're taking to prepare and make sure you're all on the same page at various rollout phases. Finally, it's always wise to keep up with the news, both from Apple itself, and from experts in the industry.
Track ad attribution trends with MightySignal
By tracking the tech stacks of top apps and looking at their SDK installs and uninstalls, iOS app developers can stay on top of industry trends with respect to new iOS14 privacy protocols. MightySignal's accurate, real-time data shows you which SDKs top mobile advertisers are relying on, as well as the frequency and timing of app ad spend across multiple mobile ad networks – useful for both internal benchmarking and competitive research.
Contact us today to request a free trial or schedule a demo.