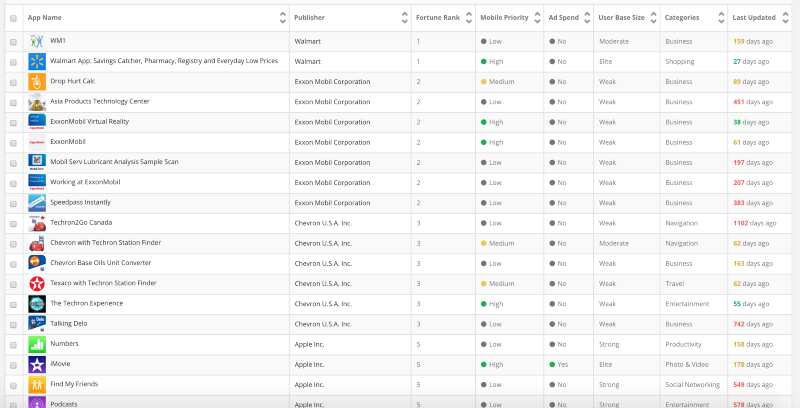 Cold Emails that worked on Fortune 100 Brands
Saas Sales Cold Email Formula that worked on Fortune 100 Brands
I had been selling a mobile app marketing SaaS product at TUNE for almost two years when I landed on a cold email formula that worked. I even got a response from the mobile marketing director of a Fortune 100 brand just after two emails, and I knew this was a repeatable process.
Some experienced salespeople might say that "I can get top brands on the phone whenever I want," but when you work for a mobile tech company, you will know that traditional blue-chip brands that show genuine interest in mobile app technology (a.k.a. SDK) are scarce still.
In the mobile app world, the so-called "Mobile First" companies are very far along in terms of tech adoption. These are the likes of Supercell (the maker of Clash of Clans), Uber, and Spotify, who live and die by their mobile app business.
Among the Fortune brands, the mobile app business is still such a small fraction of their revenue stream that only the most innovative and adventurous companies have been learning and adopting the related technology that is available today, namely Starbucks.
Fortune 100 Brands and Their Apps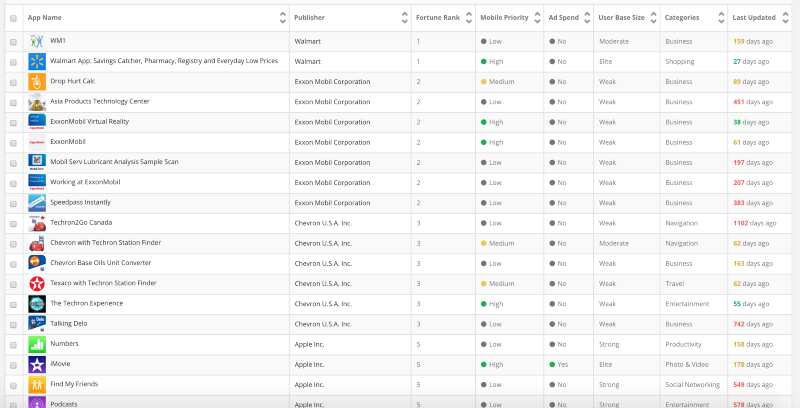 When you, a potential salesperson at a mobile technology company, email the marketing director at Exxon Mobil about amazing things that you can help them do with its mobile apps, what should you say? How do you stand out from hundreds of emails that she's probably getting from vendors?
First, you should find out everything about their existing app business. What do their apps do? What technology are they using? Who do they have in the marketing team? What kind of advertising are they doing?
Conduct the necessary research and use that information to think about how you can position your product/solution.
One day, while at TUNE, I got a tip from an industry contact that a Fortune 100 company is getting ready to run some advertising campaigns for their apps, and they had begun evaluating tools to use to measure the campaigns' effectiveness, which was what we were selling.
Gather the Intelligence
"I didn't see any of

TUNE's direct competitors here. This means that there is a high chance of them not having run serious app marketing campaigns before. I also further verified that assumption by looking at the previous experience of their marketing director on Linkedin."
The first thing that I did was to look their apps up in MightySignal to see what SDKs are in their apps. Knowing what this company has put inside of their apps is arguably the most essential information about their business.
Why?
It costs their developers a significant amount of time to evaluate various SDKs for their needs and to implement them. While many are free tools, a lot of them are also quite expensive that requires enterprise-level agreements. Some tools also require the end users and their departments to have a various amount of expertise in utilizing the data that these services provide them with. Combining all of this with careful studies of end users' Linkedin profiles and your internal Salesforce records, you can arrive at the exact email content that will resonate with the receiver.
In this particular case, the following was their SDK make up.

Great. What am I thinking now?
Well, I didn't see any of TUNE's direct competitors here. This means that there is a high chance of them not having run serious app marketing campaigns before. I also further verified that assumption by looking at the previous experience of their marketing director on Linkedin.
AdobeMobileSDK, however, is something that marketers often confuse its functions with that of TUNE's, because of its reputation from the web analytics world. I made a mental note that my email should somehow distinguish TUNE's use case against Adobe's SDK.
Foresee is an SDK used to measure user satisfaction via UX analytics, so I would assume that this company indeed is making a serious investment into their mobile apps because they don't adopt tools like this otherwise. TUNE's app marketing analytics capabilities, therefore, was going to be relevant, since it helps acquire users more efficiently.
Yozio SDK is also used to enhance the app's organic user base growth ability, which is very much a marketing need. Again, it's clear to me that this company does care about app marketing.
Write that Email — teach and tailor
"Knowing this marketing team hasn't done any serious mobile app marketing before, I didn't talk about how TUNE can help with retargeting, segmentation or programmatic."
Solution sales are like teaching, and a good salesperson should know how to customize the message as a good teacher would.
If you are teaching Algebra II, you should design the lectures to resonate with those who completed Algebra I, and perhaps leave out the contents from Calculus I or Advanced Geometry, even if you think they are so awesome to hear about.
Knowing this marketing team hasn't done any serious mobile app marketing before, I didn't talk about how TUNE can help with retargeting, segmentation, or programmatic.
Rather, in my first email, I started with a screenshot of the most basic reporting and its metrics, which any performance marketer should be able to relate to, and described the mobile marketing channels that TUNE can provide that reporting for that Adobe could not.
To keep the emails "bite-sized" that was pretty much whole of my first email, and I checked the open email metrics using Cirrus. Sure enough, the email was revisited close to 10 times in 2 days.
Confident that my first email resonated with this person, two days later, I introduced a more advanced reporting metric that TUNE provided with another screenshot, called Cohort Report. This was a reporting format not too many mobile marketers were used to, and certainly not something that this team would have used before. This email got, even more, revisits than the first one, and when I followed up a day later to book a call, I got a response immediately.
The email sequence was very deliberate. In solution sales, the products are so complex that if we try to cover more than 1 reason why the customer should consider working with us in an email, we risk losing their attention. So, all I wanted to achieve in the first email was to let the prospect know that he could not do the marketing that he wanted to do with the current toolset that he has. The second email's goal was to introduce him to a concept than that he didn't think of before, while still resonating with him.
Data-Driven Sales Outreach
What would have my emails done if I didn't have this level of insight up front?
Hi, TUNE is a mobile marketing analytics provider. I heard you are looking for marketing tools, let's talk.
With a generic message that casts a wide net to speak to any potential use case rather than a pinpoint solution to the current pain point, the receiver of this email would have just lumped me into the same category as Adobe analytics, which they already had, and I wouldn't have differentiated my product from many other tools that seem similar. Again, he must have been getting 100's of sales emails a week!
I've heard many people say that cold-email is dead, just like cold-calling is dead. No, they are not the same thing at all! While cold-calling is very intrusive and disruptive for the receiver, cold-email is something that can be read or ignored at the receiver's convenience. Therefore, if you can give them something that scratches their itch, it will work. However, what is dead is the "spray-and-pray" cold emails that don't differentiate your solution in ways that resonate with your customer.
Even when you approach the Linkedin profiles, don't just look at their job titles and their companies, but read carefully into their job descriptions and previous experiences to understand their level of knowledge and expertise in your field. Are they Algebra I, Algebra II or even a Math major?
This process should at least make you think twice about just importing the 100 contacts and sending out the Email Template #1 under Drip Campaign #2 to everyone in Fortune 500 with "marketing" in their title.
Why take our word for it? MightySignal compares tens of thousands of SDKs with their competitors and provides a real-time look into which apps are installing or uninstalling them. Take a look at our list of the top Android SDKs in the top 200 apps, or contact us here to start your free two-week trial.