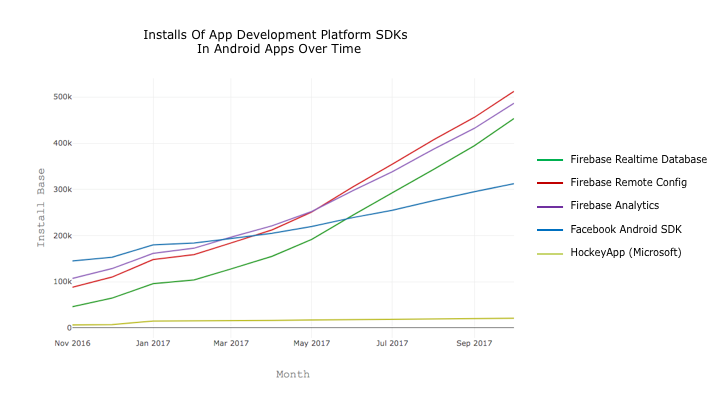 Fastest Growing SDKs of 2017
As 2017 quickly winds down, we're excited to release a new report that documents the fastest-growing SDKs of this year to help app developers understand what technologies are taking off.
Last year's report
broke down SDKs based on selected categories (e.g., analytics, monetization), but this year, we're looking at growth across all SDKs — regardless of what type they fall into.

We believe this provides a new and exciting way to identify mobile trends. As a developer, you can now see how your peers have changed their approach to building apps over the past year and what new tools they're implementing. We hope this unearths new opportunities and resources that you can leverage in creating your own, unique app.

What follows are some trends we found compelling; however, given the sheer volume of data, there were many that we didn't include. We decided to make the full report public here. These interactive charts allow you to explore the data yourself so that you can tease out your insights. We'd love to hear any unique ideas you found on your own — share them in the comments section.
Methodology
Using data from MightySignal, we can identify SDKs that are embedded in all iOS and Android apps. We scan every app updated or released, enabling us to see how SDK adoption changes over time. In this report, we focus on Android apps. Reach out to us if you would like details about SDKs in iOS apps.
Without further ado, here are the mobile trends we identified by analyzing the fastest growing SDKs of 2017.
1. Developers opted for app development platforms
Common choices developers face is whether to use one niche product that performs a single, specialized function or a comprehensive platform that provides solutions for a variety of problems.
In 2017, mobile developers opted to use app development platforms (one SDK that provides many functions) more than they did specialized ones (many SDKs each serving different roles). You'll see at the top of the ranks: Firebase (Google's SDK), HockeyApp (Microsoft's SDK), and Facebook. They all provide functionality across the board — from analytics to backend, to advertising, and more.]
As a developer, keep in mind that between app development platforms, the range of functionalities they offer still differ. Firebase's platform seems to cover the full range of an app's life cycle, with its real-time database, crash reporting, remote config (A/B testing), authentication, and analytics. They've also recently launched Cloud FireStore, and have incorporated Crashlytics into their suite. Facebook's platform offers unique access to its social graph while also providing functionality for analytics, ads, authentication, and deep-linking. Microsoft's Hockeyapp seems to focus more on DevOps, with features for beta distribution, crash reporting, user metrics, feedback, and workflow integrations.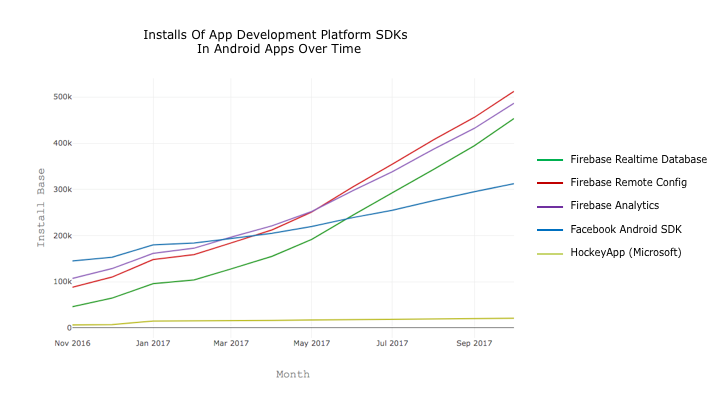 Despite the surging popularity of app development platforms, specialized SDKs did grow quickly as well, albeit not as fast. We can see in the top 100 fastest growing SDKs, technologies like OneSignal for push notifications, Realm for mobile back-end, and New Relic for application performance management.
Our best guess as to why app development platforms were adopted so much faster than specialized ones is that our dataset includes all Android apps, built mainly by small and agile developers. App development platforms may be more appealing to this audience because they offer so many functionalities with just one SDK implementation. Furthermore, Firebase, HockeyApp, and Facebook are free to use. Larger publishers that have more sophisticated needs (say, a Walmart) may opt for more specialized SDKs. Larger publishers also typically have larger budgets and more engineering resources to pay for and implement many specialized SDKs, especially if the SDKs solve advanced needs that free, app development platforms may not. We may revisit this topic in a future report, analyzing how SDK makeup for apps change as apps grow in size and popularity.
Another reason why we might see strong growth in app development platforms is that developers want to have all of their performance and analytics data in one place. Plus, Google, Microsoft, and Facebook invest heavily in developer outreach. Conferences like Google I/O, Facebook Developer Conference and Microsoft Build enable these companies to highlight their platforms on a prominent stage. Google, in particular, appears to be doubling down on its mobile platform with the acquisition of Fabric from Twitter, which will allow it to combine Fabric and Firebase, two highly-adapted app development platforms.
As a developer, it's crucial to pick the technologies that suit your needs the best. However, whether it's signal or noise, the trend amongst your peers was to use app development platforms as opposed to specialized ones in 2017.
2. Ad-tech continues to be a pivotal approach to monetization. Try Mediation SDKs.
As industries evolve, it's just as important to understand what isn't changing as what is. Perhaps unsurprisingly, ad tech remains one of the hottest, fastest-growing technologies adopted by developers in 2017.
Specific SDKs in the top 100 include the following:
Given ad-displaying SDKs command a great deal of developer mindshare already, we don't have much narrative to add. However, a space that may be under-reported in ad tech is mediation. For those who are unfamiliar, mediation SDKs allow developers and publishers to increase ad revenues by enabling apps to serve ads from multiple sources while ensuring that the ads that generate the most revenue are displayed at all times. For example, as the app developer, while you might install Vungle, Chartboost, and AdColony into your app to serve ads, you can use AdMob mediation to pick the ad that will pay you the most an any given time. This alleviates the burden of optimizing ad revenue yourself.
To use mediation in your mobile app, you often need to include adapters that allow the mediation SDK to communicate with ad-displaying SDKs. The fastest growing mediation adapter was between Admob mediation and the Facebook Audience Network.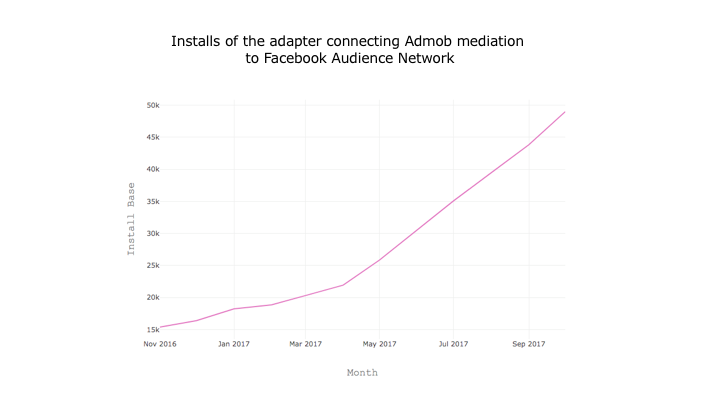 As a developer, it may be useful to know that despite the massive technology shifts and hype cycles in AI, AR/VR, Blockchain, and cats, one thing remains constant: your peers still choose ads as a tried and trusted way to monetize their apps.
3. Mobile apps are increasingly interacting with their surroundings
We've reported on the growing trend of incorporating physical location into a mobile app experience before. Therefore, it's no surprise to see Altbeacon as one of the fastest-growing SDKs in 2017.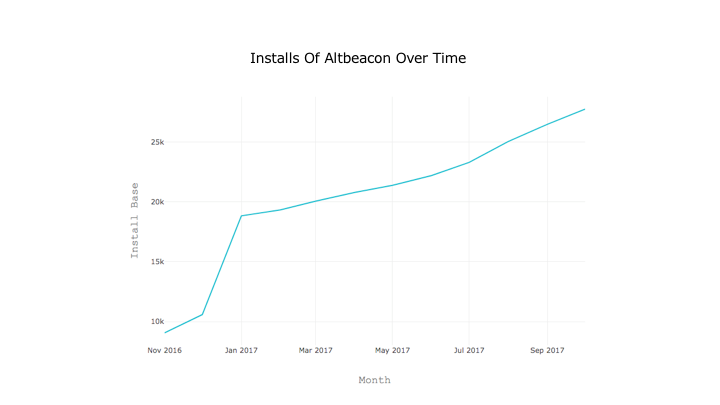 Altbeacon is an open source library that enables your app to interact with beacons. Its fast adoption is both surprising and unsurprising at the same time. When Apple first announced iBeacon at WWDC 2013, many thought it had the potential to transform retail. However, in the subsequent years, developer adoption, as well as investment from Apple in the technology, were underwhelming. Fast forward to 2017, and we may have reached a tipping point. Other data points that may suggest this include Whole Foods incorporating location in its mobile app and Gimbal is ranking #66 in Inc 500's fastest growing private companies.
As the saying goes, predictions are hard, especially when they're about the future. When Urban Airship first pioneered its push notification SDK in 2009, it took years before developers started to heavily using push notifications. Though beacon growth has been slower than many anticipated, it may be on a similar trajectory to push, which is now table-stakes in an app's experience. As a developer, it may be worth considering incorporating location into your app; as your peers are integrating it into their apps quickly, the broader consumer audience may become more and more accustomed to such an experience.
4. Developers have a growing need to visualize data
A challenge we are all too familiar with at MightySignal is that while apps may collect and store terabytes and terabytes of data, the mere presence of data does not equate to value delivered. Data must be organized and presented in such a way to answer important questions. That's why we're not surprised to see that one of the fastest growing SDKs is a data visualization SDK called MPAndroidChart.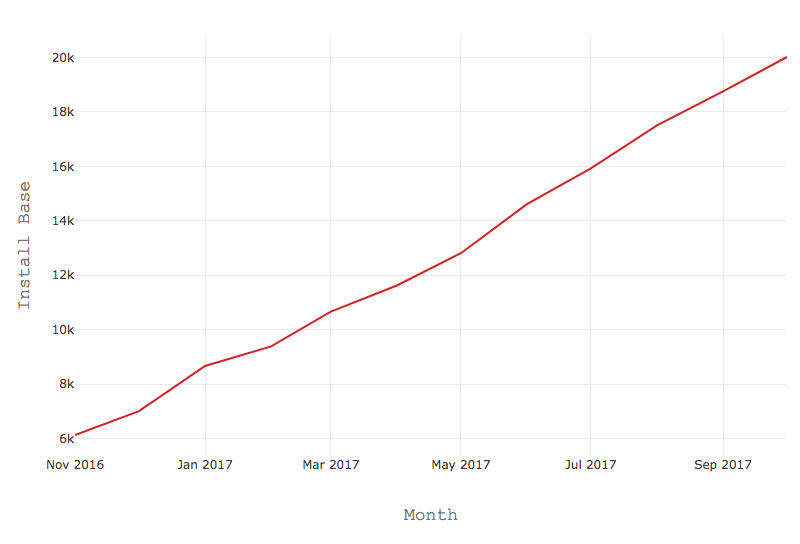 MPAndroidChart enables developers to present their in-app data in meaningful charts. For example, this app developed by Wachanga displays day by day statistics of a newborn's feeding.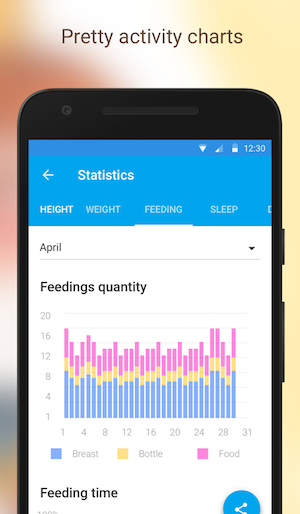 Other apps you may be familiar with using MPAndroidChart include:
The takeaway here is that as apps gather more and more data, the need to visualize the data and make sense of it is more and more pressing. If data aggregation and presentation is core to your app, you should consider the MPAndroidChart (or its iOS counterpart, Charts) as a way to visualize the data for your users.
Looking ahead to 2018
To recap, our report last year focused on the most popular SDKs in specific categories. This year, we started with data on adoption for all SDKs regardless of type, then analyzed to see which SDKs experienced notable growth and what that signals. The result is an understanding of how developers are changing their approach to building their apps, in hopes that it will spur new ideas and opportunities.
Click here to view the data for the report. We don't claim to have teased out every trend, so if you happen to find one yourself, feel free to let us know in the comments. The patterns included in this report are:
App development platforms are chosen more often than specialized SDKs
Ad tech is still a go-to way to monetize apps
Developers are increasingly incorporating location into their app experiences
Developers are visualizing data they are collecting in their app
The mobile market is still relatively young, and much of it is changing. While we may have reached the end of phase one (mainly about putting mobile phones in as many people's hands as possible), phase two is only beginning (marked by consolidation, optimization, and analysis). As a developer, there is still plenty of whitespaces. New technologies are continually emerging. Consider having your app interact with the real world, or collect and visualize data in a new way. Or, check out the data and come to your conclusion. We hope that, somewhere in this report, you can make a finding that spurs a unique idea for your next great app.
If you use Mighty Signal, you can compare SDKs and APIs within the related category. You can even use it to spy on the competition. If you'd like a demo of how these features work and their capabilities, or to try them out yourself with our free two-week trial, contact us here.