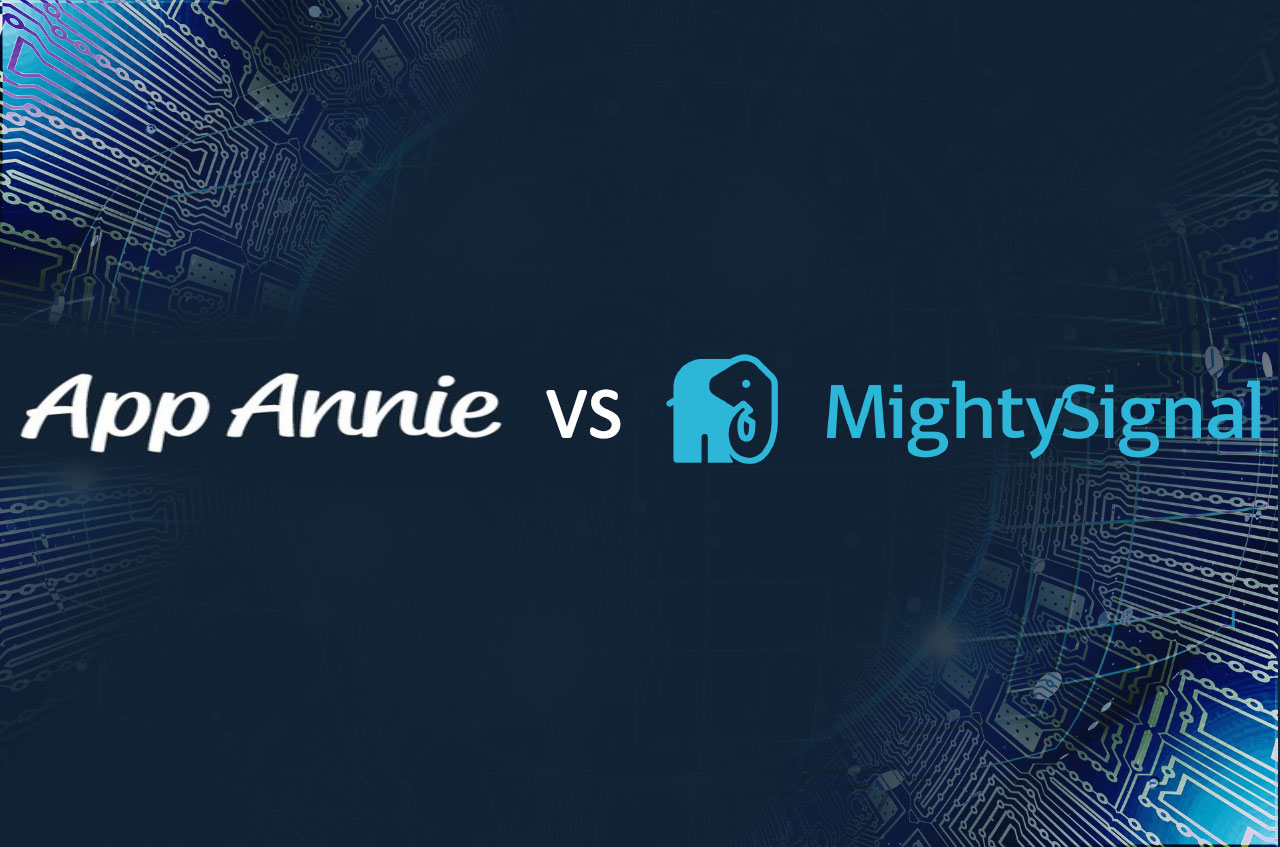 How does App Annie compare to MightySignal?
MightySignal Vs. App Annie
Founded in March 2010, App Annie is a popular mobile analytics application with a large user base. In fact, some of the largest companies, such as Electronic Arts and Nestle, subscribe to App Annie's services.
People often wonder whether they should use App Annie or MightySignal, so we wanted to give an in-depth explanation comparing our two platforms. Here, we will lay out the pros and cons of App Annie as well as a possible alternative. After reading this guide, you should have a better understanding of how both App Annie and MightySignal work and which one is better for your business needs.
Overview of App Annie
With company headquarters in the San Francisco Bay Area, App Annie currently employees around 300 people.
App Annie's services are currently split into two primary products: App Annie Intelligence, which offers market and competitor insights, and App Annie Connect, which includes analytics about your own applications.
App Annie's data seems to be comprehensive, albeit sometimes difficult to navigate. Users can access the service directly from a smartphone via the mobile app, which is a nice perk. The service is easy to set up and the interface is somewhat user-friendly. These are both important considerations when using any new analytic service, due to the vast amounts of information that is typically thrown your way.
While the basic App Annie mobile application is free to download and use, its services are quite limited. You may upgrade to a paid version however, App Annie doesn't provide pricing information without a quote through their support team, so we aren't able to share those figures with you. Based on the reviews, however, you can expect a somewhat hefty sum.
The reviews for App Annie on G2crowd.com are mostly positive, and express how beneficial this platform can be for app publishers. While most of the reviews are positive, we can start to get a better understanding of some problems users experience with their service. Besides pricing, bugs and crashes are a bit of an obstacle. These likely wouldn't be such an issue if tech support were responsive, but many online reviews claim that issues were left unaddressed by tech support.
Jamie K. reports that, "What I really don't like about this software is the fact that technical support or even a sales representative weren't able to tell me how to fix certain bugs that App Annie was giving me trouble last month and I had to look for a third-party solution that fixes all the bugs for me in order to keep my things in order and have a strong base to give an answer to the clients and my superiors as well. But overall this software is a great asset."
Other concerns include distracting advertisements and limited features on the free version as well as a lack of app sharing statistics.
Pros of App Annie
Plenty of ASO data points

Mobile app

Easy setup

Excellent Apple App Store stats
Cons of App Annie
Limited features with the free version

Expensive pricing for the upgrade to full features

Distracting advertisements

Unresponsive technical support
MightySignal: An Alternative to App Annie
MightySignal is a smaller mobile analytics and SDK intelligence company that is renown for our data accuracy and real-time live scanning abilities.
When first visiting the MightySignal website, you're prompted to choose from a range of popular mobile apps and immediately see a demo of MightySignal's services.
If you like what you see here, you can use the contact form to set up a full trial period as opposed to App Annie limited trial version.
We rely on a full-service free demo versus a free mobile app with limited capabilities because we believe it's a better option for our users. Unless you're only relying on statistics from the Apple App Store, this will likely work better for showing the full range of statistics available.
We love our service, but you're also welcome to read third-party user reviews. There is an overwhelming number of customers who specifically mention our "stellar" tech support and customer service. In fact, if you request a specific addition to our service, our tech support tries to implement your request quickly when possible – sometimes within just a few weeks.
We believe MightySignal's SDK intelligence, which offers live updates, is incomparable to competitors, and many users agree. While App Annie does offer some SDK intelligence they have admitted that SDK intel is an indirect focus and is more suited to app publishers as an ASO (App Store Optimization) tool. TLDR; We agree, App Annie is an amazing option for ASO but when it comes to SDK sales and marketing tools, that's where MightySignal wins hands down.
Pros of MightySignal
Stellar customer service and tech support

Plenty of ASO data points

User-friendly

Largest SDK Intelligence data set

Full demo version

Real-time data

Largest database of app

publisher contacts
Cons of MightySignal
Small individual issues that are easily handled by tech support

Paid service with no long-term "free" version
Features and Reviews
Both services offer comparable amounts of data and customization options. Here are a few important features along with customer reviews regarding each service.
Data
When it comes to SDK Intelligence, MightySignal seems to be the clear winner. Users should also note that many of App Annie's features are limited or completely missing via the free version, which can be frustrating.
Tech Support
MightySignal's tech support seems to be the winner when comparing the two services. Many users report lackluster feedback and resolution from App Annie's tech support. Compared with the many rave reviews of MightySignal's tech support, App Annie simply doesn't match up.
Pricing
Many users state that App Annie's pricing is expensive for an SMB. However, prices are customizable for both services. Conversely, MightySignal offers licenses with unlimited access to all of our data with no restrictions on the number of reports or historic data you have access to.
Demo vs. Free Version
App Annie offers a limited free version, but many features that are unavailable. Even more frustrating, App Annie doesn't offer any demo or free version of the unlimited features the app can provide.
By contrast, MightySignal doesn't offer a free version, but the demo is full service. This allows users to get a better feel for our data quality and scope before they buy it.
Final Thoughts
When it comes to mobile application analytics and SDK Intelligence, MightySignal seems to be the better choice for many. With stellar tech support and very few complaints, the reviews speak for themselves. However, for a user who relies solely on Apple App Store statistics and with a higher budget to spend, App Annie is a great alternative.
If you want to see the MightySignal demo in action, contact us here.