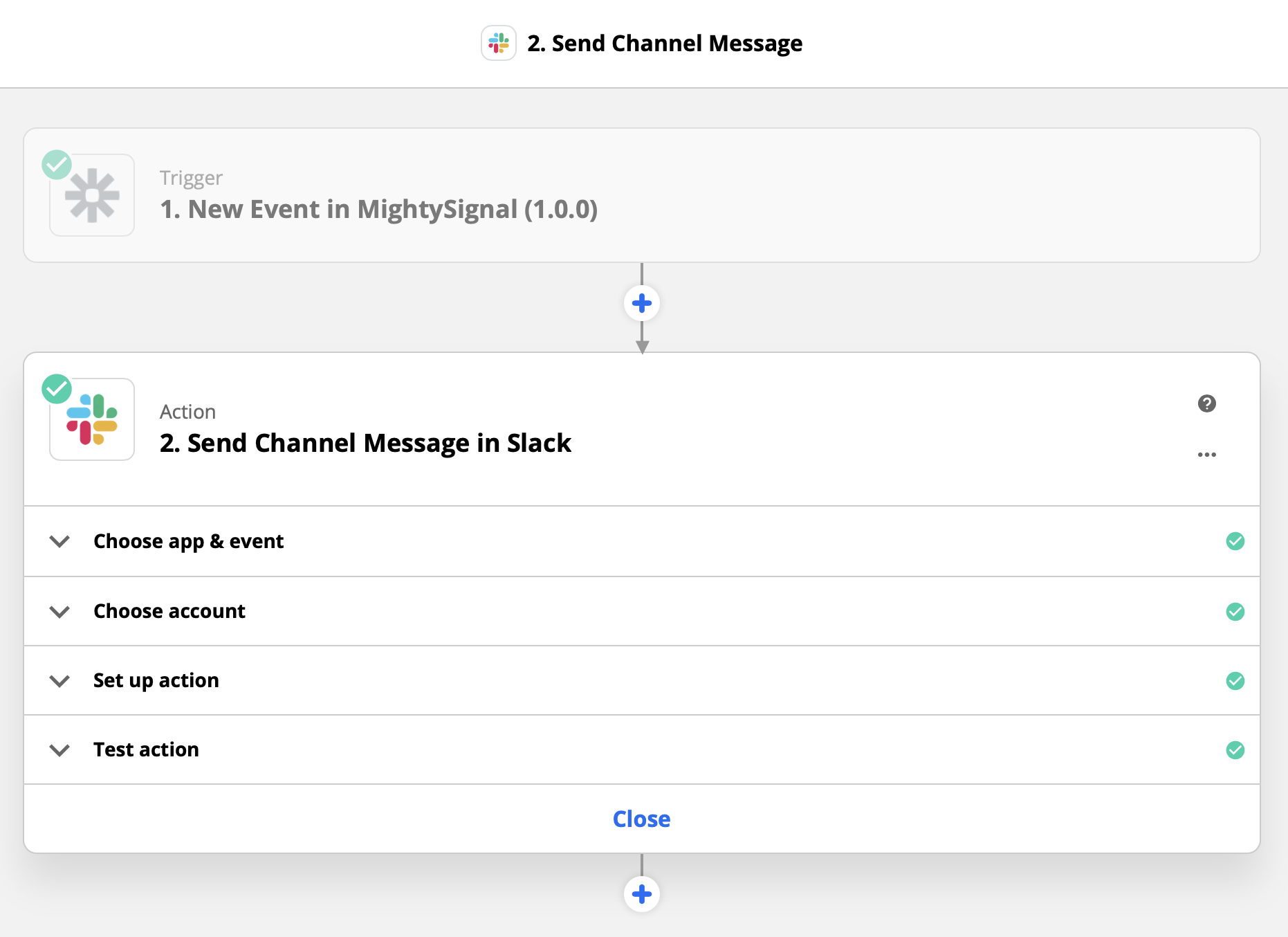 How to get real-time alerts about SDK installs and uninstalls
The Timeline is one of the MightySignal's most popular features. It's included in the Web Portal subscription and allows you to follow SDKs and Apps and see a real-time feed of install and uninstall events. All along we recognized that to maximize the power and usefulness of Timeline, we'd need to help you get its data into whichever platform is most beneficial to you and your team.
I'm excited to announce we've finally made that available! You now have a couple of great options to use this data.
New API Endpoints
Access your Timeline data directly through the API. The new User Feed and User Timeline endpoints provide you with two different formats for the Timeline data. The User Timeline option formats exactly like the Timeline with data grouped by week. It's basically the Timeline in JSON format. The User Feed option removes the weekly batches and puts everything into a single array. Our Zapier App is based on the User Feed option.
But if you want absolute control, you can write a script to take these data and do... anything. All you need is a MightySignal API key and some programming knowledge.
New Zapier App
Alternatively, use the magic of Zapier to access the User Feed endpoint without writing a line of code! In the user-friendly format that Zapier is known for, you can essentially daisy-chain our API into every other popular platform, including Slack, MailChimp, Twitter, email... the list goes on.
In this example, we'll show you how to set up a Zap to push the MightySignal Feed into Slack.
First, go here: https://zapier.com/developer/public-invite/125717/64612d881d874ee6777528266c61cd3c/. You'll set up an Auth and use the email address you log into MightySignal with and the API key we give you. From there, follow these simple steps!
1. Choose the New Event trigger. Right now it's the only option!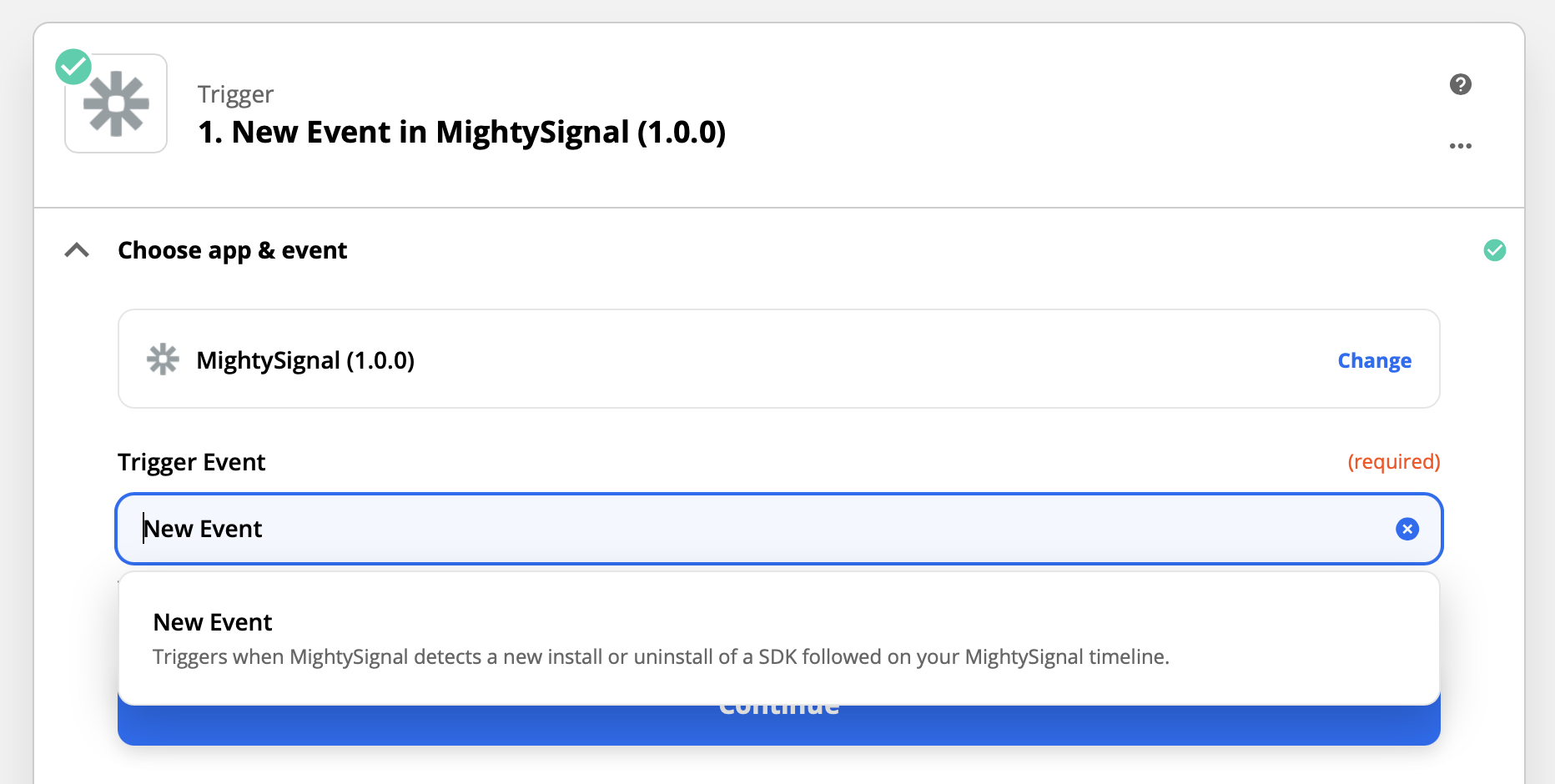 2. Under the Choose account section, you'll need to set up a new connection to MightySignal. select + Connect a new account. A new window will pop up like the one shown below. The Username is your email address and the Password is your account's API key. Enter those and click Yes, Continue.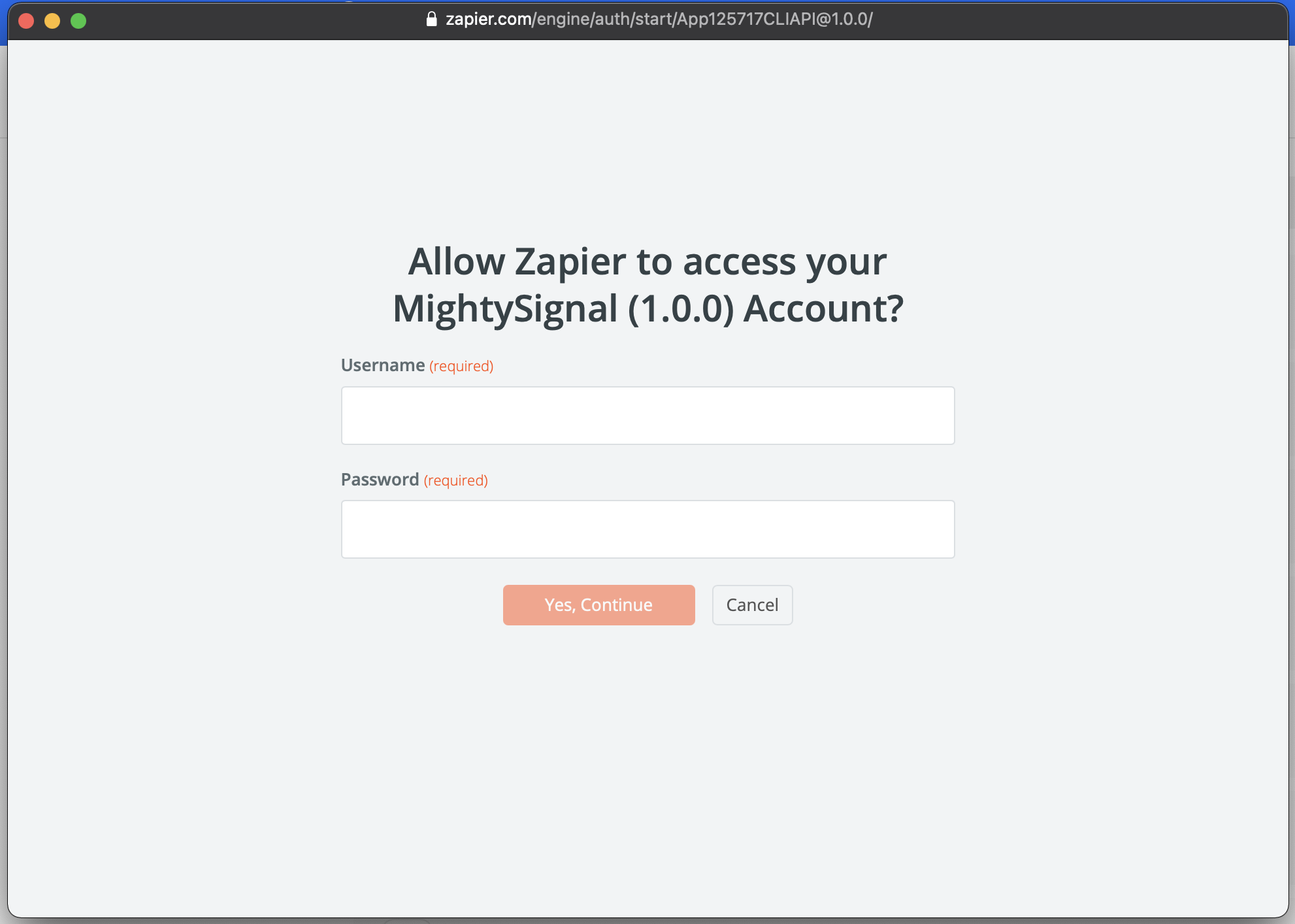 3. Set up the trigger by entering 60 minutes (this should be the default) value and the email of the user account you want to use in the feed.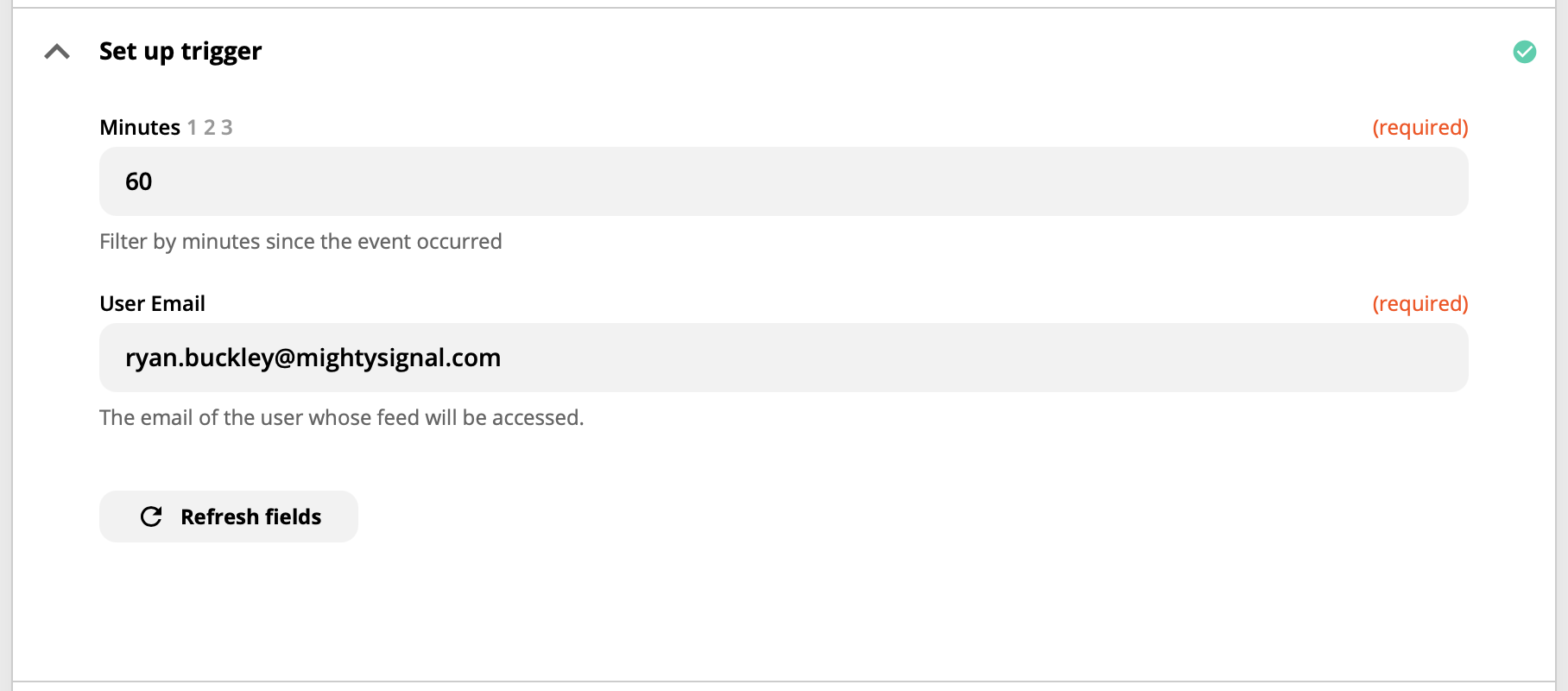 4. Move on to Test trigger and confirm that there are no authentication errors. If you get an error, please double check the API key and email address you used. The API key must be valid and the email address must be on the same account as the API key. If you continue to have problems, please send a note to support@mightysignal.com and we'll be happy to help!
5. Click the plus sign under your completed MightySignal trigger. From here, you can push this MightySignal feed anywhere! For the purpose of this demo, though, we'll simply post a Slack message.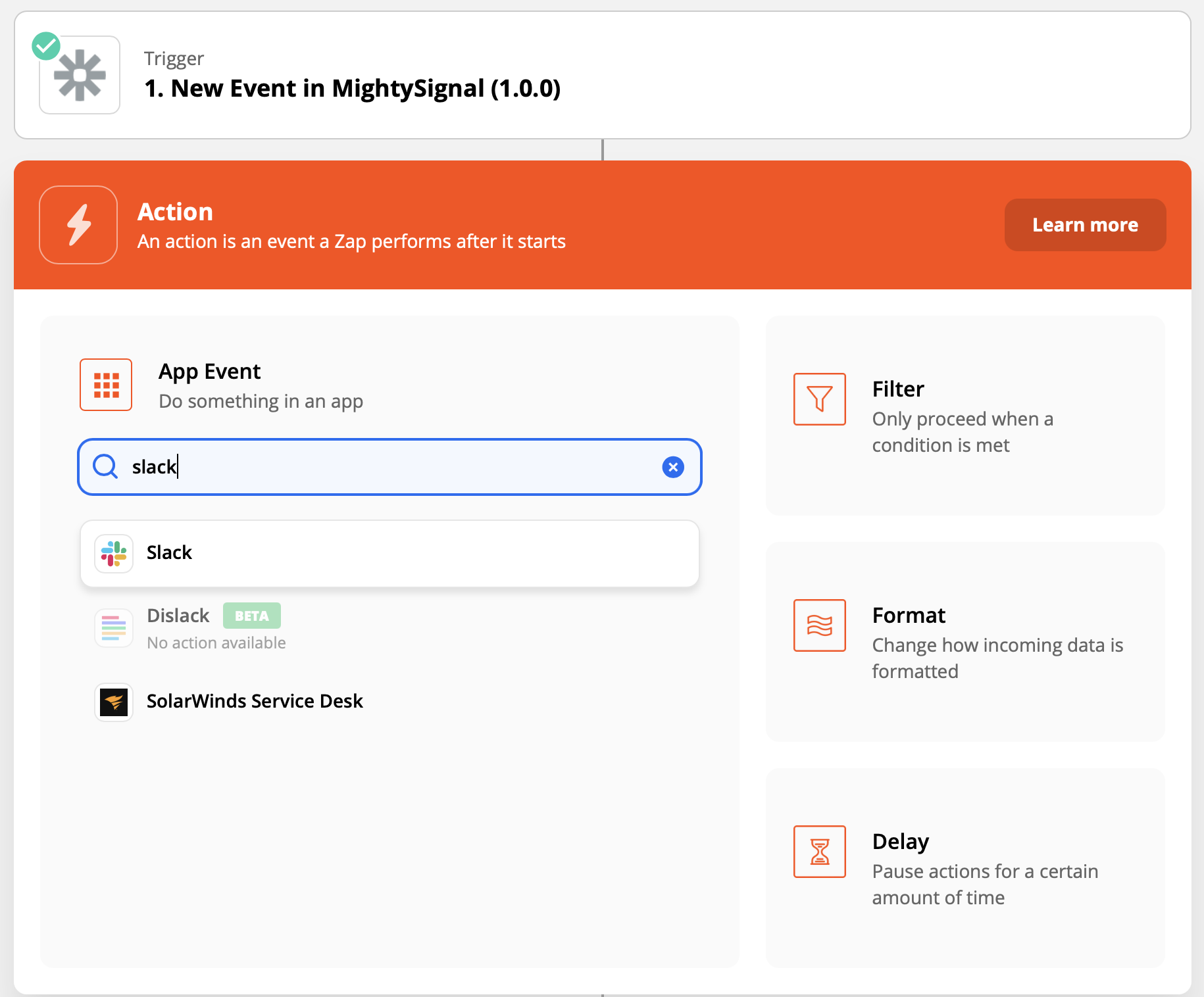 6. You will need to authenticate your Slack connection. The Slack app in Zapier uses OAuth, a common and safe way to share access to your Slack instance. Click through the approval confirmation (you must be a Slack user with appropriate authority) and you'll get to this next screen. Under Action Event, choose Send Channel Message.
7. Under Set up action, you'll choose the channel where you want Zapier to post the MightySignal message and set what the text will be. We created a new channel called "#feed" and used Zapier's input box to place the MightySignal feed data inline into the text message. You'll see that it's fairly intuitive to set up the message however you like.

The Message Text above shows up like this in Slack. The links we place go to MightySignal and use the Platform, App ID, and SDK ID data fields.

The remaining options under Set up action are based on preference for your organization and don't impact the MightySignal connection to Slack itself. Finally, you'll go through a test step to make sure the Zap has permissions to post to your Slack channel.
Now, turn on the Zap and sit back! Your MightySignal feed will stream into Slack. Magic!
Questions? Please email support@mightysignal.com and we'll be glad to help.