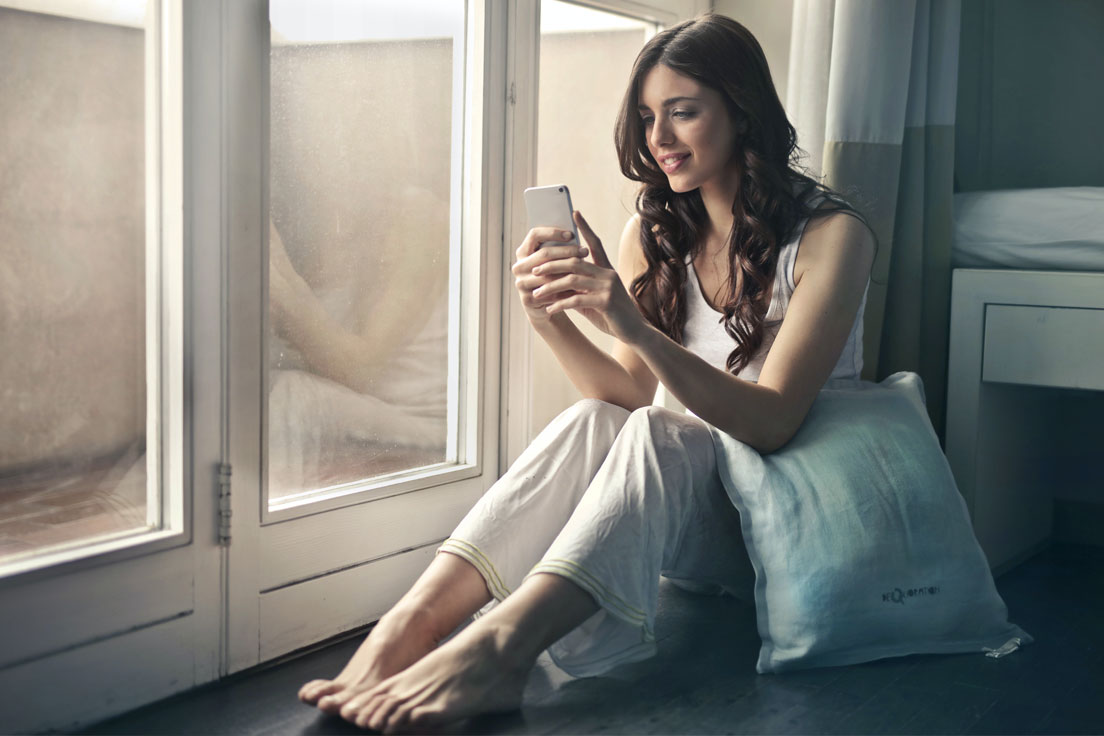 The Human Story: Mobile Market Trends Reflect Social Impact of Covid-19
The latest insights reveal our COVID-19 app habits — and how we're staying connected.
As most of us hunker down at home (and run out of stuff to watch on Netflix), we're using more and more mobile tech to fight off the boredom — and stay emotionally connected with ourselves and others.
You've probably read about Zoom — its downloads increased from 10 million to 200 million in March as more people worked from home — but they aren't the only app to experience a sudden surge in downloads. It appears people are downloading more apps than ever before, on both free and paid sides of the mobile market. Apple's App Store reported record numbers in Q1 2020, with third-party subscription revenues increasing 40 percent from last year.
What We've Been Downloading on the App Store in April
Here at MightySignal, we wondered how the current crisis was influencing our appetite for apps. So we crunched the numbers from our mid-April Trending Chart, which shows the mobile apps that have made the biggest gains in the global App Store from April 8 - 15 — and the results told some interesting human stories. Here are some highlights from our list of top-trending apps in April 2020: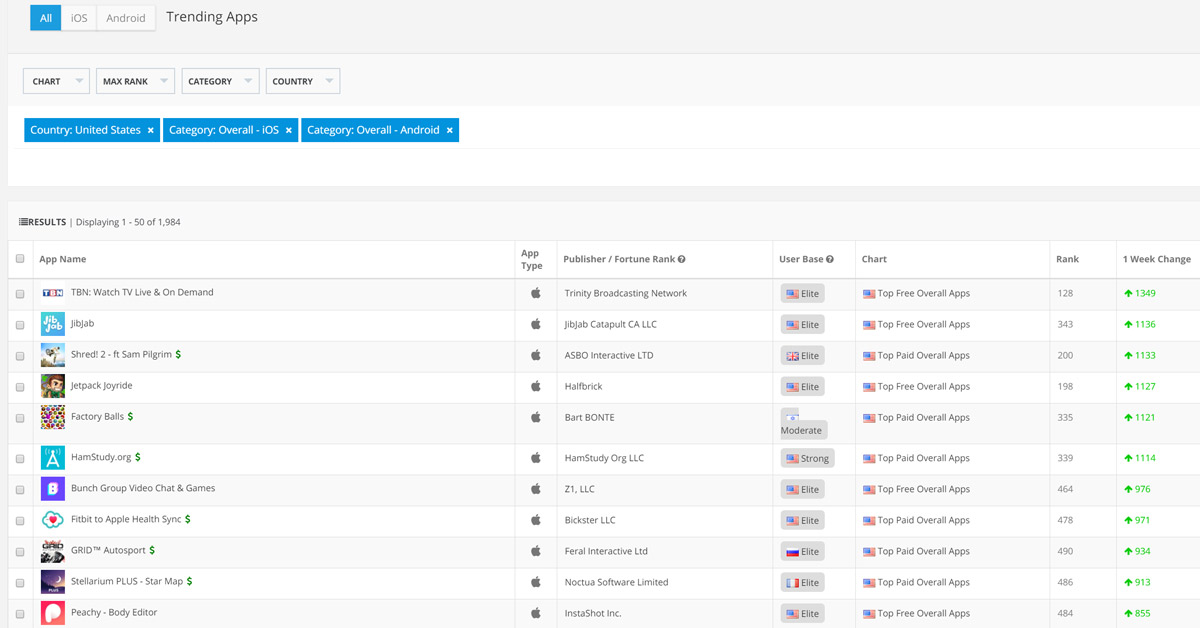 TBN
TBN (Trinity Broadcasting Network), the world's largest religious network, jumped 1,349 positions on the App Store in just one week. As more states issued stay-at-home orders, many churches closed their doors, and people migrated to watching spiritual services online. Easter Sunday services likely boosted download numbers, and TBN made more gains on our Trending Chart than any other app.
JibJab
JibJab, an app that lets users create funny e-cards for special occasions, rose 1,136 spots on the App Store in one week. As mail services experienced delays and family members remained isolated from each other due to the pandemic, people have been thinking up creative ways to digitally celebrate the birthdays and anniversaries of loved ones, as well as sending holiday greetings and other reasons to smile; JibJab also lets users send Easter cards, which may account for some of the rise in popularity over our particular trend window.
Bunch Group Video Chat & Games
A video group communications app for gamers, Bunch generated huge downloads, rising a massive 976 places. As we get used to the "new normal" of social distancing, video communications apps like this have become a fundamental addition to our lives. It's clear that COVID-19 has had a significant social impact.
Peachy — Body Editor
Of course, some things don't change. Most people might be stuck at home, but it seems like we're still taking selfies. Peachy — Body Editor, a photo-editing app for face and body shape retouching, climbed 855 positions.
Stellarium PLUS — Star Map
As we struggle to make sense of the current situation, many of us are trying to escape from the harsh realities of everyday life. Stellarium PLUS — Star Map provides some much-needed relaxation with a guide to star-gazing. This planetary app increased 933 places on our Trending Chart.
Fitbit to Apple Health Sync
When it comes to individual health tracking, Fitbit to Apple Health Sync has experienced impressive downloads, jumping 971 places. As the vast majority of gyms have closed their doors, more of us are training at home, and health and fitness apps across the board have seen huge increases in downloads.
Jetpack Joyride
Jetpack Joyride, an action video game, increased 1,127 spots. This wasn't the only game to make huge leaps on our Trending Chart. As people look for new ways to entertain themselves, games like Shred! 2 ft. Sam Pilgrim and Factory Balls have experienced insatiable demand.
GRID Autosport
Speaking of games, high-speed racing game GRID Autosport jumped 934 places on our Trending Chart. Perhaps people are missing their daily car commute as they work from home? (We doubt it...)
HamStudy.org
An unexpected rising star is the HamStudy.org app, an educational resource for would-be HAM radio operators, which rose 1,114 places on the App Store in a single week. Perhaps this is a reflection of our desire to learn new skills in the current crisis, as well as our instinctual human desire to stay connected.
Why Should You Care?
App trends are not just numbers in a vacuum; they tell people-centric stories. These are valuable narratives that can provide marketers with a broad global overview they need to formulate an intuitive sales strategy in these uncertain times. As 2020's challenging journey unfolds and the app landscape continues to change, MightySignal is able to provide the latest intelligence into the world's collective app habits. The MightySignal ToolBox generates even more detailed app data breakdowns, with mining metrics like MAU (Monthly Active Users) and advanced SDK intelligence and ad intelligence.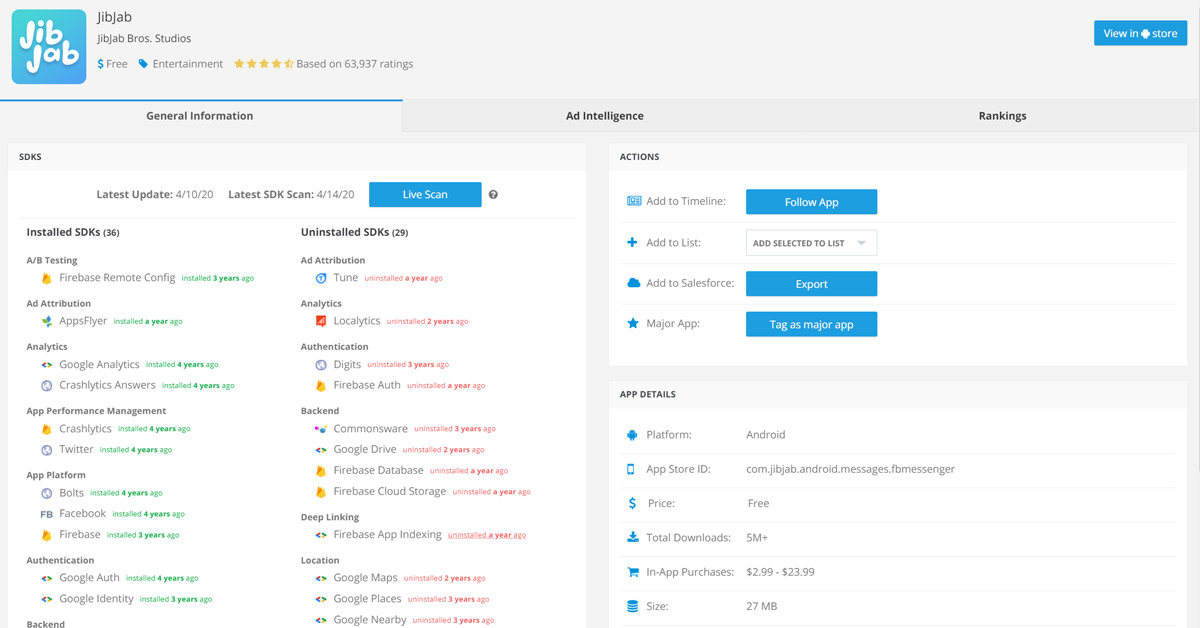 Understanding the human behavior reflected in mobile market trends can offer a deep competitive advantage. In order to realize this advantage, you need data and reporting tools that you can trust. MightySignal's app intelligence is accurate, real-time, and scalable. Use it to track your competitors, find gaps in the market, and forecast and strategize.
Track Your Competitors
With app usage insights, find out what your competitors are doing across the mobile market. Know what types of customers they're signing. Use our trending chart feature to know how fast your rivals are growing — and when new competitors arise.
Find Gaps in the Market
With SDK intelligence, you can discover gaps in the market that your competitor can't see. Use this to create thoughtful marketing strategies that close those gaps — and capitalize on the most lucrative opportunities. For example, with data from MightySignal, you can discover new types of gaming apps that use similar SDKs to your product offering, and then use Ad Intelligence to see that they are advertising on two or more ad networks, which may indicate they have a growth budget — and might be a great warm lead for your sales team.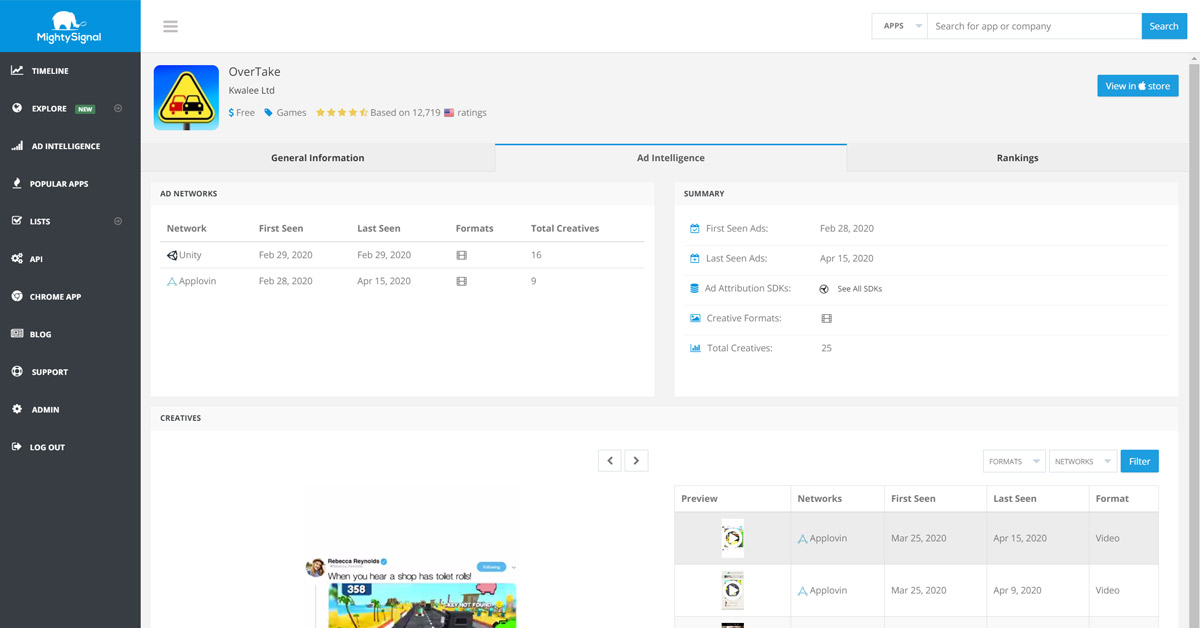 Forecast and Strategize
Not only can you use MightySignal data to visualize the social impact of app trends with greater clarity, but you can also build intelligent models to predict the future of the mobile market with our API and Data Feed tools. This allows you to plan out your go-to-market strategies far in advance.
MightySignal's in-depth data provides you with the intelligence you need to make smarter, quicker decisions during the current pandemic and beyond. Contact us right now to discover more about how MightySignal's mobile app and SDK intelligence will send sales into the stratosphere.