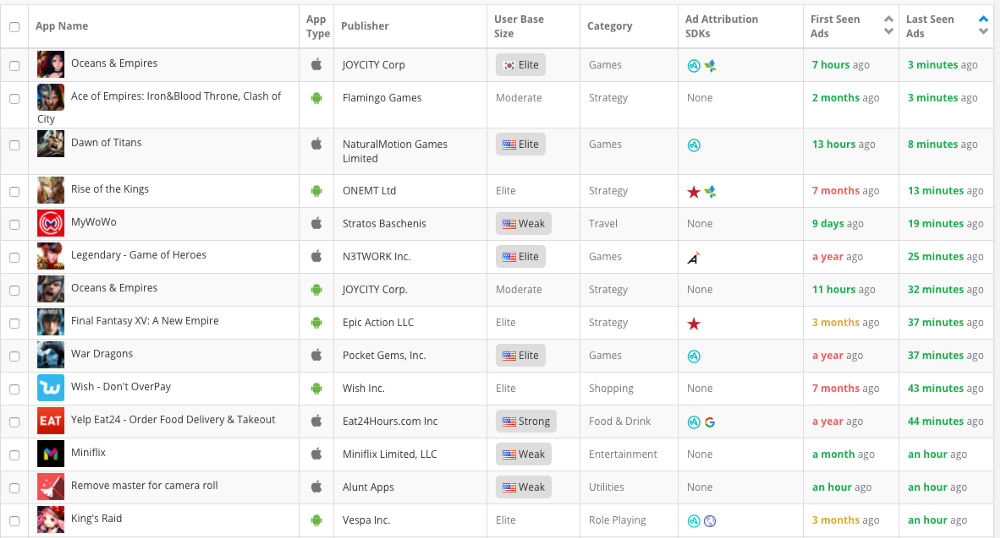 Identifying Advertisers to Increase Mobile Ad Sales
How MightySignal can Help Identify Advertisers to Increase Mobile Ad Sales
Use data to identify quality leads and increase conversions
Thanks to the captive audiences brands can target directly, there's a lot of money to be made in mobile advertising.
In 2019, mobile ads are predicted to hit two significant milestones. Surpassing traditional media in ad spend and for the first time, Facebook and Google will see declines in their digital ad spend shares.
US digital ad spend is predicted to reach upwards of $129 billion and will account for more 54% of total media ad spend.
Since there's so much money at stake, the mobile SaaS sales world is quite competitive. Many big-name companies lack the in-house technical wherewithal needed to fully capitalize on mobile advertising. Instead of focusing on developing their own proprietary technologies to increase conversions, these larger retailers are primarily invested in delivering great products and services to their customers.
They stick to what they're good at and rely on ad networks and agencies to extend their mobile advertising investments.
This creates many opportunities for smart companies on the advertiser side of things (e.g., agencies that buy mobile ads for larger retailers) to land big organizations with deep pockets as clients. To increase the likelihood that happens, mobile SaaS sales teams need access to data that enables them to sharpen their pitches and demonstrate their expertise more persuasively.
That's actually easier to do than it might sound.
By using MightySignal, for example, adtech businesses can quickly and clearly identify mobile advertisers and the software development kits (SDKs) they're using — which makes it easy to guess what they're planning to do in the near future.
This simplifies the process of identifying and qualifying leads — which translates into more conversions in less time.
Use MightySignal to see exactly who's advertising
Even if you are able to place mobile ads as effectively as possible, you won't be able to close deals with companies that aren't advertising in the first place.
On the flip side, it's much easier to sell to a company when you know that they're investing in mobile SaaS sales and you're aware of the demographics they're targeting.
For example, let's say you log in to Facebook and you're greeted by this ad from Pampers: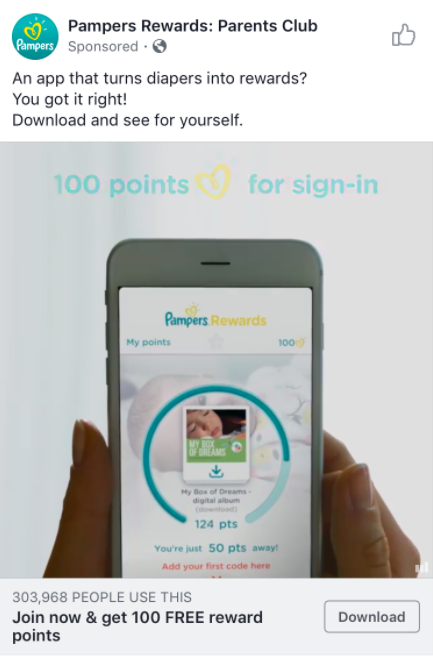 Pampers is clearly trying to get more and more users on their app. But you don't have any kids so you're curious why the company is targeting you.
It all starts to make sense when you peek at their demographics.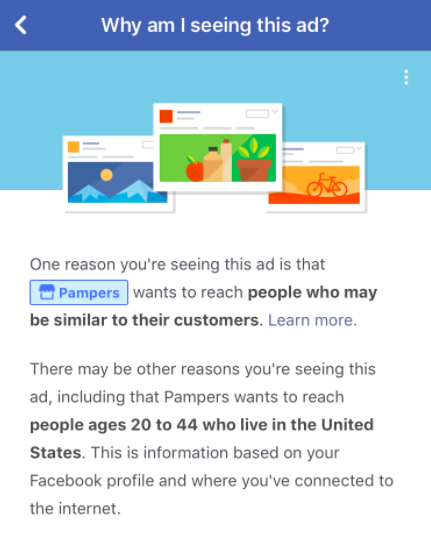 Now, imagine you have this data for every advertiser — big and small.
When you're able to easily determine which companies are investing in mobile ads and which demographics they're targeting, you can adjust your pitches accordingly to increase the chances they decide to do business with you.
MightySignal provides this data in a convenient way. Run a quick scan and you can clearly see which apps are using ad attribution SDKs — an obvious sign they are investing in mobile advertising since attribution enables companies to gauge the effectiveness of their mobile campaigns.
You can also discover how long they've been advertising and how big their user bases are. If a company has just installed an attribution SDK, for example, it's a pretty good sign they're ready to buy ads.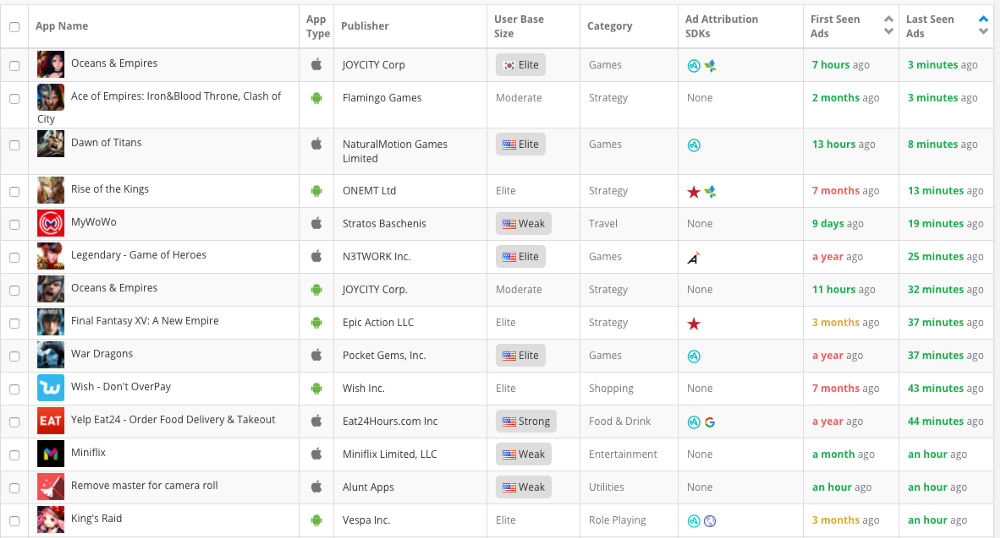 Armed with this information, you can refine your pitches and reach out to companies that are actively advertising on mobile.
What the presence of ad attribution SDKs tells you
When you know that companies have installed ad attribution SDKs in their mobile apps, you know that they have a higher level of mobile sophistication than most companies. And you also know that they will be investing in mobile ads and measuring the results.
Brands that are serious about mobile advertising will have installed attribution SDKs like:
With the right tools, it's incredibly simple to figure out which apps at using which attribution SDKs — and are therefore serious about increasing mobile ad spend.
For example, you can use MightySignal to automatically receive alerts when advertisers have installed (and uninstalled) any of these attribution SDKs in their own mobile apps: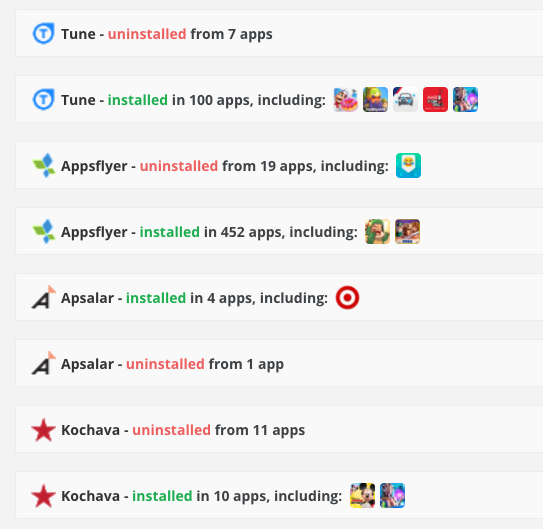 Each week, new prospective clients are funneled directly to you. These companies will have already made it known that they intend to invest in mobile advertising — which makes them qualified leads for your mobile SaaS sales team.
Quite simply, MightySignal enables your team to increase productivity and conversion rates by filling your pipeline with hundreds of qualified leads — which will produce much better results than simply shooting in the dark.
Using data to drive sales
In today's data-driven world, it doesn't make much sense for adtech companies to roll the dice in an attempt to figure out which companies might need their services.
Instead, use MightySignal to increase your mobile SaaS team's efficiency and effectiveness.
The downstream effects speak for themselves: better conversion rates, more closed deals, and a healthier bottom line.
MightySignal enables mobile SaaS sales teams to win business by providing key data on mobile apps. To find out more, contact us here.