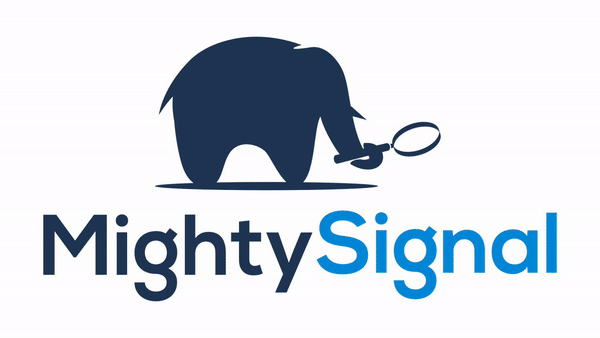 Lessons Learned From MAU Conference
Every battle is won before it is fought.
— The Art of War, Sun Tzu
Two weeks ago, the MightySignal team attended MAU in Las Vegas for the first time. Our goal was to acquire new customers at the conference. While I didn't personally attend, as I was listening to the team recap the lessons learned, I thought they'd be valuable to share!
In MightySignal's short time in business, we've learned that conferences are a crucial part of the mobile ecosystem. Whether you are an app developer, marketer, vendor, or investor, conferences are where business is being done. They happen all year-round, from MAU to GDC, to MWC, to Postback, to Acceleration (see here for a running list of conferences we're attending). If you don't have a conference strategy, you may be handicapping yourself.
Being a scrappy startup though, we hadn't been to MAU before; tickets and Vegas life are expensive! However, the week before MAU, we kept hearing from customers (current and prospective) that they wouldn't be able to meet or talk during the week of the conference.
We decided that instead of waiting for them to get back, we'd meet them there! Here's what we did and our lessons learned.
Preparation
We decided to go lean and mean. This meant no conference passes; we'd meet people as they went in and out of the conference floor. We also only sent those who needed to go: our sales team (Adam, Lina, Paul) who focused on new business, and my co-founder Jason who was working on a special project (more on this in the future).
We also wanted something to increase our presence at the conference, given we had no access to the event much less a booth. We hacked together a free tool called MightySignal Lite that would allow conference attendees to lookup apps and see the SDKs embedded in them.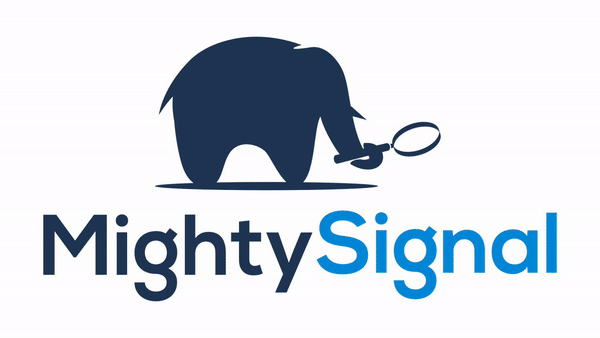 To promote MightySignal Lite, we tried a few things:
We printed out 800 flyers to pass out at the conference explaining how to access the tool.
We emailed an access link to all our customers and colleagues who'd be attending.
We prepared ad campaigns on Facebook geo-fenced to Vegas.
We started

tweeting

about the tool, mentioning the relevant handles and hashtags. We continued the tweets throughout the conference.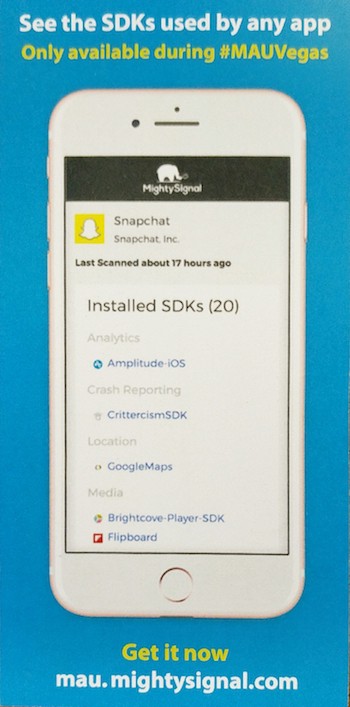 Lessons learned
Here are the top lessons learned I heard from the team when they returned:
The #1 lesson from the conference: Be prepared. In the words of Sun Tzu, "every battle [and conference] is won before it is fought." It was very evident which attendees were prepared and who was not. Those who were prepared already had meetings set up back-to-back throughout the whole conference. The meeting place of choice was

the bar in the middle of Hard Rock. Those who were not prepared wandered the halls. We were somewhere in the middle of that spectrum, having done some preparation but not as much as others had.

We were there to hustle but learned that nothing beat old-fashioned preparation.

Vote here on how many meetings you had booked.
As for MightySignal Lite, it was moderately successful. We had 79 signups from a solid list of potential customers with whom we're scheduling meetings. We honestly thought we'd get a few hundred signups, but we didn't because a) we enforced LinkedIn signup and we learned that most people couldn't remember their LinkedIn passwords and b) people were doing much less qualifying / gathering intel on apps at the conference than we expected. Qualitatively though, it seemed like we did generate awareness — on multiple occasions since the conference, people have told us that they saw our tool and flyers. Grow.co, the hosts of the conference,

showed us some love too.
As far as new business goes, the conference was not that effective for finding net new leads, but it was very effective in meeting potential customers with whom we were in touch.

This probably had to do with how chaotic the event was, and how hard it is to get to know and remember someone you just met. However, if we already had an ongoing conversation with someone, it was a great way to meet face-to-face and progress that relationship.
We felt that we didn't miss out on anything from not buying passes. We felt we were able to meet everyone we wanted. Even if we had more budget, the team thought it'd be more worth it to host a party or table and invite our partners and customers.
After-parties were where you got to know people on a more personal level. On the second night, the party was at Surrender, where significant vendors, like our friends at Tune and YouAppi, all had cabanas.
Schedule your meetings for the first day of the conference; people are tired and hungover on the second day so that meetings will be canceled.
Know the lay of the land. Vegas is a maze. Plan out ahead where you want to eat and meet, so you don't waste time.
Don't be afraid to ask for intros; be generous about providing intros.
Jason was successful in meeting people and learning more about the mobile ecosystem. The ecosystem is vast — one area he got to learn a lot about was the ad-tech space and its nuances.
Know when it's time to stop doing business and have fun. Surprisingly, getting out of "business-mode" is an excellent way of actually doing business.
Ultimately, we concluded that we need to incorporate conferences more into our growth strategy. You get to meet all your customers and partners in-person and have fun doing it. The alternative is to sit at home and email people who aren't even at their desks. In general, conferences are where you can continually meet new people and deepen existing relationships. These relationships have compounding value, and the people in mobile, in general, are just fun to be around.
The next two conferences we'll be attending are mParticle's Acceleration in New York on 5/25 in NY and Tune's Postback 7/20–7/21 in Seattle. Let us know if you'll be there too!