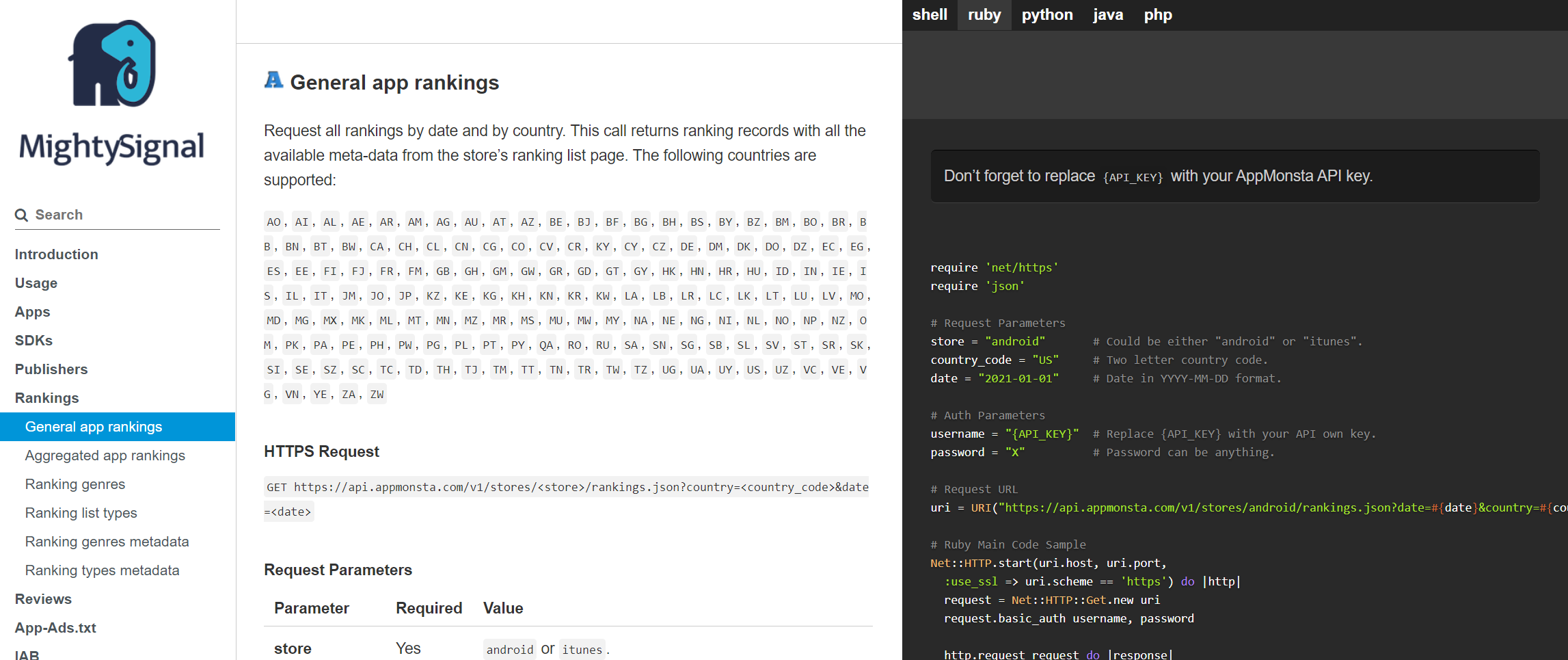 MightySignal Announces New Unifed API Documentation
A year ago we completed our acquisition of AppMonsta. The benefits of that acquisition continue to trickle into the backend of MightySignal, powering the mobile app and ranking feeds that make MightySignal work.
We're really excited to start surfacing some of this data to our customers, and the merger of our API documentation is one big step forward. Please check out the new and improved MightySignal API docs! There are a couple features I want to mention.
Each endpoint is labeled as "MightySignal" or "AppMonsta"
Authentication documentation for MightySignal and AppMonsta is described under Usage
New endpoints are now available too: User Timelines, App Reviews, App-Ads.txt, IAB Categories, and raw APKs
I'll highlight a couple that I'm most excited about: User Timelines and raw APKs.
User Timelines
This one is a long time coming! We've always meant to make MightySignal data accessible outside of MightySignal. That's what our Salesforce integration and various data feeds are all about: getting the data where you'll use it. However, a huge missing piece was the User Timeline, a unique feed of install and uninstall events based on the SDKs that you follow in your MightySignal account.
With the new User Feed and User Timeline endpoints, you can harness your timeline data and do all sorts of cool stuff with it, building it into your own internal apps and tooling with custom scripts. Or if coding isn't your thing, let our Zapier app do the heavy lifting for you. It's powered by these new endpoints.
With Zapier, you can:
Send install and uninstall alerts to Slack, email, or SMS text
Filter and push new leads into a CRM like HubSpot or Salesforce
Feed into marketing automation like Pardot or Marketo
Really, there's no limit to what you can do. I think this removes a lot of the constraints around real-time alerting within MightySignal.
Raw APK Downloader
This one's a bit in the weeds, but hear me out. If you work in cybersecurity, fraud, or other code security fields, getting your hands on the raw app code of any app in the Google Play store can be a challenge. Our APK Downloader solves this problem by providing you with a link to download the raw APK of any app you wish to analyze.
Want To Get Started?
Contact us if you want to access any of these endpoints! We look forward to working with you.