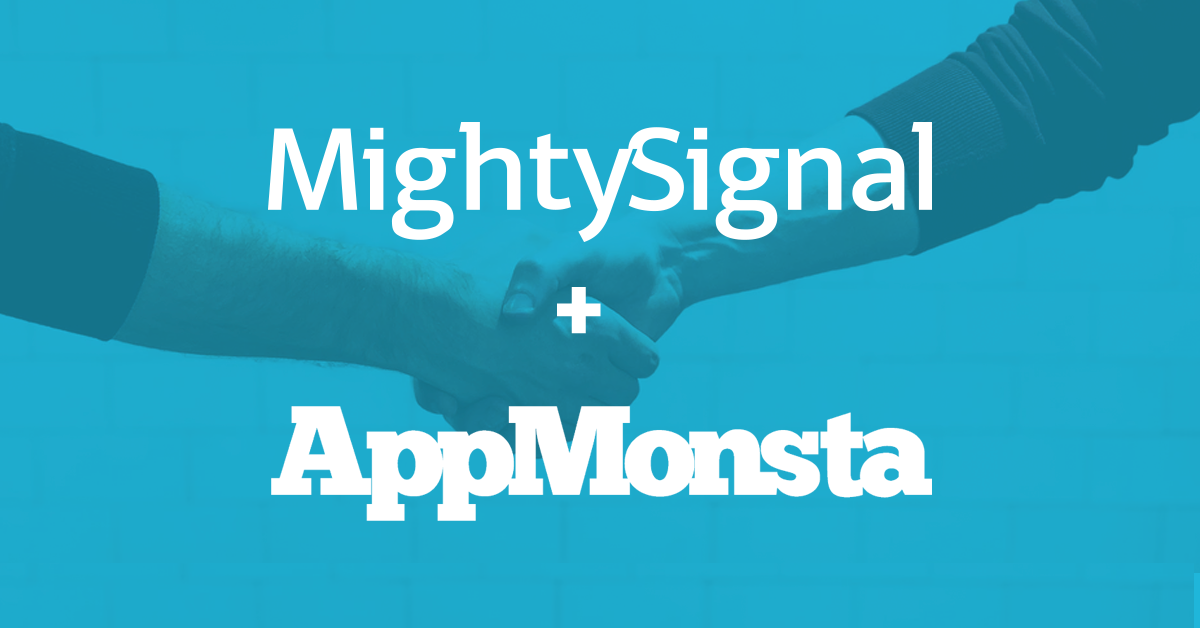 MightySignal + AppMonsta Is Already Awesome
In case it's not obvious, at MightySignal we really like data. Since our inception, MightySignal has been gathering public data from the App Stores. We need this foundational app metadata to run pretty much all of our systems. However, consistently pulling data on publishers, apps, and rankings is super hard. There's a ton of data to extract, save, and organize, and doing it well requires some real database and dev ops expertise. Most of all, it requires attention, and we were pretty short on that resource.
We saw the answer in AppMonsta. The product is thorough. The team is exceptional, and as we came around to the idea that we should stop doing the store extractions ourselves and instead rely on AppMonsta, we discovered a mutual interest in joining forces.
I'm thrilled to announce that we made the union official in February 2020. AppMonsta is part of MightySignal!
Here's how it happened.
Backstory
AppMonsta was on my agenda at my first MightySignal retreat. It was February 2019. I'd been CEO of MightySignal for only three months since it was acquired by Xenon Partners and my team was small: four in all, including myself. We sat at a table in a suite at the Downtown Grand in Las Vegas to discuss our roadmap. We were trying to organize our engineering Trello board into some semblance of reasonable order. It was going slowly.
Finally we hit on the card I'd added a month earlier. I titled it, "Use https://appmonsta.com/ instead of our own app store scraping tools?"
A new acquisition was definitely not on my mind back in January 2019. AppMonsta could have been two or ten times our size, for all I knew. I simply recognized that we had a problem: I was running a very complex product with a very small team. MightySignal had twice our headcount when Xenon purchased it, and that was after a headcount reduction. The founders told me they were already lean, and they were right. My new team was cut to the bone and then some.
I recognized that in order for us not to run the company and ourselves to the ground, we'd need to break up the app and outsource whatever we could. SDK intelligence, of course, is core to MightySignal. We had to keep that in-house. Although daily App Store scrapes from our in-house system triggered a lot of the fundamental work in MightySignal, the App Store scraping itself was not fundamental. I learned that plenty of companies did this. Not all of them built a business purely around the scrape, but there were several options in the market. I surveyed the field and settled on AppMonsta as my top pick.
There were a few things that I liked about AppMonsta:
Focus. I like simple apps. I understand them, and perhaps more importantly, I understand the founders of simple apps. My prior businesses were all simple apps that were good at just one thing, so I understand why someone else would do the same. AppMonsta is a simple app. It does one thing (assembles public App Store data into a scalable API) and it does that extremely well. It's basically the best.
Depth. A focused app will naturally have a lot of depth. It was clear that the AppMonsta team put a lot of thought into what to scrape and how to structure this complex, nested App Store data. It had an API and a delta feed that posted just the day's changes. MightySignal was built the same way, so I understood that data design. I liked that.
API-only. I first learned about "data-as-a-service" from Auren Hoffman, my old boss and mentor (and previous investor in Scripted, now a fellow portfolio company.) DaaS are beautiful businesses: they can be easily assimilated into parent companies, have sticky customers (because what engineer wants to redo an API integration??), and the team can focus on data quality instead of the latest javascript UI.
AppMonsta checked all those boxes. From my disoriented view as a new CEO, this business looked like an oasis. I was jealous for a moment, and then I wrote up this little Trello card. I hoped the engineer I'd just hired would agree that we should prioritize an integration with AppMonsta and put our internal App Store scrape out to pasture.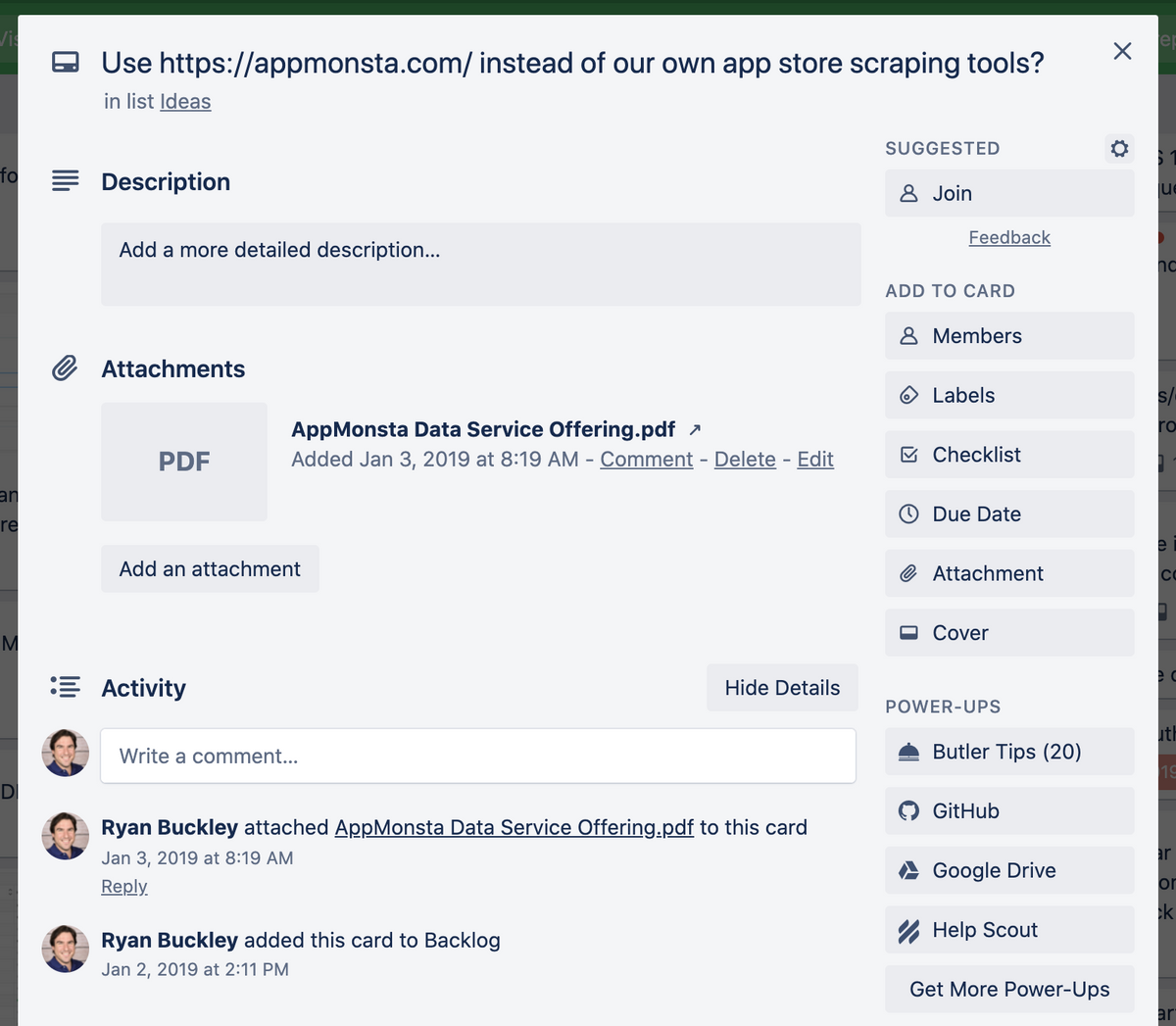 After a few minutes of discussion, we punted. It was probably too early to make such fundamental architecture changes. And although we recognized our App Store scrape as a particularly volatile piece of our infrastructure, it seemed like more work to integrate a 3rd party service than to simply maintain what we already had. So we dragged the Trello card into our backlog. I swallowed my doubts and continued the meeting.
Months went by. At this point I had two full-time engineers and one full-time marketer who was showing great promise as an account executive. I was still doing most of of the demos and normal CEO stuff, but I also handled customer support. Thus, I was the first to hear when the App Store scrape would go down, and I'd keep hearing about it until my team pulled it back up. I was also planning a summer retreat, this time right here in Walnut Creek. I planned to bring up this card again. We really needed to pay for this problem to go away so we could focus our engineering time on SDK work.
And here's where two atoms of luck and hard work collided. Out of the blue, I got an email from Jonathan Siegel, the insanely well-connected founder of Xenon Partners (and thereby de facto chairman of the MightySignal board). He introduced me to Scotty Allen, the founder of AppMonsta. Scotty, as it turned out, was pondering an exit, or had at least begun to mull one over after meeting Jonathan for lunch in Tokyo. Scotty and I scheduled our first video chat in early May 2019.
Yes, that was over a year ago. That's actually how long these things take.
I liked Scotty right away. In Scotty I'd found everything I'd expected: a humble, talented, nice, interesting entrepreneur with a lot of projects. I was surprised to learn that he'd actually disengaged from AppMonsta's day-to-day operations. He hired two great guys in Europe to run the business and Scotty essentially just handled the books and managed cash. He was generous with his team because he ran a tight operation. AppMonsta was profitable and always had been. The product itself was simple. The dev ops, of course, were complex because they had to be, but the business had a high average sale price (ASP), a very healthy monthly recurring revenue (MRR) and low customer acquisition cost (CAC) since there were no paid campaigns and only a portion of one engineer's pay would be attributed to marketing and sales.
AppMonsta's business was as elegant and beautiful as I'd suspected it to be back in January 2019. I was grateful to have the opportunity to see it from the inside out and hear directly from Scotty about the long trajectory of the business over the years and his decision to step back and enjoy some passive income while he created a successful YouTube channel, Strange Parts. It all made sense and I was hoping to complete the deal that summer, but that's where my luck ran out. Although we agreed on a valuation, I couldn't secure the financing needed to meet Scotty's payment terms. We punted the acquisition talks, too. I told him I'd reach back out when I had the capital secured. I held my MightySignal retreat in Walnut Creek in August 2019 without an acquisition to celebrate, and Scotty made some more videos.
Again, months went by. During my weekly board calls AppMonsta would come up. I'd remind them about the financing question, and finally, at the tail end of 2019, Xenon agreed to help me finance the deal. I reached back out to Scotty and, being the gracious guy he is, we fell quickly back into talks and plowed forward with diligence and documentation. Xenon runs a thorough process, and even with a simple business, the diligence phase took closer to two months than the two weeks we'd originally anticipated. I was planning another retreat in Las Vegas in February 2020. I pushed it back a couple of weeks to accommodate the deal timing and to allow Scotty's two teammates to travel overseas to join us.
Timing was tight. The Friday before this retreat, although tickets from Europe were booked, we still hadn't signed. Scotty was getting anxious to see the final documents. I thought we'd have them that morning, but when I called our lawyer to check in, I learned that he was traveling. My email adjusting our timeline forward had been lost in the shuffle. He was able to put another lawyer in his office on the task of finalizing the documents and we settled on final documents, still unsigned, that Friday night. Over the weekend we put electronic signatures down and Scotty signed from Mexico.
I was in Las Vegas with all but one member of the newly merged team, this time staying at the Real World Suite above the Gold Spike Hotel, when I saw the final documents go through and the notification of our wire transfer out. That was February 24, 2020, just over three months ago from this writing. Timing, as it turned out, could not have been better.
Two weeks later, there would have been no Las Vegas retreat, no celebration dinner at Triple George Steakhouse. I'm pretty certain the deal would have still gone through (Xenon is positioned well for market volatility), but it would not have been as fun. Even though it took a year, even though there were some bumps and setbacks, this deal has turned out great. The MightySignal + AppMonsta combo is already awesome.
What's next?
This year we've been hard at work, incorporating AppMonsta's feeds into MightySignal's databases, decreasing support times, and populating new data fields. Like all of you, we had to hunker down and adjust to the post-COVID world, but we're excited now to make this announcement and give you all a little gift.
AppMonsta has been quietly collecting accurate (like, down to the decimal accurate) download information on Android apps. The source of this data will remain a secret, but we're happy to share a preview with you. Just click over here and sign up to get it.
We appreciate your support!