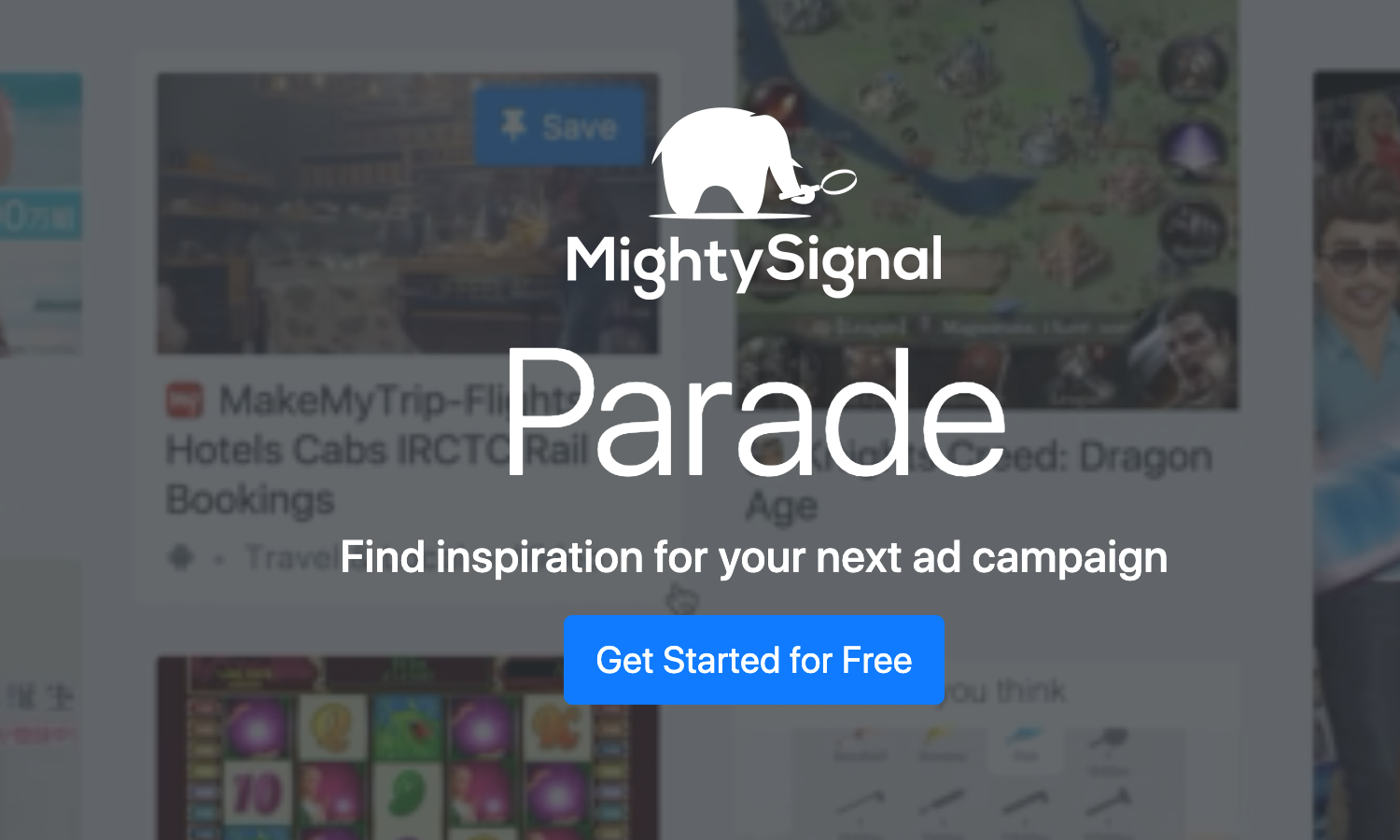 Parade Mobile Ad Intelligence Inspiration
Introducing MightySignals mobile ad intelligence platform, Parade
July is content month. Have you been sandblasted with more content demand and tools than you can use? How can you strike a balance between generating the content quota your business needs and being different than 99.999% of your competition?
The trick is to invest in tools that are as unique as they are essential. For mobile and ad copy, the mainstream brand uses Facebook, Pinterest, or other creative inspiration tools. They're free, easy to access and have a full database of ideas. These ideas drive advice columns about team structure and productivity. Yet, because of the lengthy series of steps needed in this creation process, and the decentralized nature of the data sources, it makes it hard for teams to stay on the same page.
The trouble is getting all that in one place, for the specific purpose of supporting both your sales and marketing teams when it comes to ad creatives and campaigns. That's what Parade.MightySignal.com is here for. We used our vast bank of mobile ad intelligence to create Parade, the mobile advertising copy database your sales and marketing teams have been looking for.
______________
About Parade
Parade is a full mobile advertising inspiration platform created in the same vein as our MightySignal ad intelligence software. Pulling from our database of over three years worth of mobile ad copy, we developed the Parade platform combining inspirational values that will spur your teams' synergy, technical practicality, savvy, and creativity. Parade helps sales and marketing teams work together on the same interface to guide ad campaigns, competition monitoring, and inspiration boards that can be shared and contributed to by all team members.
This couldn't have come at a better time for the industry. American companies alone expected to lose upwards of 100 million dollars per day on ad fraud by 2023. There is no time like the present to disrupt this constant bleed with solid out-of-the-box thinking. Parade has the chops and the database to deliver.
Parade's subscription model
Parade offers a free account for single users, as well as a paid subscription for team collaboration. The free account will allow members to view and save ideas for mobile ad copy. This solution is perfect for start-up publishers looking to understand the advertising marketplace for their categories and countries. It's also an excellent option for trying out the Parade platform to see how it will benefit your marketing team.
There is also a paid premium version of the free service designed to facilitate advertising and campaign synergy across teams and departments. This version allows you to create various projects that can be shared with team members quickly and easily. This amazing marketing tool gathers all the ad creative you need to inspire your next ad campaign, or keep an eye on your competitions ad copy and see what is working for them and what isn't.
How Parade works
Your account will give you direct access to a live feed of mobile ad copy, in various formats for the top mobile ad market places like Facebook, Unity and more. This is powered by the MightySignal Ad intelligence with over three years of mobile advertising data points. With the Parade ad intel platform, you'll be able to view which app publishers have the most creative and active marketing budgets. This will allow you to see what campaigns worked for them and which ones didn't, saving you thousands in time and ad spend.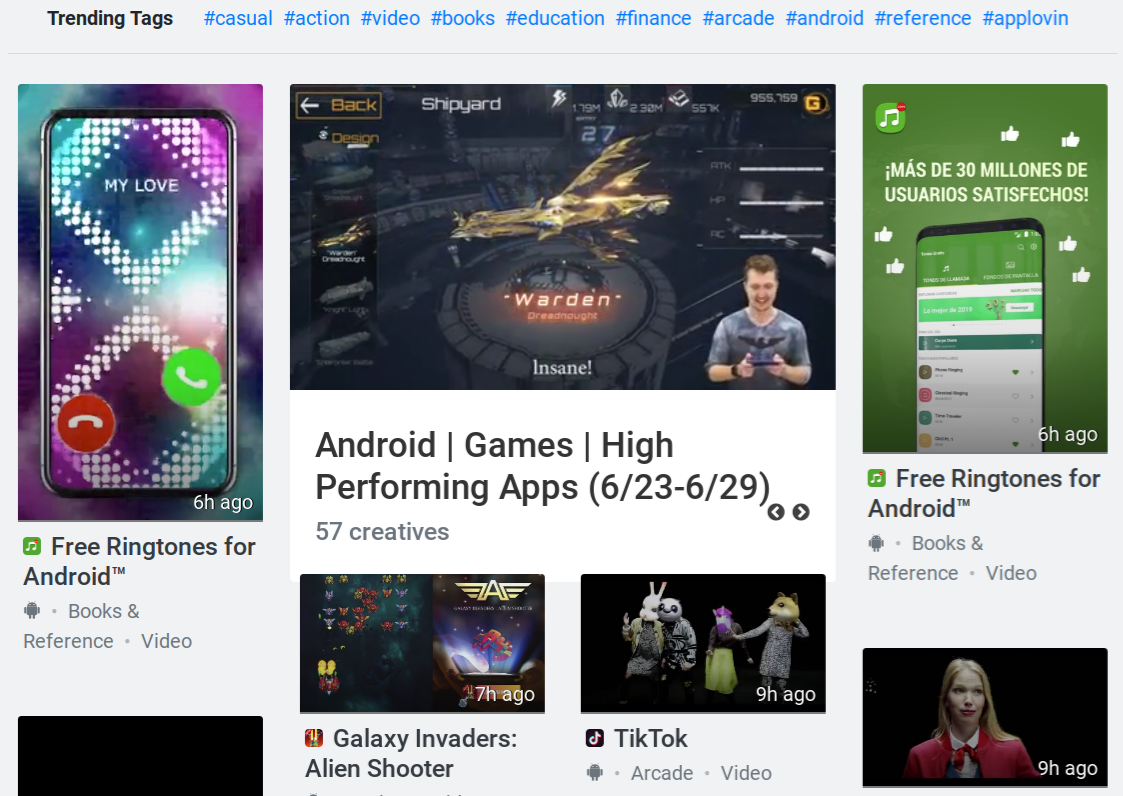 You'll also have features that enhance your ad browsing capacity. Including the following:
A dashboard with a live feed of new creatives catered to your interests.

Publisher level drill down that allows you to see the ad copy for your biggest competitors. Learn from their mistakes and successes.

A visual media gallery that allows you to interact with videos, images, and playable ads.

A single repository that can be shared across departments for ad creatives, inspiration, and competition monitoring.
Fighting ad guesswork
In-depth knowledge of the business model behind successful ads is the first step toward success. With many mobile ad inspiration services, you are relying on a bit of guesswork. Even the most prestigious ad networks rely a bit on guesswork to understand the mind of the audience.
We saw some of this in the health-tech industry at the Lions Health event. Big names were present, such as Procter and Gamble, Ikea, Nestle, and more. Through this event, we saw many ambitious opinions contribute to the narrative that health is "everyone's business" in 2019. Yet, we had a small problem that fundamentally self-defeats. There was no tailored comprehension that we could see. There were common themes, calls to action to go beyond what was "tried and true".
To actually pull that off, any given mobile ad producer needs to pinpoint data specifics that work toward personalizing communications.
Ad spend insights and cost mitigation
Many fledgling startups function on a fragile budget. Cash burn is a major problem for even the highest-funded agencies. With ad spend intelligence, the cash burn problem can be absorbed. Developers will be able to solve ad developer problem at a rate faster than they are burning through funds. Because ad intelligence helps developers offer products at innovative affordability.
Room for novelty growth
A stronger, bolder ad intelligence space also solves painful problems in ad tech novelties. Augmented and virtual reality have been fad tools up until this point. Some companies have made use of them to be vogue, but the ad industry as a whole seems to lose grip of their true value.
Yet, with an in-depth ad intelligence creativity platform, the wrinkles in novelty ad tools can be ironed out. It liberates the way ad agencies examine the budget's risks and see what can actually be devoted toward trying something they now see as abstract. When used correctly, AR/VR tools are better for engaging more in-depth, quality communications between brand and consumer.
Communications is the future of the ad industry. Where people for years have only endured ads because they were part of their streaming agreement, these new moves will make them part of the experience. The end of constant blank-shooting and time slot fillup for sake of click-bait are coming to their end.
Industry insights meet in-hand communication
Your team can gather an arsenal of information for a specific market and/or category in a relatively small frame of time with the Parde platform. With this profound research scope, you have many variables by which to run scenarios. This will be indispensable when you go to apply these metrics to personalized approaches for your campaigns.
This works for two reasons. One, knowing the mass market deeply will showcase comparisons between expected versatile ad-options among a lay of viewers. Two, knowing what is being done in mobile ad creation will help you to break the 99.99999% mold with some certainty. The breakout mobile ad copy will be that which has passed the litmus test of millions of viewer experiences and come out fresh.
Closing thoughts

The demand for creativity will only increase as ad sophistication does. There is no room left in any entity's budget to waste on guesswork. You will need a solid strategy to navigate the changing nature of the ad industry. Tools like Parade are the first step in this direction. If you're interested in signing your team up for Parade or learning about the more in-depth ad intelligence tools found in the MightySignal platform, contact us here for a demo today.