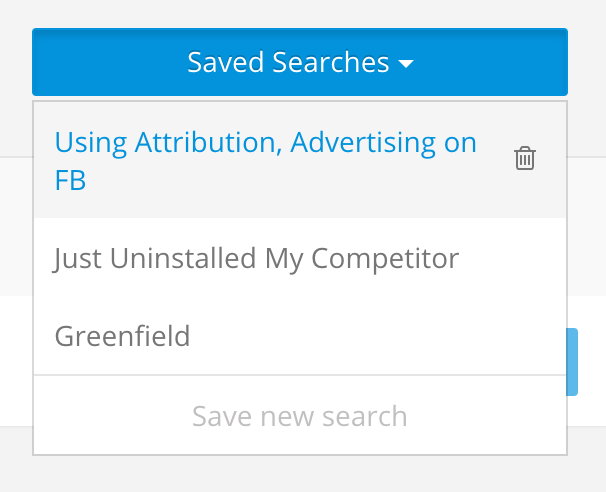 Save your favorite MightySignal searches
Your most common EXPLORE searches are now only a click away
Let's say you're already a power user of MightySignal's EXPLORE feature. You use it every day for lead generation — to filter through the sea of millions of mobile apps to figure out which of those apps are best to sell to. It's like finding needles in a haystack, but with EXPLORE, it only takes a few seconds to find the needles. For example, if you're a salesperson at a mobile ad network, some of the filters that you commonly like to run are:
Which apps are advertising on Facebook and using one or more

attribution SDKs

(Advertising on Facebook means that they're more likely to want to advertise on other networks, and having an attribution SDK implies that they're sophisticated in how they advertise)
Which apps are using your competitors but are about to have the contract with the competitor expire soon (This means that the timing is excellent to swoop in and poach the account)
Which apps are greenfield — with no competitors present (You can sell to these new hot apps before anyone else does)
You've generated all these great filters that will help generate sales for your team, but you wish you had an easy way to save all of them.
Introducing Saved Search
Now, you can easily save searches in the EXPLORE section on the MightySignal platform!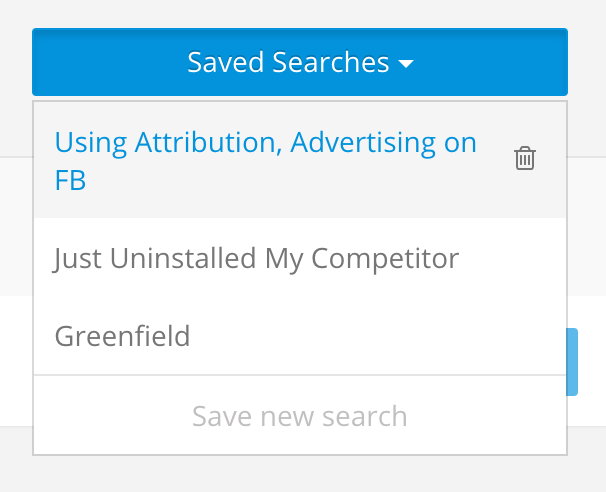 To save a search, set up your custom filters, then click the Saved Searches dropdown and select Save new search.
To load a Saved Search, click any of your previously-saved searches.
To delete a Saved Search, mouse over the one you want to delete, then click the garbage icon.
Start Saving!
We hope that this new feature makes it even easier for our customers to be effective in their day-to-day — working in the exciting world of mobile apps. Let us know if you have any feedback!
---
MightySignal provides the largest library of SDK intelligence. With our savvy, developers can match hundreds of mobile market insights to their software solutions. The MightySignal solution can provide. Contact us to start your free trial of the MightySignal platform today.