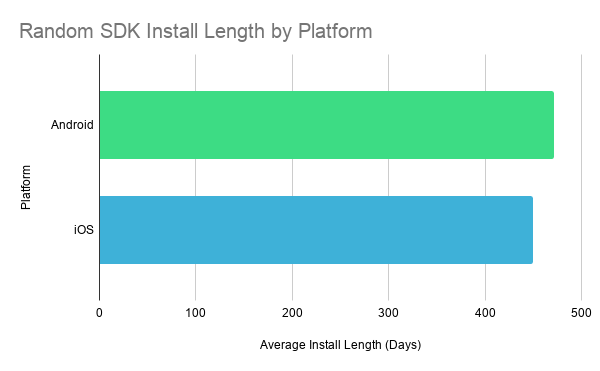 Analysis of SDK Install Lengths and Churn Rates - A Case Study by MightySignal
A question we've frequently heard from our clients is: How long are most SDKs installed?
We had the data to discover the answer, but it wasn't something we typically calculated.
However, understanding how long a SDK is installed on an app can help SDK developers focus on market research and expectations for their product, ultimately assisting them in achieving their development goals. Having a good idea of how long SDKs are installed, or "install length", allows developers to have a ballpark idea of when their client apps might be looking for new SDKs of a certain category, pinpoint when their SDK may be uninstalled, and determine ways to increase their own product install length - and therefore, revenue. Flipping that metric around, we can also calculate a "churn rate" for any given SDK, which is based on the install length.
To crunch these numbers, we investigated 1,000 randomly selected SDKs and 200 of the top SDKs from Android and iOS to find out the overall average install length for each platform, and answer further questions about the factors that affect install length.
Download the full report here, or keep reading for a summary breakdown:
1,000 Random SDKs
Currently MightySignal's database includes around 38 million Android and iOS SDK events which represent installations and uninstallations on apps. Initially, to most efficiently analyze install lengths, we took a random sample of 500 SDKs from each platform and calculated how long each SDK was installed on an app. Notably, we excluded SDK/app pairs where the SDK was still installed.
A sample size of 500 SDKs per platform provided us with a 95% confidence level and 4.5% margin of error, allowing us to come up with average install lengths fairly representative of the many SDKs we track. However, there was huge diversity in the data—the standard deviation in average install length was 358 days for Android and 378 days for iOS. In other words, the standard deviation was about 76% and 84% of Android and iOS average install lengths, respectively.
With this in mind, the following results are indicative of averages across the board, but it's important to note that there is a large range of variation.
Platform
We found that the average install length for SDKs on Android and iOS differed by just over 3 weeks, with Android at an average install length of 472 days and iOS at 450 days. This gap could be due to a variety of platform-dependent factors such as different app designs and marketing strategies tailored for separate app stores.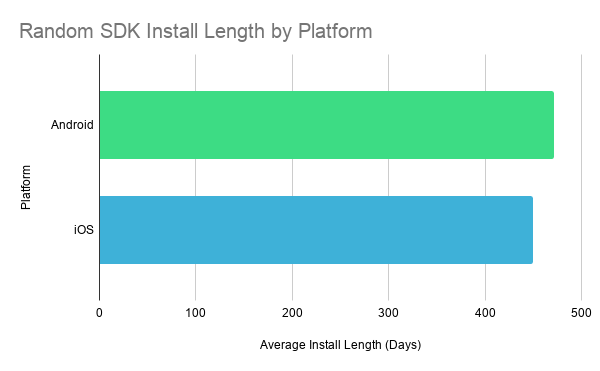 SDK Category
Broken down by SDK category, each platform's longest-installed SDK categories varied, with "OCR" (Optical Character Recognition) taking 4th longest-installed for both platforms.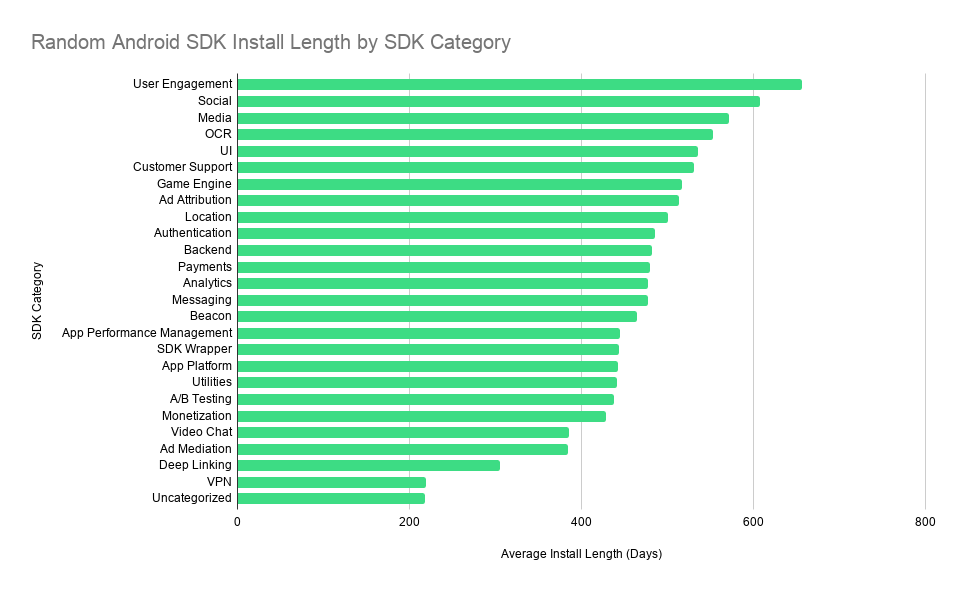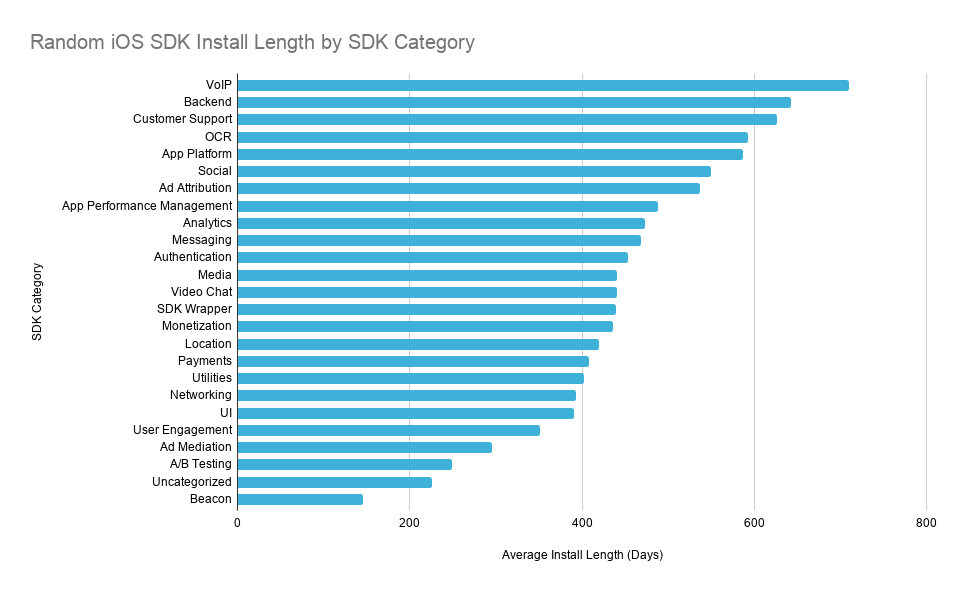 Android Top 5 SDK Categories by Install Length:
User Engagement – 656 days
Social – 608 days
Media – 572 days
OCR – 553 days
UI – 536 days
iOS Top 5 SDK Categories by Install Length:
VoIP – 711 days
Backend – 643 days
Customer Support – 627 days
OCR – 593 days
App Platform – 587 days
Last but not least, specialized categories such as "A/B Testing", "Beacon", "Deep Linking", and "VPN" SDKs had the lowest install lengths, all installed on average for less than a year. Surprisingly, categories such as "User Engagement" and "UI"—which top the Android SDKs in install length—found themselves at the lower end of the spectrum for iOS SDKs. This further confirms that apps on each platform have different needs, but also suggests the SDKs available on each platform could face separate challenges of competition that drive SDK install lengths down or up.
App Category
Looking at app category, apps with the category "News & Magazines" and "Medical" had the longest SDK install lengths across Android and iOS, although the rest of the top app categories again fluctuated by platform.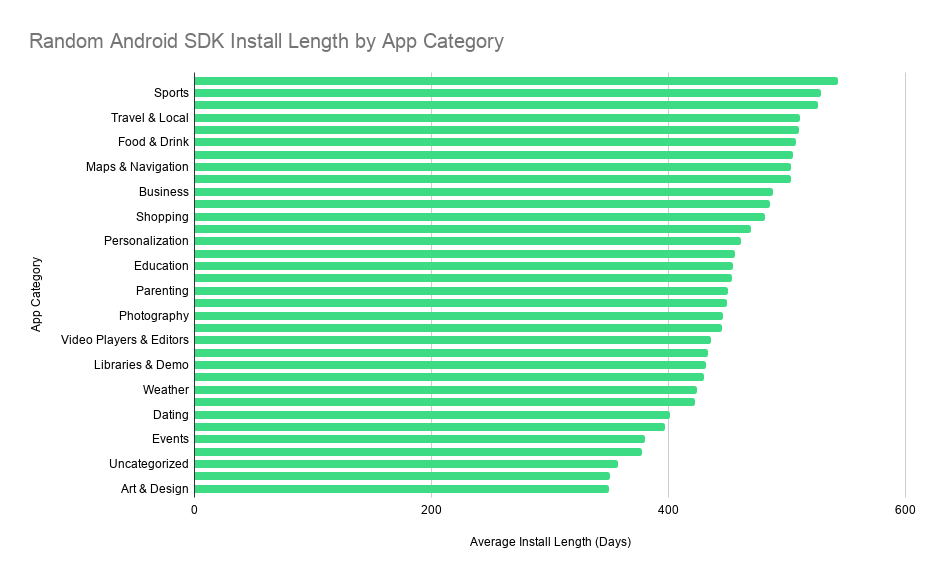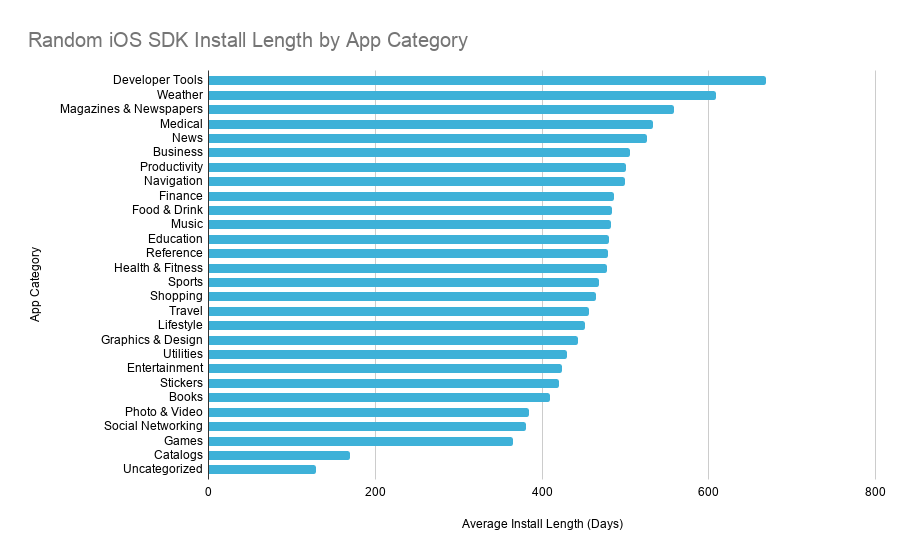 Android Top 5 App Categories by Install Length:
News & Magazines – 543 days
Sports – 529 days
Books & Reference – 526 days
Travel & Local – 511 days
Lifestyle – 511 days
iOS Top 5 App Categories by Install Length:
Developer Tools – 668 days
Weather – 609 days
Magazines & Newspapers – 559 days
Medical – 533 days
News – 526 days
User Base
Coming to app user base, Android favored longer installation for SDKs installed on apps with "Weak" and "Moderate" user bases, while iOS had longer SDK installation for apps of "Strong" and "Elite" user base.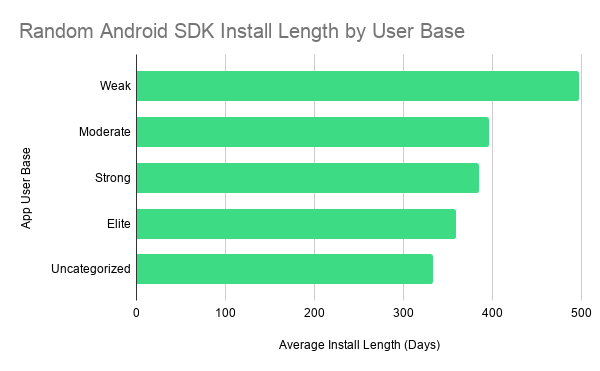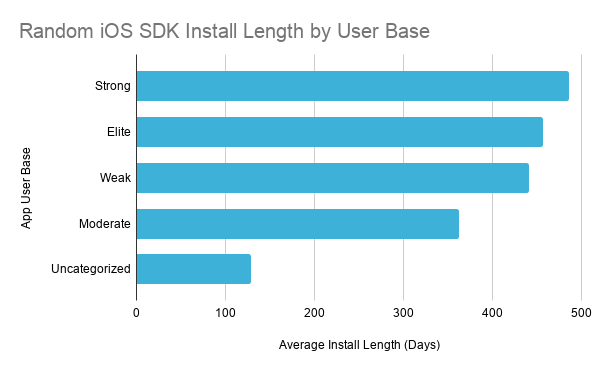 Mobile Priority
Finally, examining app mobile priority revealed similarity between the platforms, with both platforms' SDKs being installed longest on apps with a "Medium" mobile priority.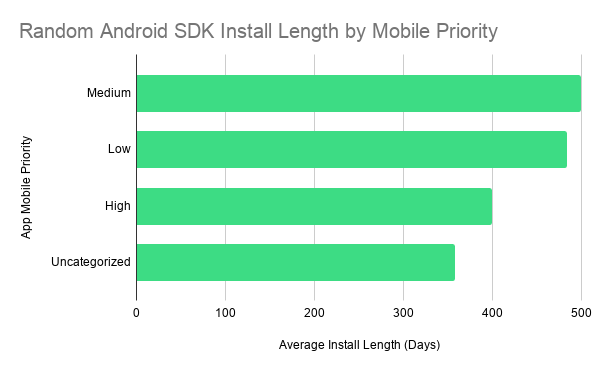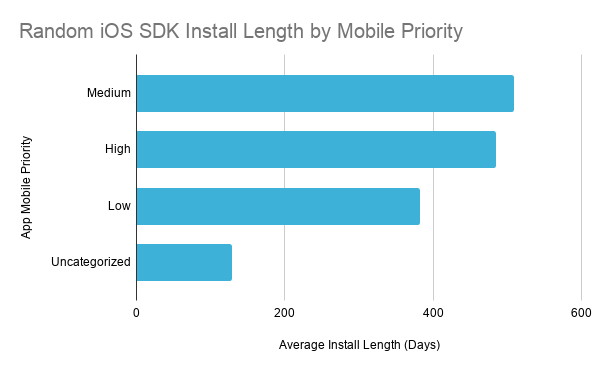 Top 200 SDKs
For this portion we completed the same analysis on 200 more SDKs, taking the top 100 SDKs in terms of apps installations from each platform. Comparing to the results of the 1,000 Random SDKs, we found SDK categories, app categories, and mobile priority rankings to have varied, with user base order remaining unchanged save for the average values.
Platform
The SDKs for iOS had a longer average install length than Android, the opposite trend of what we saw with the 1,000 Random SDKs. Android had an average install length of 443 days while iOS' was 517 days, resulting in a gap of about 2 and a half weeks. While iOS' install length increased by 67 days from the Random SDKs, Android's decreased by 29 days. Calculating standard deviation, Android's standard deviation was 78% of the average install length and iOS' was 83%. Like our 1,000 Random SDKs data, the platform with higher average install length had a higher standard deviation by percentage. Once again the high standard deviations provide a reminder that the averages we present below are just that—averages, with the data itself having large variation.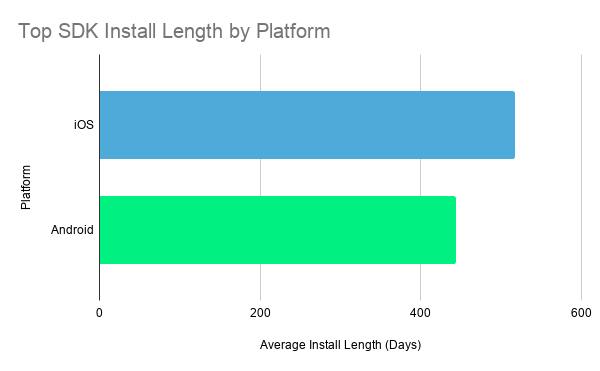 SDK Category
Most of the top Android SDK categories remained the same ("User Engagement", "Social", "OCR", and "UI") with the addition of "Ad Attribution" and "Deep Linking", with the latter formerly placing nearly last in the Random SDKs. "Backend" continued as one of the longest-installed iOS SDK categories, with several of the top categories from the Random SDKs not present in the Top 100 SDKs ("VoIP", "Customer Support", and "OCR").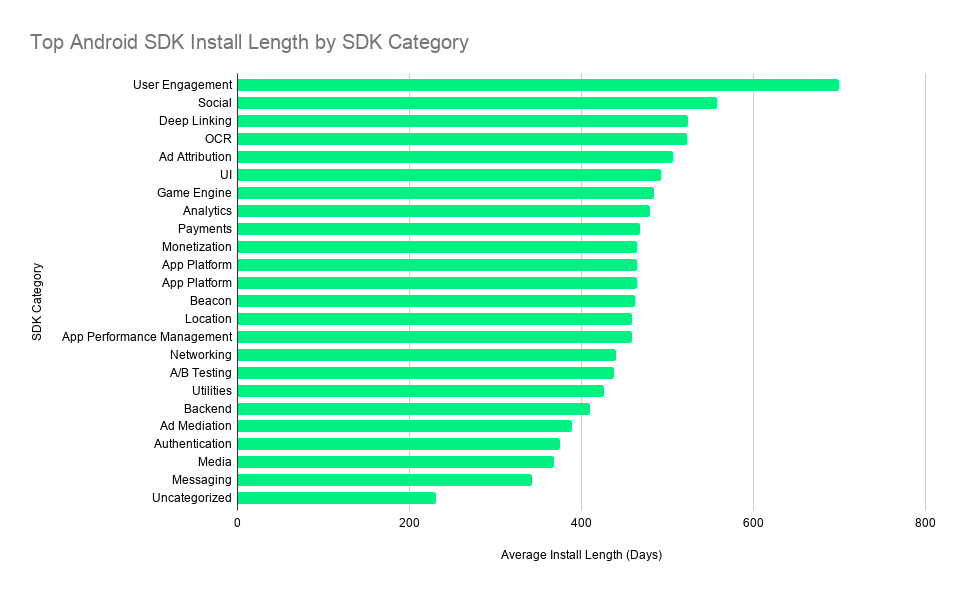 Android Top 5 SDK Categories by Install Length:
User Engagement – 699 days
Social – 558 days
Deep Linking – 524 days
OCR – 522 days
Ad Attribution – 506 days
iOS Top 5 SDK Categories by Install Length:install length:
Backend – 644 days
Authentication – 612 days
App Performance – 599 days
Utilities – 541 days
Social – 541 days
On the low end of install length, "Media" was in the bottom 3 for both Android and iOS, with the rest of the lowest categories fluctuating from the Random SDKs. The unpredictability of SDK categories across the data we collected shows that there's no definitive answer for which category will be installed for the greatest or least amount of time.
App Category
Android app categories "Sports" and "Travel & Local" were once again a couple of the top 5 categories by install length, with "Weather" having leapt from the low end of the Random SDKs to the 2nd app category by SDK install length. The app categories for iOS were largely the same as before, featuring "Developer Tools", "Weather", "Medical", and "News" once more in the top categories.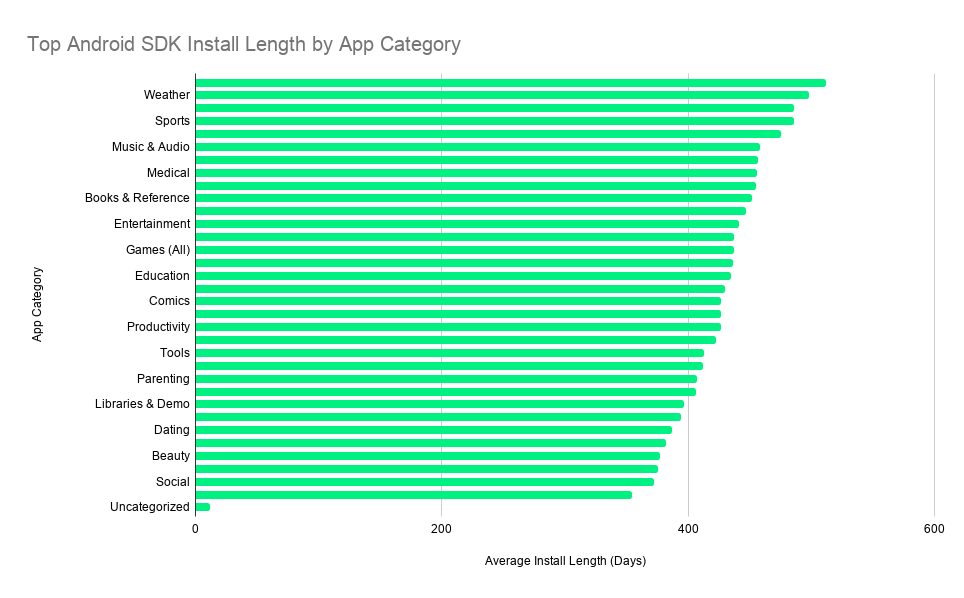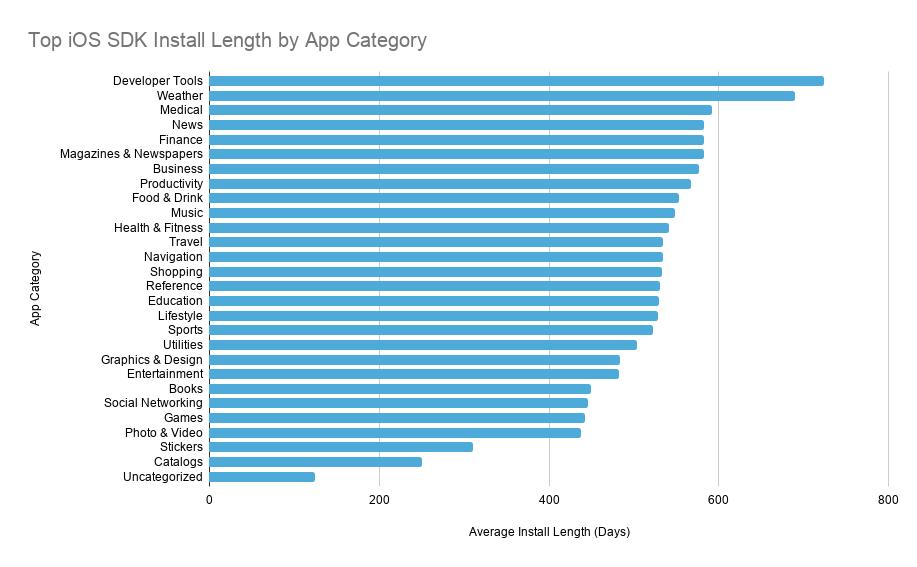 Android Top 5 App Categories by Install Length:
News & Magazines – 512 days
Weather – 498 days
Lifestyle – 486 days
Sports– 486 days
Travel & Local – 475 days
iOS Top 5 App Categories by Install Length:
Developer Tools – 724 days
Weather – 689 days
Medical – 593 days
News – 583 days
Finance – 583 days
For Android, "Art & Design" continued to have one of the shortest SDK install lengths, while iOS' "Catalogs", "Games", and "Social Networking" also uninstalled SDKs more frequently than other apps.
User Base
User base for Android and iOS was consistent with the Random SDKs results, presenting near identical graphs.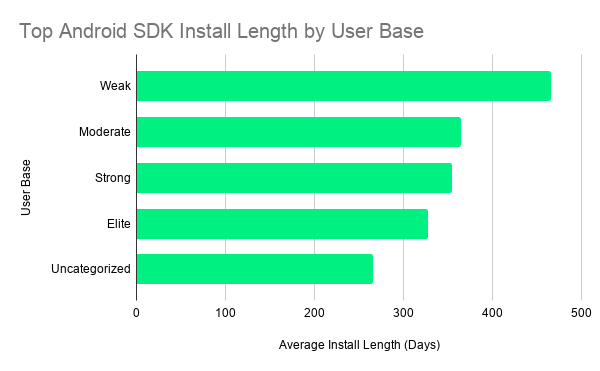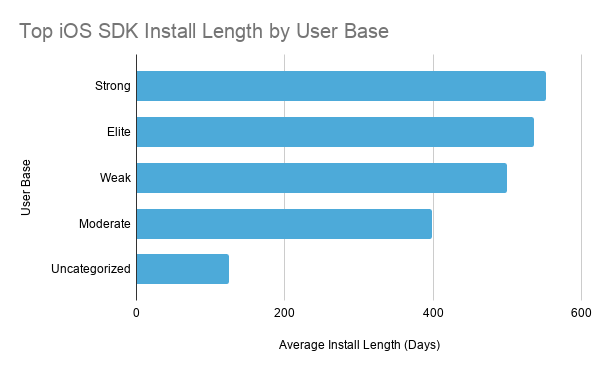 Mobile Priority
iOS mobile priority again displayed a comparable graph to the Random SDKs, while our top SDK analysis showed Android apps with a "Low" mobile priority had a longer install length than those with "Medium" priority.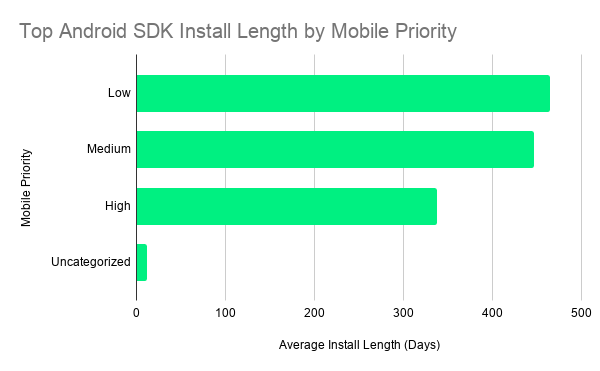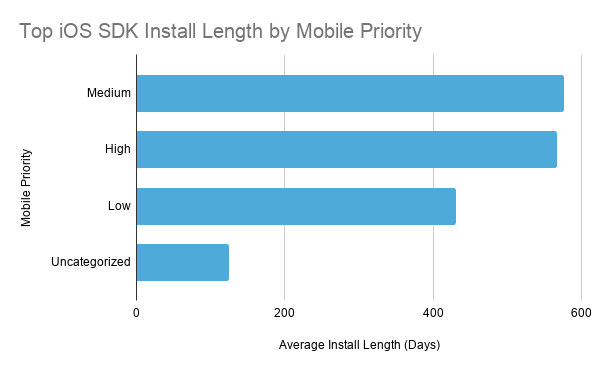 (Source Data Links)