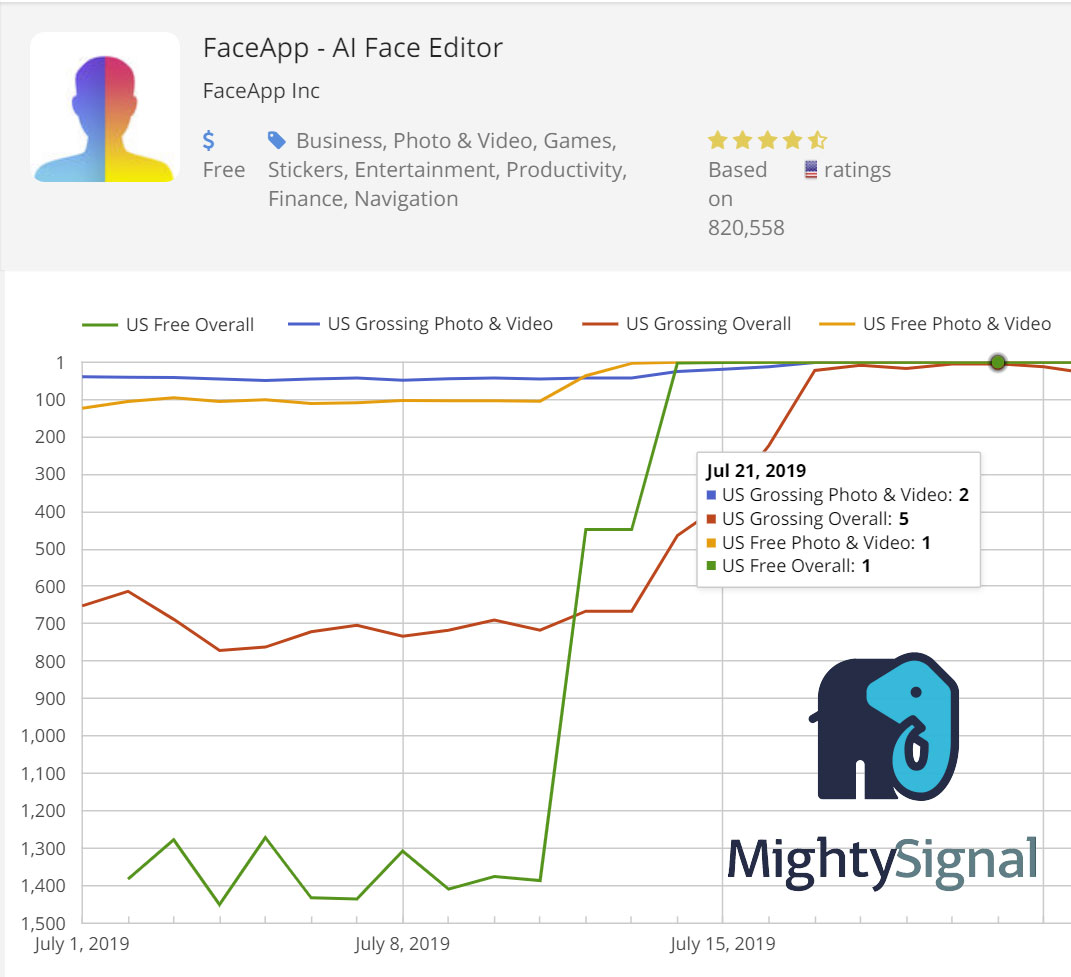 The rise of Faceapp and its effect on the market
Faceapp rank advancement and rise of other AI face altering apps
FaceApp kindles rapid craze with their app rankings surge to the top of the charts. The AI-based face altering app for iOS and Android, has received great press attention for its artificially intelligent data use. While its mass adoption fueled a meteoric rise through the rankings, it's also been met with cries of concern about data privacy. Regardless of your stance, this leaves us wondering what future trends in AI face altering technology may arise following FaceApp's popularity.
MightySignal has compiled exhaustive SDK intelligence and market share report on the face-altering app, as well as how it's affected similar apps in the market. For each of the apps presented, we reviewed their mobile ad intelligence, SDK data, app rankings, and user base including the number of downloads, installs, and reviews. This research showcases the history of publishers who worked on these apps, and also highlights how mobile data was used and what SDKs are driving success for these apps.
FaceApp basic facts
FaceApp Founder and CEO, Yaroslav Goncharov, is the former head of mobile platform department at Yandex. Before that, he worked for the Microsoft Corporation in Redmond, Washington where he was a technical lead from December 2003 to February 2006. He received a Masters in Computer Science degree from Saint Petersburg University in 2001.
FaceApp details in its privacy statement that it only uses information shared directly with the app to generate personalized content. So far, there are no sources to disprove this claim with concrete proof.
FaceApp created a firestorm in recent news with their apps viral rank advancement. Some charts saw its ranking position skyrocket around July 11, 2019, with a 5 of 5 approval rate in multiple countries based on 1.9M rankings. Within 5 days, the app rose from rank 1,386 in the iOS US Free Overall category, to number 1 by the 16th. An admirable accomplishment to say the least.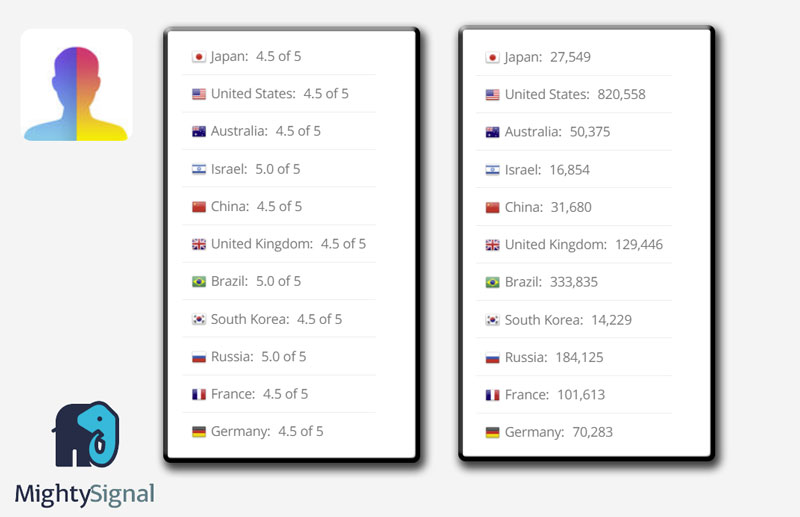 FaceApp has actually existed in US markets since January 2017 when it was released to iOS and Android stores. Since it's introduction it maintained a comfortable spot in the top 100 apps for the iOS Us Photo & Video category, while struggling for the top 1000 in the iOS US Free Overall category.
While advanced facial recognition and manipulation technology updates in the app are responsible for the boost in FaceApp ranking advancement, it's been fueled by a viral marketing campaign that saw the likes of Drake, Gordon Ramsay, and The Jonas Brothers showing off the app's capabilities with their large audiences. This show, don't tell approach allowed their app to dominate the marketplace in a matter of days.
View this post on Instagram
.
Understanding the AI data usage
Understanding the way a cloud AI app works will increase the future security of developer marketplaces, and overall innovation.
Citing BuzzFeed News, FaceApp takes a submitted public Facebook/social media photo, alters that photo from public data in the cloud, and then resubmits it to the user. This photo is kept in the AI's database for upwards of 3 days before it is permanently deleted. This source provided no test evidence that the user's entire camera roll was uploaded.
What SDKs are installed in iOS Faceapp?
While we provide a free high-level view of Faceapps SDK stack, our SDK intelligence provides a complete understanding of what is powering the popular app. We can see with our SDK data that Faceapp Inc. has consistently nurtured this product over the years making regular changes to their tech stack, including the removal of Google networking utilities just seven days ago.
We can see that they have been using Swift SDK since Faceapps inception. While they show a willingness to experiment with various SDK options, they have not tried any other 1st Party SDKs.


We can also see for the past three years, Faceapp Inc. has consistently been using Firebase for its app platform. More recently, we tracked the uninstall of Microsoft Xamarin SDK three months ago. This may be a sign that they are considering new options for a supporting app platform SDK. That same update saw the removal of HockeySDK-Source for their app performance management. This was replaced by Crashlytics ten months prior. It appears they thoroughly tested the new SDK for seven months before removing HockeySDK-Source.

The heart of the beast, facilitating all of the viral shares, lies their impress social tech stack. This app is well stocked with all the necessary social SDKs that are driving high-value traffic organically. Faceapp has managed to accomplish what every marketing director dreams of, pure organic success.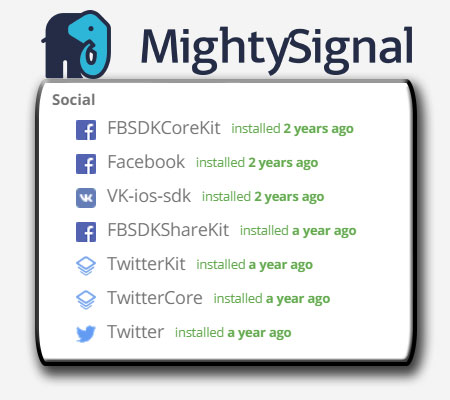 Other face changing apps
Facial altering apps trends increase because AI technology is rapidly improving. Myriad options exist. Those below are highly popular with the public audience.
Snapchat Filters
While not necessarily following the trend, Snapchat has been in the AI face altering tech space for a while, and continues to add more sophisticated face-changing filters. SnapChat has maintained a consistent spot in the top 10 list of the top US Free Overall iOS apps, an accomplishment Faceapp can only hope to emulate.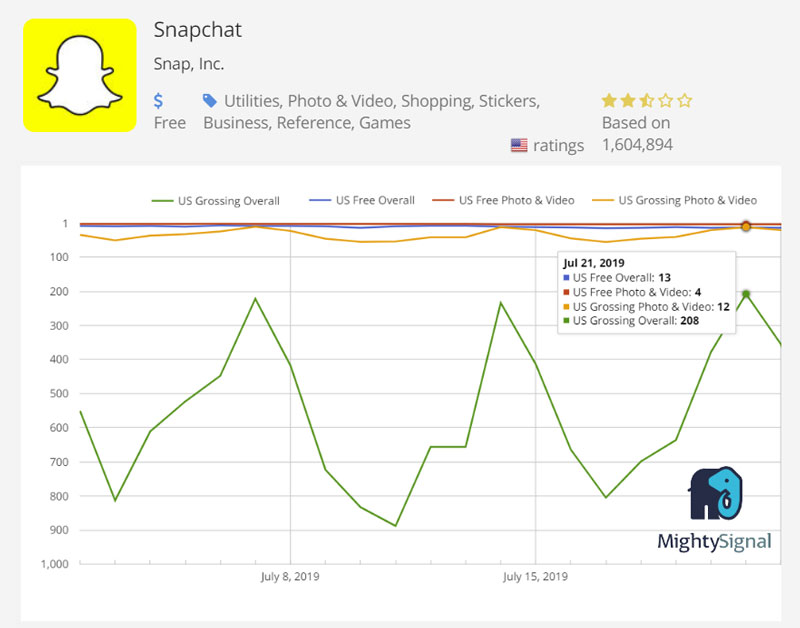 Face Changer 2
Listed in the top 500 Android Free Entertainment apps, Face Changer 2 is a popular face altering app with some impressive features. It was published by Scoompa and MightySignal first saw it introduced to the Play Store in March of 2016. It has a 4.2.-star rating based on 160K ratings and over 10+ million downloads and installs. Scoompa has been diligent in updating this property and just recently released their newest version on June 20, 2019. The viral phenomenon has helped boost their ranks despite a lack of social SDKs, instead preferring a heavier monetization SDK stack.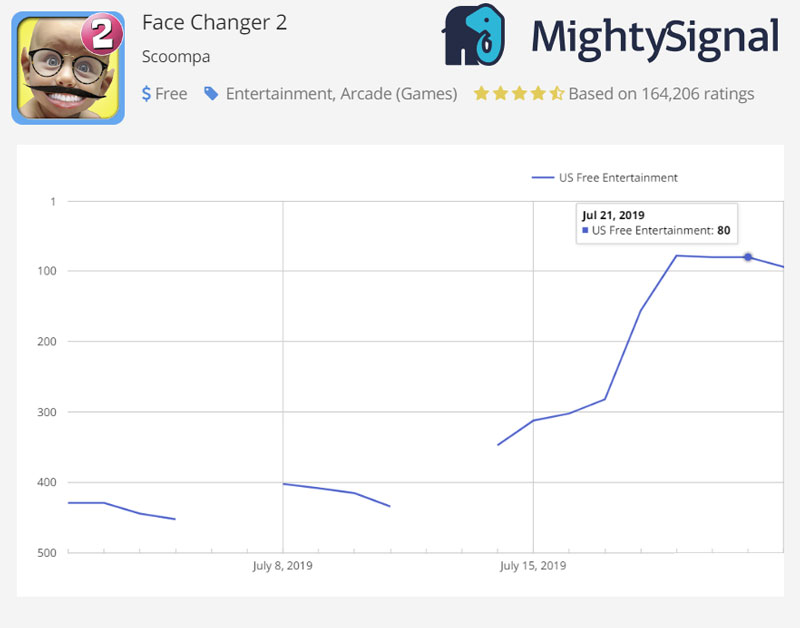 Insta Face Changer Pro
Insta Face Changer was published in 2015 by Csmartworld and is available on the Android Play Store. With a 3.8-star rating based on 32.1K rankings, the app has only seen over a million downloads and installs of their software. Despite the surge in popularity of AI-powered face changing software, this publisher hasn't seen any advancement in rankings during this time.
Instagram
Instagram introduced a new filter earlier this year called Beauty3000 that heavily drove Instagram trends for the early part of this year. Comparing trends in beauty face filters and face altering apps highlight a recent market share growth in the digital consumer data beauty industry. Despite this, Instagram had nowhere to go since they were the top rank Free Overall app on the iOS market and so when Faceapp stole the top spot Insta\gram had nowhere to go but down. While they still maintain a respectable position in the top 10 list the find themselves at number 7 as of today.

Final thoughts
An image is worth a thousand words or in this case, 1,385 rungs in the ranking charts. This is a textbook example of a show don't tell mobile marketing strategy done right. Like a pebble thrown into a pond, sending ripples across the surface of the water, Faceapp's popularity being the metaphorical stone, is sending its own ripples across app market shares. When you combine a mobile market intelligence tool like MightySignal and find creative ways to break into the existing niches that have not been done to death, you will dominate and sore to the top of the rankings like Faceapp did...
To learn more about MightySignals mobile market and SDK intelligence, contact us here to schedule a demo.