The Sprig Egg: MightySignal Ad Intelligence Overview
MightySignal Mobile Advertising Ad Intelligence
At MightySignal, we've begun providing intel on how mobile companies market themselves.
Understanding how companies do so provides a great deal of insight into their priorities and strategies.
If you live in an urban area, you've likely seen an ad for the food-delivery app, Sprig, and it's likely the ad included this delicious-looking egg.

Let's examine a few more Sprig ads with that photogenic egg.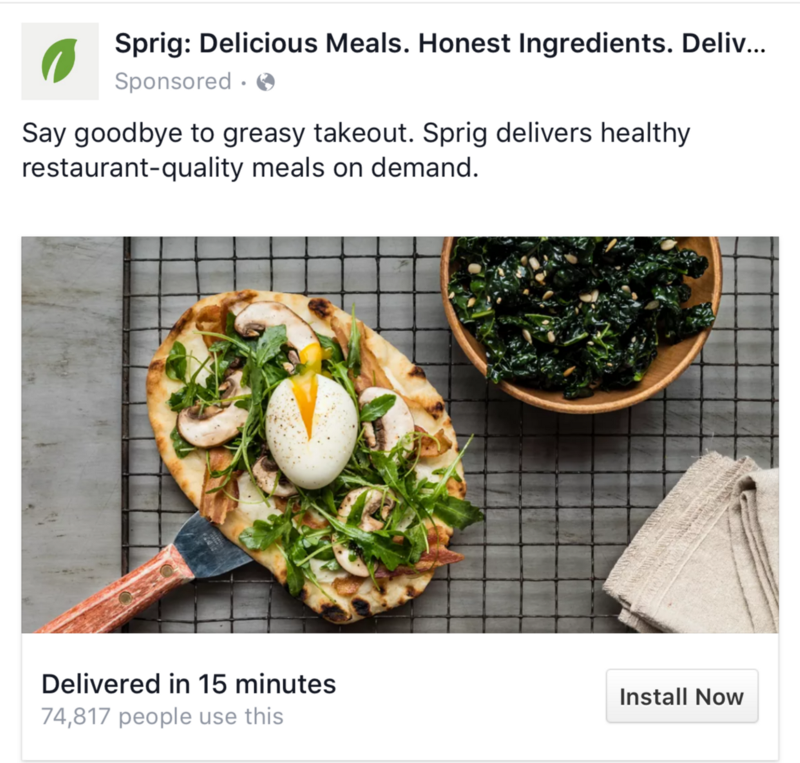 Seeing the creative (i.e. picture and messaging) itself already gives insight into how much marketing budget Sprig has. The production quality is high, so we know Sprig has made Facebook (where these ads were captured) a high-priority acquisition channel. On MightySignal, we're currently tracking a total of eight different Sprig creatives on Facebook in the last month. It will be interesting to see how this evolves, given emerging mobile advertising platforms like Instagram, Twitter, and Snapchat.
Also notable is the reason for seeing the ad. Sprig is targeting users who are interested in Twitter. Referrals are often integral to delivery apps like Sprig, so if a user is interested in a social media channel like Twitter, it is likely that acquiring that user will lead to shares about Sprig on Twitter.
Let's take a look at another Sprig egg ad: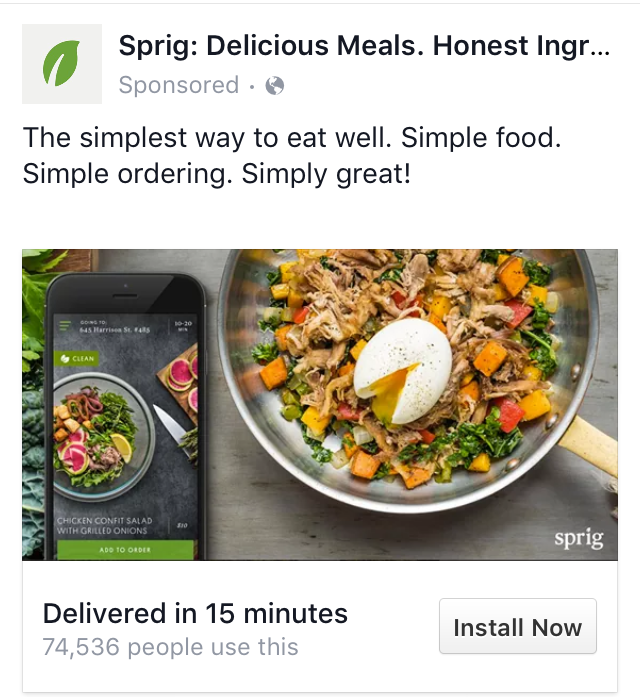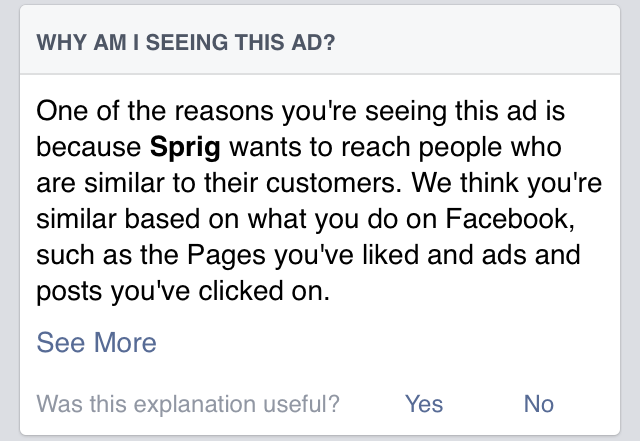 Lookalike Audiences on Facebook has proven to be an effective marketing channel. The Banana Republic found a 400% return on ad spend, and a 60% boost in click-through rates by using look Lookalike Audiences. It follows the fundamental premise that people who are similar to your existing customers will want to use your service.
These are just a few insights you can glean from MightySignal Ad Intelligence. If you are a vendor looking to sell to Sprig, this gives you an idea of their budget and priorities. If you are a peer of Sprig's, this can reveal some of their strategies and best practices.
MightySignals Advanced Ad Intelligence helps you gain further insight into mobile app marketing budgets, user acquisition strategies, and more. This data helps sales and marketing teams like yours generate leads and accurately segment their addressable markets. To find out more on Sprig, or the millions of other apps we track — including HBO and Pandora — shoot us a note here.
Posted by Shane Wey (Co-Founder and CEO)