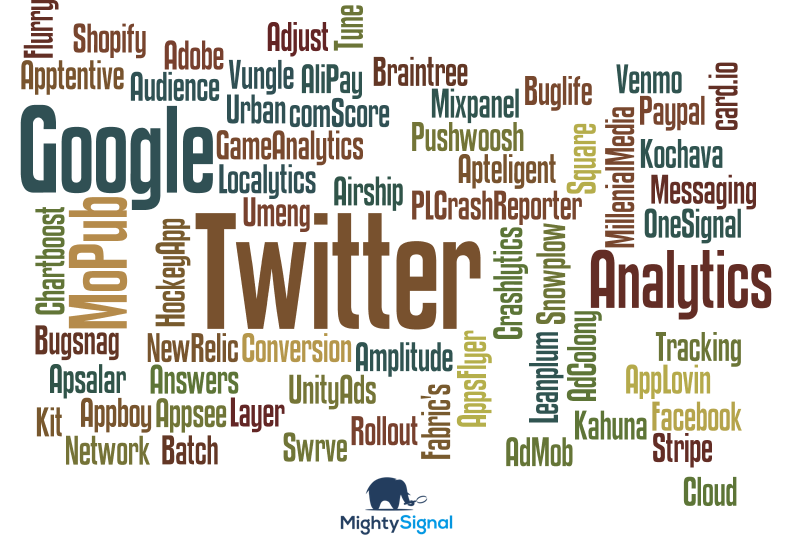 The State of Mobile SDKs in 2016
Engineering a great app is as much about building native features as it is about stitching together third-party technologies to supplement them.
These third-party technologies are known as SDKs (Software Development Kits), and developers add them to their apps to understand their performance, monetize them, embed new functionality, and much more.
Currently, there are thousands of SDKs available, so developers often ask us which ones they should choose. Here at MightySignal, our job is to shed light on this by providing marketing and sales intelligence on what SDKs are embedded across millions of mobile apps.
Being former mobile app developers ourselves, we wanted to give back to the developer community by sharing some of our valuable data about the top mobile SDKs. When choosing an SDK to use in your app, the factors you should consider are:
Functionality — What does it do to my app?
Market Leadership — How many others are using it?
Top Customers — What are popular apps that are using it?
We'll be covering the most popular (i.e., most installed) SDKs across six major categories: analytics, monetization, app stability, marketing, payments, and attribution. In this blog post, we'll explain what these SDKs do, how many apps use them, and what major apps are using them.
Analytics
The first SDK developers look to install usually pertains to analytics. Analytics SDKs reveal what actions users are taking inside your app — such as what screens people are spending the most time on and what areas they are clicking. According to our data, these are the most-used analytics SDKs on iOS: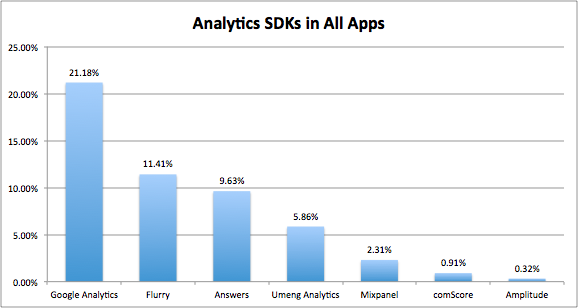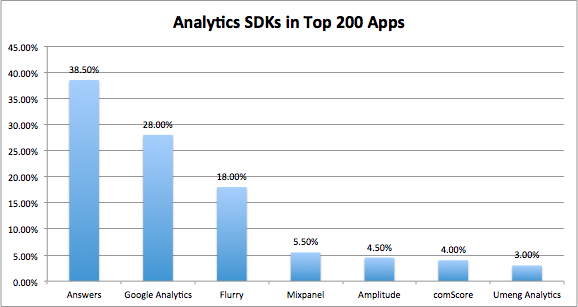 Google Analytics (used by Pandora, Yelp), Fabric's Answers (used by Uber, Spotify, Bitmoji), and Flurry (used by Hill Climb Racing 2, Dunkin' Donuts), occupy the top three spots for both All Apps and the Top 200. It's interesting to note that all three of these SDKs are free to use. This is not surprising for All Apps since there are so many price-conscious independent developers. However, for the Top 200, one might expect paid analytics SDKs with enterprise plans to be more widely adopted because a Top 200 app typically has a larger budget. In any case, having a good analytics SDK is table stakes for a new mobile app.
Monetization
There's great potential to earn money through your app — if you know the right SDKs to use. Monetization SDKs make it easy to insert different types of ads into your app (like banners, interstitials, videos, and native ads), and when your users interact with them, you earn revenue. These are the top monetization SDKs developers are using to make money from their apps: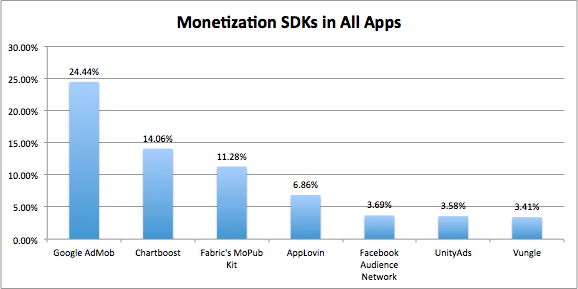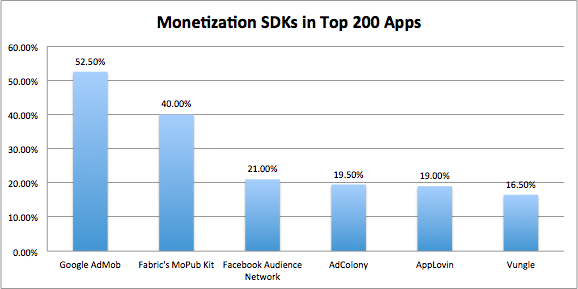 It is interesting to note that mobile ads are on the rise. Mobile ads spend topped $100 Billion in 2016, which accounts for 51% of the digital market. What this means for you is that if you decide to show ads in your app, you'll have an ample supply of relevant ads to display, which will bode well for people to click on them and for you to profit. Also, it is very common to install multiple monetization SDKs and use a mediation SDK, such as MoPub, to choose which platform to display an ad from at any given moment. An example of an app that contains many monetization SDKs is Words With Friends (as of version 4.25), which includes AdColony, AppLovin, AppNexus, InMobi, MoPub, and Vungle! Ultimately, monetization SDKs are a great choice to make some money from your apps.
App Stability
An unstable or buggy app drives users away. Luckily, many SDKs are now available so developers can monitor and improve the stability of their apps. These are the top SDKs developers are using to track and resolve app crashes and boost overall app quality: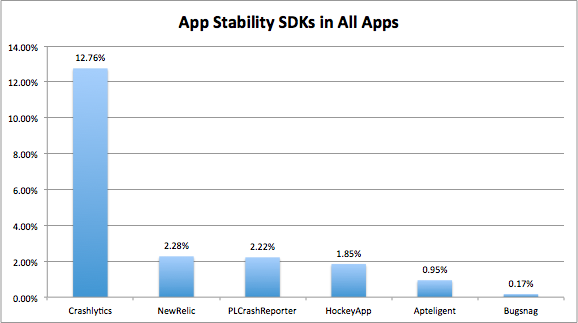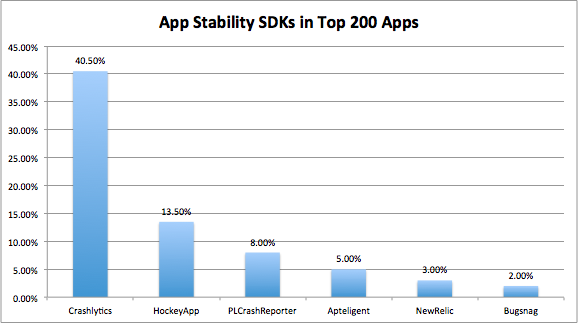 Crashlytics (used by Twitter, Amazon, Wish) is by far the most-used in this category — showing up in almost half of the Top 200 apps. The other two most common stability SDKs in Top 200 are HockeyApp (used by Pandora, SoundCloud, Skype) and PLCrashReporter (used by Snapchat, Netflix, Chase). It's surprising to see that there's a single dominant leader in a category that is so critical.
Marketing / Engagement
To keep users engaged and active, savvy developers and mobile marketers use these SDKs to send push notifications, in-app messages, and other communication directly to app users. Targeting is an important aspect of these SDKs because sending segmented, personalized notifications can mean the difference between annoying users or enticing them back to your app. These are the top marketing/engagement SDKs: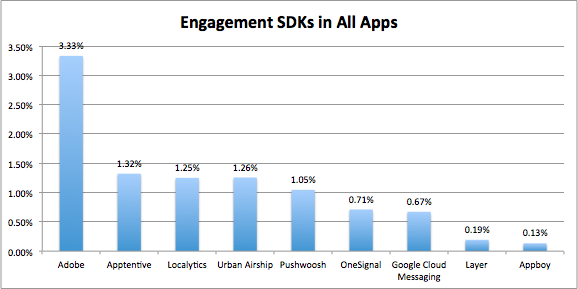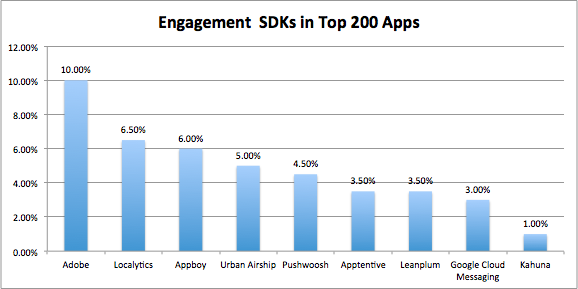 The most used SDK in this category for both All Apps and the Top 200 is Adobe (used by Google Docs, Walgreens). For All Apps, Apptentive (used by Zillow, TMobile, Kohls), Urban Airship (used by OfferUp, Starbucks, Walmart), and Pushwoosh (used by Bitmoji, Prisma) are all within less than 0.5% of one another in terms of market penetration. For the Top 200, the cream of the crop includes Localytics (used of Hulu, Kindle), Appboy (used by Soundcloud, iHeartRadio, Trivia Crack), and Urban Airship (used by OfferUp, Pink Nation).
The engagement space has certainly gone through many changes over the years. Urban Airship, founded in 2009 (only a year after the first version of the App Store was released), was a pioneer in the space, initially offering basic push notifications instead of having to deal with the Apple Push Notification Service (a.k.a. APNs). As space has grown, more companies have entered the space, and more functionality has been offered. Beyond push, services like A/B testing, in-app messaging, user segmentation, and emails have become critical parts of engaging users.
Payments
If you provide a service through your app, you need to find a way to collect in-app payments. In this scenario, developers often turn to easy-to-integrate Payment SDKs because they enable your app to accept credit card or bank payments.
These are the top SDKs developers are using to accept payments through their apps: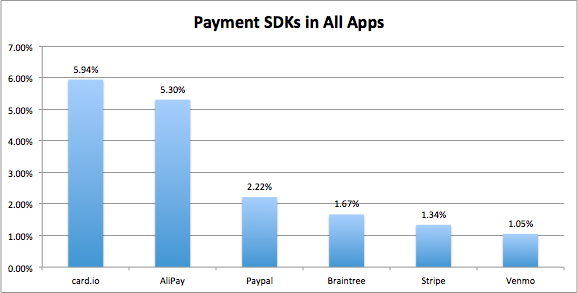 A fascinating finding from this data is that card.io (used by Uber, Lyft), PayPal (used by eBay, Wish), Braintree (used by Pinterest), and Venmo (used by Airbnb) are all owned by the company PayPal. Also, number two among All Apps is AliPay, which is owned by the Chinese company Alibaba Group, which is notable since US companies make most of the top SDKs. Expect the Payments category to continue to grow, as mobile technology strives to eliminate the need for carrying around a physical wallet completely.
Attribution
If you will be spending valuable ad dollars promoting your app, how can you make sure that you actually see results like new users and installs? These SDKs help you improve your ad targeting, optimize ad spend, and boost your ROI by providing analytics and insight into how your ads are performing so you make smarter investment decisions. These are the top attribution SDKs: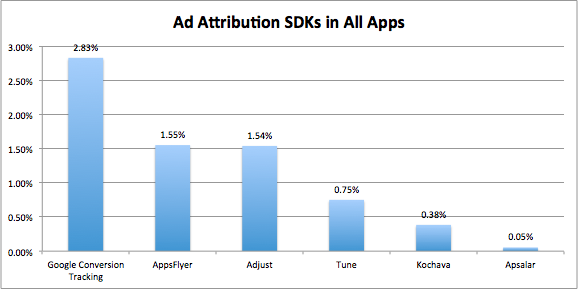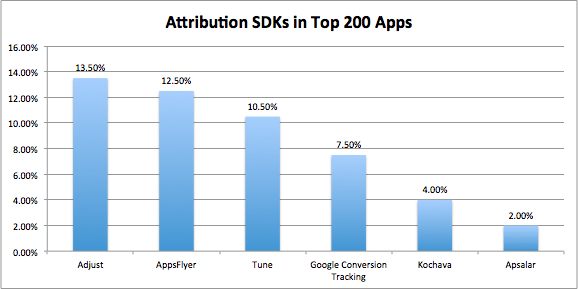 Many significant apps, especially those with large numbers of users, are reliant on attribution SDKs to help them acquire more users efficiently. Google Conversion Tracking (used by Waze, YouTube, Google Maps) is a big favorite when it comes to All Apps while AppsFlyer (used by RollingSky, Remind, letgo), Adjust (used by Spotify, Pinterest), and Tune (used by Uber, Starbucks, Clash Royale) are the leaders when it comes to the Top 200. We expect the ad attribution space will continue to grow, as companies invest more in mobile revenue.
Thoughts and Tips
Hopefully, this post was useful in surfacing the top SDKs that mobile developers are using (and why), so you can make an informed decision about which ones to add to your app. It's very rare for a new successful app to survive without using multiple third-party SDKs, so it's necessary to be mindful of what is out there. We want you to focus on improving your app with new functionality and features, and use SDKs to take care of the rest. You don't have to build everything out for yourself; SDKs can step in to fill in the gaps.
In addition to everything we've already discussed, here are some general SDK-related tips:
Don't reinvent the wheel. Think about what your app needs to do, and do research on what free or paid SDKs are available for you. Our

Most Used SDKs in Top 200 Free iOS Apps

page (updated daily) can help out with this.
Many SDKs span multiple categories. For instance, if you install Fabric, you get access to a platform that includes Answers for Analytics, MoPub for Monetization, Crashlytics for App Stability. So, look for opportunities to kill multiple birds with one stone by choosing an integrated platform that includes solutions for your top mobile challenges.
If you're trying to decide between multiple SDKs with similar functionality, try them in your app first to see which you like best. Many SDKs have free pricing, so you'll be able to try out new SDKs free of cost.
Use a dependency manager (Cocoapods

is the go-to here for iOS, as it's used in over 1.2M apps) to manage your SDKs. This will save you the trouble of having to manage SDK versioning manually.
Open source developers, startups, and established companies are making new SDKs all the time. Keep an eye out for new SDKs being released because one of them may be an excellent fit for your app.
The relationship between the app makers and the third-party providers is crucial for the mobile ecosystem, and we're excited to see even more amazing vendors added to this mix as mobile continues to push forward!
Posted on December 14, 2016
About MightySignal
MightySignal provides hard-to-get data on mobile apps — including SDK data that is second-to-none. Mobile developers use our Top SDKs Page to figure out what SDKs to use inside their apps, and businesses like Microsoft and Yahoo! use our full-featured platform/API for high-quality market intelligence (contact here).