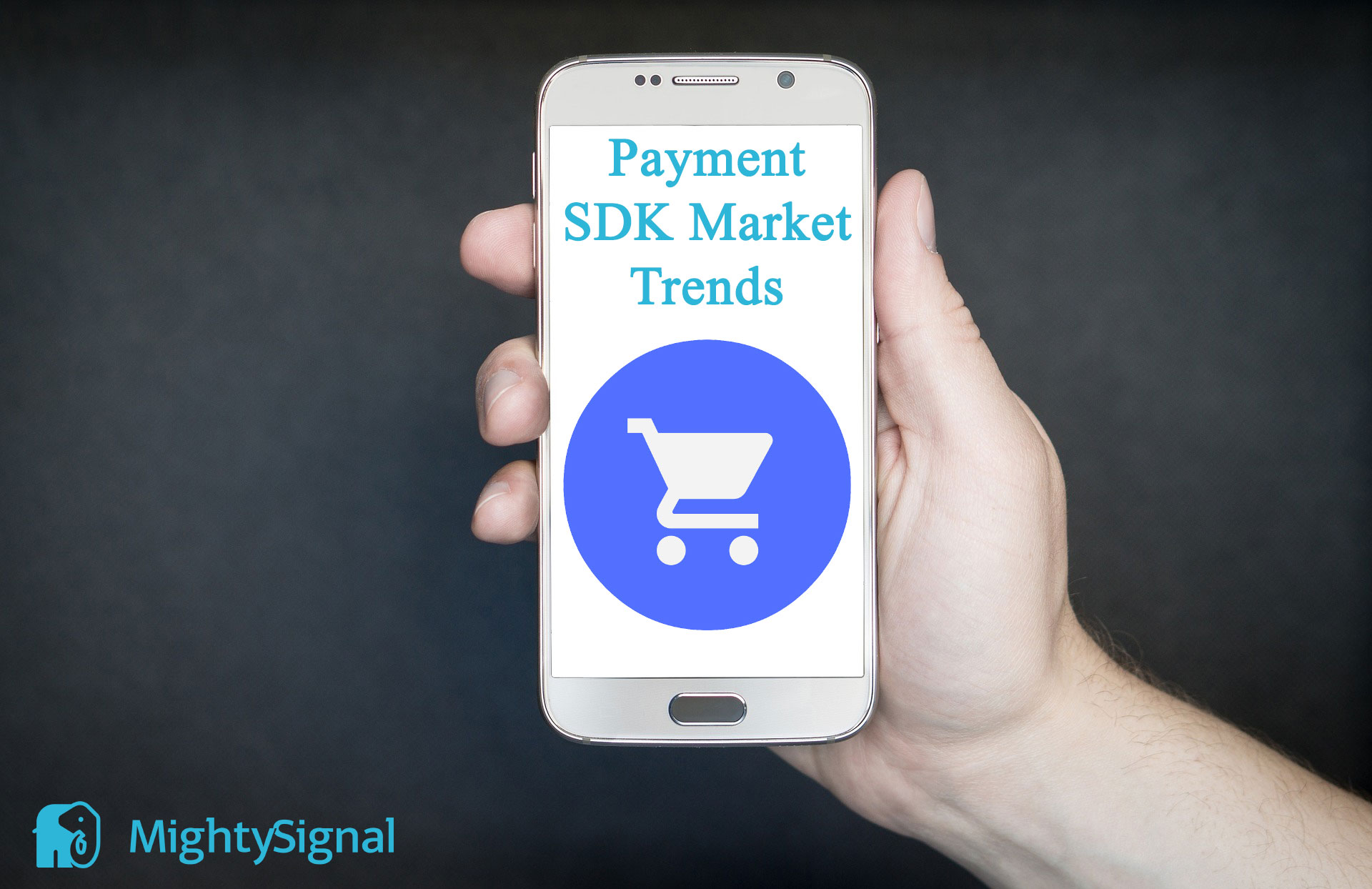 Top Mobile Payment SDKs for 2019
With over 124,000 apps currently using mobile Payment SDKs, the adoption of these mobile SDKs has grown alongside the market for mobile devices. So what are the best mobile Payment SDKs available for Android and iOS? Who are the most prominent players? How does this market look for the future?

Is the Payment SDK market growing?
The market for mobile payment SDKs has seen steady growth throughout the year and is continuing that trend today. While growth has been somewhat flat for iOS the past six months, the Android marketplace has seen an increase of 1% over the last six months in new installs of payment SDKs.

What are mobile payment SDKs?
Mobile payment SDKs power In-app purchases and allow publishers to monetize their properties. There are multiple payment SDKs available for publishers, and we often see numerous Payment SDKs installed in both Android and iOS apps. This is why we frequently see large SDK developers with a market share of over 50%. This is possible because participating app publishers will use multiple payment SDKs at the same time.
These specific Software Developer Kits allow any developer to take payment in their app. Mobile Payment SDKs are independent platforms that will enable you to integrate your app with them to process payments. They are usually easy to integrate and offer industry-leading features like security and flexible payment options. These SDKs are what allow small independent publishers to make credit card transactions just as securely in their apps as the apps created by billion-dollar enterprises.
What do I want to look for in a mobile Payment SDK?
A payment SDK offers publishers more sophisticated features than they could build themselves. Directly integrating their app using the SDK gives access to a professional service that scales. The biggest companies offer a standard array of features.
They give publishers a state of the art fraud protection through PCI compliance and follow all the best practices for taking payments. They can check the address provided against the bank or credit card record on file. They can verify the CVV number that is issued with major credit cards like Visa, Mastercard, Discover, and Amex. They can also look at how often transactions are taking place to determine if the purchase is a legitimate user.
The exact payment methods that each SDK will take is where they compete. Specific platforms' payment options might only be available for certain platforms. All of these options are still optimized for both web and mobile to offer their services across devices seamlessly. They try to provide simple integration with everyone's preferred platform. The top services focus on giving access to the leading digital wallets like PayPal, Venmo, Apple Pay, Google Pay, Samsung pay, and more. They also embrace the location of their services and offer excellent local payment methods for different regions across the globe.
In an age where data is the most valuable commodity, these services emphasize capturing your sales data to help generate insights into different customers and strategies. Anything that can be tracked is. You can look at a vast array of various reports, and even create your own custom reports.
Top Mobile Payment SDKs for iOS in the US market
So who are the top dogs in the mobile Payment SDK game? What can they offer you that nobody else can?

Quick peak:
The AliPaySDK is a part of Alipay. They are a China-based company with over 450 million people using their apps to make payments. They are one of the two large players in the mobile payments industry that has recently flourished in China. Currently, over 50% of all monetary transactions take place through one of the two apps in China. This explains it's monumental market share for the iOS payment market while being utterly nonexistent for Android.

Quick peak:
RMStore is a lightweight iOSlibrary for In-App purchases. The RMStore library is an all in one option as it adds notifications to the Storekit, receipt verifications for payments, content download, and transaction persistence.

Quick peak:
Stripe's iOS SDK is built to make your payment experience better. With powerful UI elements that developers can customize at will, taking customers' payments is simple. You have access to their low-level APIs, so even custom forms are easy to implement.
Stripe features simplified security, allowing you to collect sensitive data while staying PCI compliant. Seamless integration with Apple Pay is provided. Stripe's native UI is available to use right out of the box. Card scanning is also available through card.io.
Top Mobile Payment SDKs for Android in the US market

Quick Stats:
Paypal's launch in 1998 marked the first resource available to make payments online. While they might have been the first, they have not faltered more than 20 years later and are one of the biggest players in the industry. They have acquired multiple startups in their quest to offer the first digital wallet that is available worldwide. Working with PayPal is simple, and checkout can even be done through their site. Customers are redirected to make the purchase, then back to the original website after completing their purchase. They charge a 2.9% fee for credit card transactions, paid by the seller.

Quick Stats:
Braintree is a startup that was founded in 2007 in Chicago. The company was acquired by PayPal in 2013. The company specializes in making online and mobile payments. Their robust SDK is designed to take payments from almost any possible source. They are more expansive than their parent company, working online, on iOS, and Android.

Quick Stats:
Stripe is a San Francisco based company that started in 2011. The business focuses on creating software that allows individuals and businesses to send money to each other online. Their goal is to eliminate barriers to taking a business online. They are designed to take a variety of online payments and make it easy for businesses to get started. They develop their products for mobile and web applications as well as in-store.
------------------------------------
Mobile payments are already big business, and the importance of being able to take mobile payments is only going to increase. By 2020 mobile payments will account for $503 billion in sales for in-store purchases alone. As younger generations are embracing technology, and more and more people are getting access to payments worldwide, mobile payment isn't going anywhere.
The need for nearest-to-realtime stats on apps, APIs, and SDKs is higher than the supply of services. We offer critical insights into millions of apps, and the SDKs installed in them. Our tools and research help you to risk mitigate every potential compliance failure, ad fraud risk, and software weakness in the tools you use. Consider your tech stack as the stepping stones you need to pave the way to organic publisher success. Contact us today to schedule a demo.