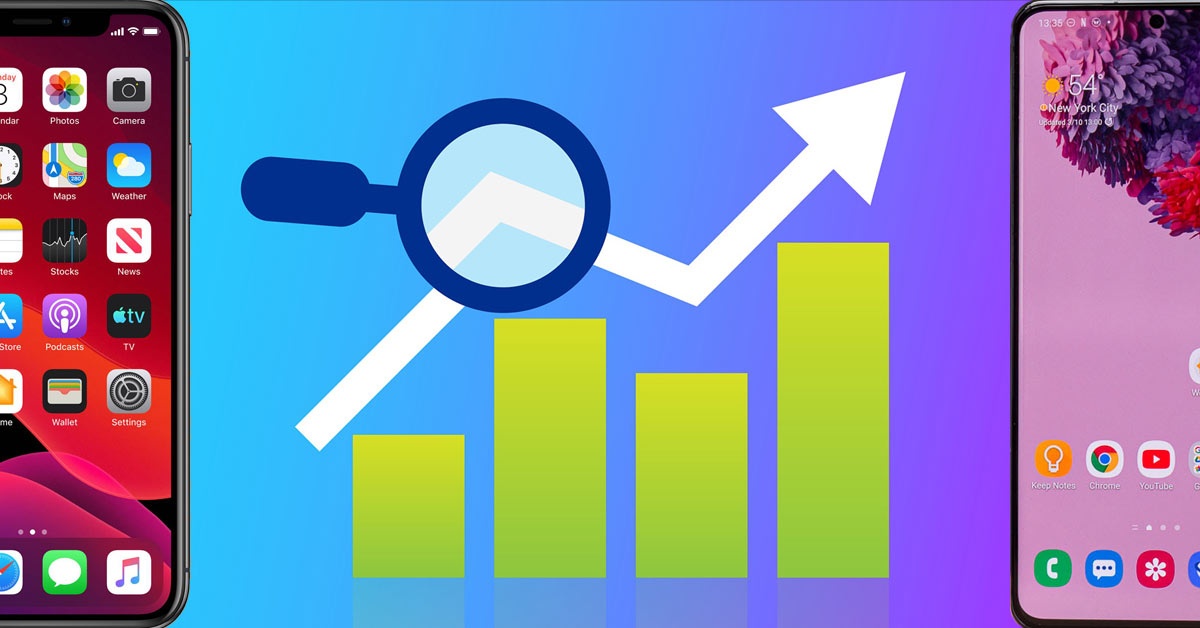 The Top Apple & Android SDKs in 2020: Q1 Results
First Quarter results are in. Which SDKs are trusted most by mobile app developers?
2020 has been unpredictable, to put it mildly. Forecasting digital trends can be a challenging prospect. Even when markets are stable, it's hard to know what the future will hold; however, looking back on where we've been may tell us something about where we're going. During the first quarter of this year, MightySignal gathered data on the most popular SDKs for iOS and Android apps in the mobile marketplace, and now we're sharing those results with you.
Why Are SDKs Important?
SDKs, or software development kits, are the frameworks that lay underneath top Android and Apple apps. They usually include code samples and libraries, utilities (such as a UI), and some sort of documentation. A good devkit can provide a number of advantages in the mobile app development process; often, an SDK publisher will provide a support team that DevOps clients can tap for help with implementation and visualizing user stories.
Integrating multiple SDKs into a development stack is also a way to quickly bring desirable features, such as authentication, deep linking, augmented reality, and more into a new app build-- without having to reinvent the wheel. This can be quite helpful for a lean company with a modest development budget.
And of course, in some cases, an SDK is just a requirement for developing specific applications. For example, beginning April 30, 2020, Apple began requiring developers use its iOS13 SDK (or later) to develop all iPhone apps submitted to the App Store.
First Quarter Breakdown: Top Overall SDKs
Let's take a look at the Q1 Top 5 SDKs for apps on the Google Play and Apple App Store. These winners currently hold the highest SDK market share in our "Overall" category. In future articles, we'll feature specific breakout categories, such as deep linking, ad attribution, monetization and more.
Top Five Android SDKs for Q1

1. Google Analytics
Google Analytics provides insight on app usage, user engagement, and cross-network attribution. It is trusted by well-known app brands, such as Twitter, Spotify, eBay, and Pinterest, representing social media, streaming entertainment, and e-commerce market segments. Google Analytics installs increased 8% in the first quarter of 2020, and is now is currently used in just over 1 million Android apps, holding 93% of the Analytics SDK market. It appears in 85% of the top 200 Android apps, making it the top mobile analytics SDK for the Android market in Q1.
2. Google AdMob
Google AdMob helps a user monetize a mobile app through in-app advertising. Ads can be displayed as banner, interstitial, video, or native ads—which are seamlessly added to platform native UI components. In Q1, AdMob Android installs increased 6%, now being utilized in nearly 1.3 million Android apps across many app market categories, including Amazon, Twitter, Spotify, eBay and more. Google AdMob has 83% of the top 200 Android apps making it a close second behind Google Analytics. And with a 98% overall market share, AdMob is currently the top Monetization SDK for both iOS and Android.
3. Google Identity
Authentication SDKs like Google Identity allow app users to log in to different accounts through an app. These SDKs let an app host different platforms through which users can sign in and provide additional information as well as aid app functionality. Google Identity is trusted by large brands such as Amazon, Twitter, Spotify, & eBay as their authentication backbone. Installs increased 7% in the first quarter of 2020; it is installed in over 1 million Android apps at this time, giving it an 88% share of the Authentication SDK market. Google Identity is also found in 83% of the top 200 Android apps.
4. Firebase
Firebase is a mobile and web app development platform that provides developers with a plethora of tools and services to help them develop high-quality apps, grow their user base, and earn more profit. App Platform SDKs are a broad category that includes both specific utility tooling and comprehensive development environments to build mobile apps from scratch. Firebase is consistently among the top SDKs for this category; brands that currently rely on the platform include Amazon, Twitter, Spotify, & Snapchat. With an 8% increase in installs over the course of Q1, Firebase currently powers 837,638 apps; they enjoy a 78% market share of the top 200 apps and an 85% market share for overall App Platform SDKs.
5. Gson
Gson is a Java library that can be used to convert Java Objects into their JSON representation. It can also be used to convert a JSON string to an equivalent Java object. Gson can work with arbitrary Java objects, including pre-existing objects for which a developer lacks the source code. In Q1, Gson installs jumped 9%, increasing their market share to 34% of the overall Utilities SDK market, and is currently installed in nearly 490,000 apps, including Amazon, Twitter, Spotify, Snapchat, eBay and more.
Top Five iOS SDKs for Q1:

1. Google AdMob
As previously mentioned, Google AdMob is currently the most popular Monetization SDK for both the iOS and Android app markets. Although the number of iOS installs is not as high as Android, its Q1 install count still rose a healthy 8%, to 42,490. AdMob is currently used by 66% of the top 200 iOS apps, including Adobe Acrobat, AliExpress, Cisco Webex Meetings, and Duo Mobile, and holds an 85% overall market share for iOS Monetization SDKs.
2. Crashlytics
Crashlytics is an App Performance Management SDK that delivers interactive, detailed crash reports in realtime. It is one of the modular kits contained within Fabric, and is available in both iOS and Android versions. Currently installed in 24,328 iOS apps, installs of this useful SDK rose 9% in the first quarter, and it holds a 75% market share for App Performance Management SDKs. Crashlytics is currently used in 50% of the top 200 iOS apps, with prominent app clients such as Indeed Job Search, IRS2Go, & Waze Navigation & Live Traffic.
3. Answers
Answers provides realtime statistics on how an app is being used, such as number of active users, session length, stability rating, and retention. It is one of the modular kits contained within Fabric, and is strongly suggested to be installed via Crashlytics. Q1 iOS installs increased 8% to 23,027, and this tool is found in 50% of the top 200 iOS apps, such as Duo Mobile, Google Sheets, and Mercari: The Selling App. Answers currently owns a 51% share of the Analytics SDK market overall.
4. Twitter iOS SDK
Using the Twitter API requires an authorized Twitter App and authenticated requests. The Twitter API supports a few authentication methods depending on the endpoint. Twitter iOS SDK installs have risen 9% in the first quarter; currently it is installed in 22,860 iOS apps and holds a 54% overall market share in the Social SDK category. Twitter iOS SDK is used in 49% of the top 200 iOS apps, including AliExpress, Duo Mobile, & Indeed Job Search.
5. Fabric
Fabric is a mobile platform with three modular kits, Answers, Beta, and Crashlytics, which together provide realtime analytics and event tracking, app distribution for beta testing, and detailed crash reporting. Overall usage rose 8% in Q1, bringing the number of installs to 23,852, or a 54% share of the Backend SDK market. It is currently used by 48% of the top 200 iOS apps, such as Duo Mobile, Indeed Job Search, IRS2Go, & Life 360: Find Family & Friends.
Why SDK Charts Matter
These insights can help you assess the most in-demand features in the mobile software development space, which may indicate certain marketing opportunities. Familiarizing yourself with the most common app market problems & solutions can help you optimize your production efforts and identify sales prospects.
Want More Data?
We've got you covered. If you're looking for quarterly SDK reports, contact MightySignal today to learn how you can get custom data feeds, lead generation tools, and other app intelligence.