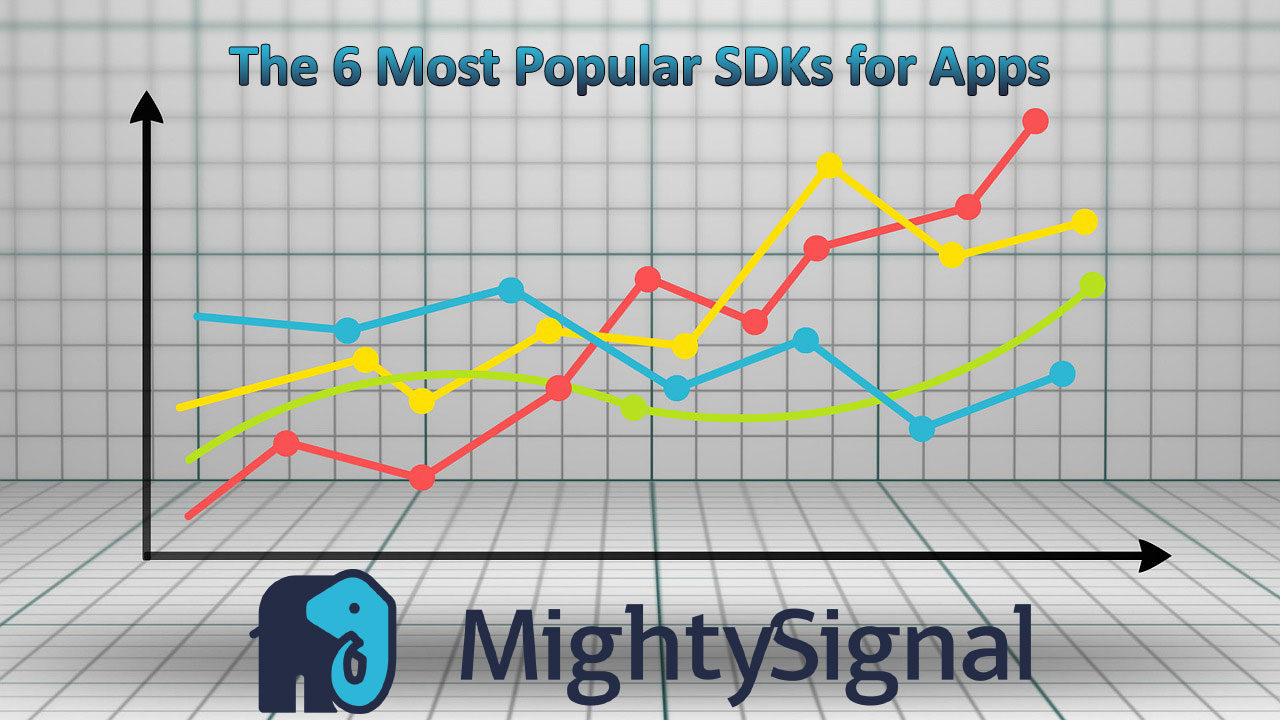 Which SDKs are currently dominating the market?
The 6 Most Popular SDKs for Apps
App development is stronger than ever and for a good reason. The proliferation of versatile, robust, and fully capable SDKs has made building mobile applications more accessible than ever before.
Somewhat unsurprisingly, Google and Google-owned SDKs tend to dominate the market in terms of popularity. Using MightySignals SDK intelligence, we took a look at the top iOS and Android SDKs. Between Firebase's multi-pronged approach towards SDK functionality and Google Mobile Ads strong showing, it's clear that Google's performance here is not going anywhere.
What is a Mobile SDK, Anyway?
An SDK (software development kit) is a set of programming tools and features that allow developers to include specific module functionality in their applications. SDKs exist for every platform, including desktop computers and mobile devices.
When it comes to app development, SDKs reign supreme. SDKs contain everything a developer may need to create an application. Think of them as fully-featured software kits, inside you'll find all the tools, features, and documentation you could ever want.
The most popular SDKs fall into the category of "app development platforms." Put simply; developers tend to use SDKs that are multi-purpose and capable of accomplishing many tasks.
Firebase (iOS and Android)
Firebase — one of Google's mobile app SDKs—is one of the most popular SDKs on the market today. With Firebase, developers gain access to analytics, databases and crash reporting, all without having to rely on specialized programs or tools.
While Firebase offers a wide range of different development modules, the Firebase SDK is what enables access to the entire range of services, regardless of platform.
Even better, Firebase integrates with existing Google services (like AdMob and Google Ads). That integration is invaluable and is in part responsible for Firebase's incredible popularity on Android. Currently, 887,501 apps use the Firebase SDK on Android (and 18,142 on iOS).
To truly understand the impact of Firebase on both Android and iOS, consider the following: MightySignals has tracked over 2 million apps using Firebase at some point in the last 4 years. That growth shows no sign of stopping — during the week of July 22-28, an additional 12,919 Android apps installed the SDK! With only 700 removals, it's clear that Firebase is not going anywhere but up.

Google Mobile Ads SDK (iOS and Android)
Another Google product, Google AdMob SDK functions as the tech giant's mobile advertising platform. Together with AdMob, developers can use the Google Mobile Ads SDK to maximize, refine, and improve their ad monetization across all platforms.
Developers use to generate ad revenue from their app. Given Google's sheer presence in the world of online advertising, it's no surprise that Google's ad SDK is so widely used.
Another winner for the Android market, Admob is almost 30 times more popular on Android than on iOS. Admob's install rates transcend even Firebase's success: over 3 million apps (both Android and iOS) have installed Admob over the last 4 years.
Weekly install numbers speak to Admob's consistent growth. MightySignals has tracked over 16,000 Admob installs and only 700 removals for the week of July 22-28. These numbers are nothing short of remarkable.

Facebook Core Kit (iOS) and Facebook Android SDK (Android)
Two-thirds of the top 200 apps on both iOS and Android use the Facebook SDK. This SDK enables app developers to integrate Facebook functionality into their mobile app seamlessly.
The Facebook SDK is used in some of the most popular apps on the market today. For example, Instagram, Pandora, and Pinterest all use this software development kit.
The rise of single sign-on social logins since the late 2010s has made Facebook SDK something of a necessity — around 90% of users prefer to use social logins! This SDK also allows app developers to include Facebook content sharing functionality as well as link marketing data to Facebook ads.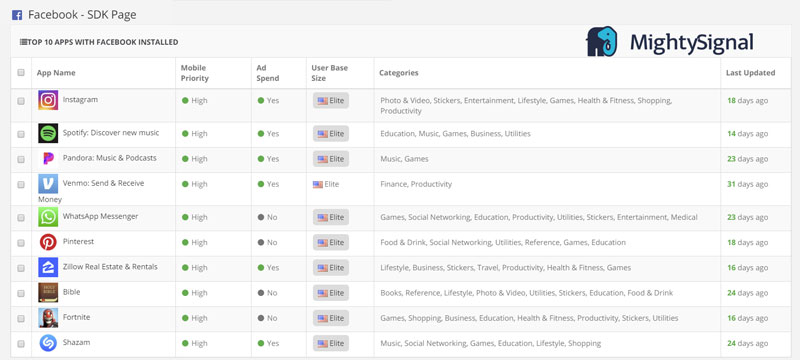 StoreKit (iOS)
Apple's StoreKit SDK enables app developers to include fully-fledged App Store functionality in their applications. On a practical level, the use of this SDK means that apps can support in-app purchases with the App Store.
On top of integrating in-app purchase functionality, the StoreKit SDK provides support for Apple music as well as App Store user recommendations and reviews.
Crashlytics (iOS and Android)
In 2018, Google announced that Crashlytics would be absorbed into Firebase (which was acquired by Google in 2017). Today, the Crashlytics SDK offers app developers the ability to integrate crash reporting functionality into their products.
Crashlytics is immensely popular—51% and 60% of the top 200 apps from both the Google Play Store and App Store use Crashlytics— and for a good reason. Developers can quickly identify the root causes of crashes: Crashlytics provides step-by-step details as to what happened prior to each crash.
Crashlytics even offers realtime updates for crash-related issues, something that app developers tend to enjoy.
Unity Ads SDK (iOS and Android)
Unity, a cross-platform mobile game engine, offers its own Unity Ads SDK. The Unity Ads SDK offers developers access to streamlined, efficient, and all-inclusive monetization frameworks. Specifically, the Unity Ads SDK provides in-app purchasing support, analytics, and mobile ad optimization.
In a nutshell, the Unity Ads SDK makes it easy for developers to monetize their games — a definite priority in a world that is adopting microtransactions in full force.
Installed in more than 100,000 apps on Android alone, the Unity SDK is a major player in the mobile gaming market. Apps like Classic Solitaire—with user downloads in the millions—use Unity to power their marketing efforts.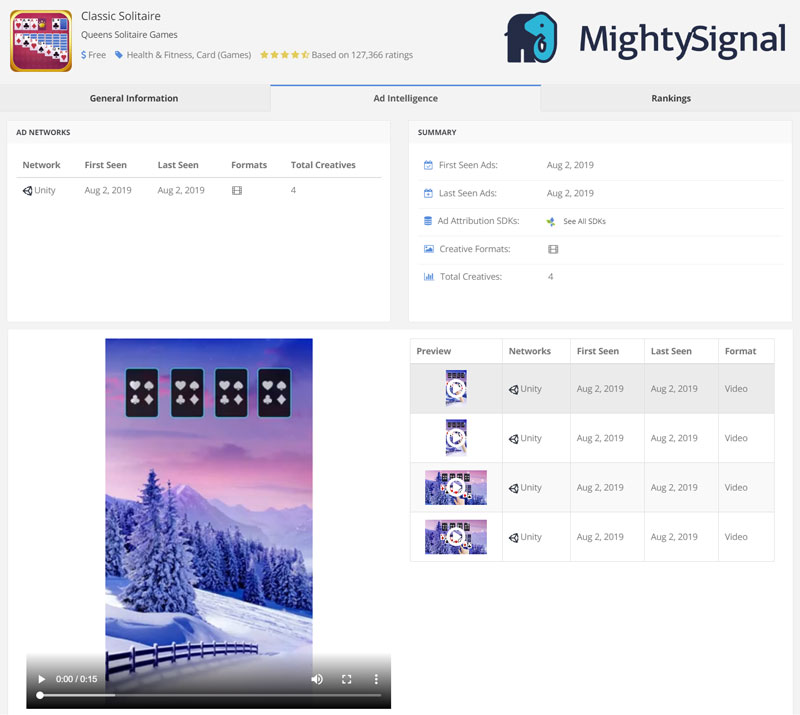 The Future of SDKs
Whether Google will retain its dominance in the world of popular SDKs is uncertain (but likely). That said, as mobile SDKs become more widespread and app developers continue to make use of them, more competitors may arise.
To learn more about MightySignal's take on the mobile app market and the adoption of SDKs, please contact us here.