Mobile Tech Startups Focusing on Proximity Marketing
With the right tools, businesses can finally start monetizing mobile
Those who keep tabs on mobile tech startups have almost certainly noticed that location-enabled marketing and product features are becoming increasingly common in apps.
Location-enabled marketing — also known as proximity marketing — is an advertising approach that leverages mobile technology to target customers when they are near specific physical locations.
Let's say your favorite neighborhood restaurant has invested in proximity marketing, and you've already downloaded their app. The next time you're nearby, you might receive a push notification that offers you a 10% discount if you pop in for a snack and a drink within the next two hours.
As mobile device adoption continues to increase — according to Pew, 77% of U.S. adults owned a smartphone in 2016 — more and more forward-thinking businesses are smartly deciding to invest in location-enabled marketing solutions.
A recent analysis by Statista, for example, reveals that beacon-triggered retail sales grew to $44.4 billion in 2016 — quite the uptick from the $4.1 billion hauls the previous year. This is because, perhaps surprisingly, 71% of retailers say they are already able to track and understand customers' buying habits thanks to beacon technology.
Despite this widespread adoption, there's still a lot of room for improvement. Of the retailers that have deployed beacons, only 24% saw an increase in sales and offer redemptions (though 59% believe their customers are more engaged when they are in their stores).
Suffice it to say there are a lot of retailers that are interested in proximity marketing tools but haven't yet unlocked the full value of the technologies. This signals a significant opportunity for the marketing tech industry because retailers are now warm to the idea of location-based marketing, but there isn't a significant vendor that's dominating the space.
At MightySignal, our sales team talks to all types of mobile app tech companies every day. Over the last two months, we've noticed a sharp increase in conversations that center on location-related technologies. The companies we've talked to are big and small — ranging from 13 employees to over 5,000 employees but heavily skewed toward the low end, according to LinkedIn data. These companies are based all over North America and Europe, with a majority coming from the United States, the United Kingdom, France, and Turkey.
Location-based marketing is increasing in popularity around the globe. But why?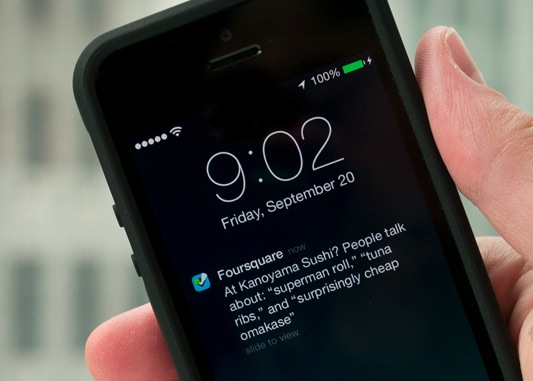 A more enjoyable customer experience
Proximity marketing technologies are popping up everywhere. We see them in shopping malls, national retail stores, sports, and entertainment venues, and even government agency buildings — basically anywhere there's ample physical space.
The increasing adoption of location-enabled marketing technologies stems from the fact that such tools enable businesses to bridge the gap between the digital world and the physical world. Since 85% of customers prefer buying things in stores and 75% of customers consult their mobile devices while they're shopping, it followers that shrewd companies and organizations would be quite interested in proximity marketing solutions.
This is a significant development because companies have traditionally had a tough time monetizing mobile devices. This isn't because mobile is impossible to monetize but rather because many retailers haven't done enough to accommodate their customers' migration to mobile.
Slowly but surely, as more and more businesses turn to proximity marketing solutions, this is changing.
These solutions leverage the following technologies:
· GPS, the smartphone-enabled global positioning system that knows your current location
· Geo-fencing, which leverages GPS technology to alert users when they enter or exit certain predetermined physical boundaries
· Beacons, a technology that communicates with mobile apps when they're close by for contextual purposes
· Bluetooth, the wireless technology standard that facilitates data transfer over short distances
· WiFi, another wireless technology that connects with mobile devices
· Audio capture, a technology that transmits data between devices via ultrasonic sound waves that are inaudible to the human ear
These technologies are used for indoor mapping and navigation, targeted ad promotions, serving useful content, assisting the visually impaired, managing crowds and staffers, facilitating financial transactions, and more. All of these functionalities are designed to improve the customer experience.
What these trends mean
Ever since smartphones and apps were invented, mobile tech startups have struggled to court the most significant brands that tend to have stronger physical presences than online ones (e.g., Target and T.J. Maxx). While these large retailers have known that customers had mobile devices in their pockets, their precise location and contextual data haven't always been available.
Several new startups have emerged over the last few years that aim to solve this problem, and for a good reason: The consumer packaged goods market is expected to reach $14 trillion by 2025, according to McKinsey.
Because of the benefits that proximity marketing tools provide retailers and consumers alike, venture capitalists, and angel investors are pouring more and more money into startups that are building in this space.

For example, three companies being funded are:
1. Unacast, a startup building a network of beacon and proximity data to assist brands with online targeting and attribution, which closed a $5 million Series A round in May 2016, bringing its total funding to $6.6 million.
2. Estimote, a startup that calls itself a "location intelligence company building beacon and sensor hardware," which closed a $10.7 million Series A round in January 2016, bringing its total funding to $13.8 million.
3. Swirl, a startup that leverages beacon technology for proximity-based indoor mobile marketing, which Swirl in April 2015, bringing its total funding to $32 million.
While many brick-and-mortar stores have been slow to adopt these innovative technologies and hire the people that know how to optimize them, that all appears to be changing.
Amazon's decision to acquire Whole Foods and Walmart's decision to buy Jet.com both highlight the blending of the digital and physical worlds. There's also Starbucks' highly successful loyalty program — which holds more money than some banks. Enrolled customers can order and pay for their drinks on their mobile devices before they head to the nearest location to pick them up.
Other retailers need to catch up with these companies if they wish to remain open for business for the foreseeable future.
Adapt or become extinct
Mobile tech startups are pressured by their investors to break into the Fortune 500 and lock down some clients. In most cases, the brands that are there have built their businesses around offline transactions in physical stores.
Soon, mobile SaaS sales teams may not be able to win the attention of marketers and product managers at these prestigious companies if their solutions don't address the location angle.
On the other hand, the future looks brighter than ever for mobile app startups that build sharp proximity marketing tools that demonstrably translate into increased sales.
We offer the largest, regularly updated database of mobile publisher contacts. Combine that with MightySignals famously accurate SDK data, and this time-saving tool will kick your account based marketing (ABM) into light speed. Contact us here to set up a demo or free trial.